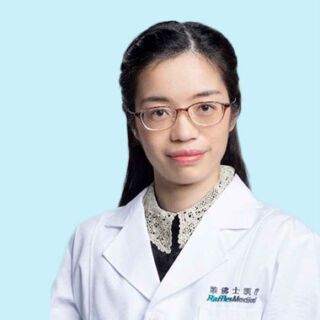 Consultant Doctor of Raffles Medical Shanghai Internal Medicine Department
Dr Chanchan Xu is a Consultant of Internal Medicine of Raffles Medical Shanghai. Dr Xu received her medical degree from Fujian Medical University in 2005 and then her master degree from Shanghai Jiaotong University in 2008.
She had previously engaged in research work on hypertension and vascular remodeling in Shanghai Ruijin Hospital and Shanghai Institute of Hypertension. In 2008, Dr Xu published her research findings at the 18th Joint Congress of Scientific Meeting of the European Society of Hypertension and the 22nd Scientific Meeting of the International Society of Hypertension. In order to recognize her achievements, the Committee of International Society of Hypertension granted her the accolade of Outstanding Young Scholar Award.
Before joining Raffles Medical, Dr Xu has previously been practiced as an internist in Shanghai Sixth People's Hospital (affiliated to Shanghai Jiaotong University) for 12 years. She has special interests and extensive clinical experiences in the diagnosis and treatment of hypertension, diabetes mellitus, hyperlipidemia, hyperuricemia, heart failure, arrhythmia and assessment of arterial stiffness. Dr Xu also has particular interests in holistic approach to management of chronic illnesses, including diet and fitness counselling. Dr Xu has published several SCI research papers on topics involved hypertension, arteriosclerosis and heart failure.
Dr Xu speaks Mandarin, English and Southern Fujian Dialect.
Dr Xu's specialty extends to:
Helicobacter pylori, chronic gastritis, respiratory tract infection, acute gastroenteritis, chronic digestive inflammation, chronic cardiac insufficiency, arrhythmia, chronic disease management, etc.
Master of Internal Medicine