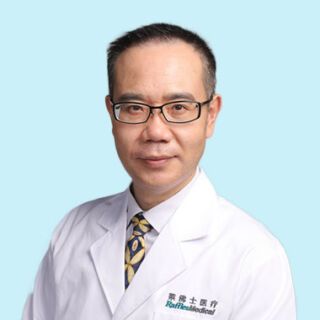 Director of Medical Service, Raffles Medical Shanghai
Dr. Cao has extensive clinical experience in prevention, diagnosis, and comprehensive therapy for cardiovascular diseases, including valvular diseases, ischemic coronary artery diseases, and chronic disease management for hypertension, hyperlipidemia, arrhythmia, chronic heart failure, and etc. Dr. Cao also offers Second Opinion for complicated cardiac diseases and comprehensive minimally invasive treatment for peripheral venous diseases.
Dr. Cao is a Senior Consultant in cardiovascular surgeon who has rich experience in the fields of cardiovascular medicine and hospital management. He received his M.D. from Shanghai Fudan University in 1991 and subsequently obtained MBA in Shanghai Jiaotong University. Beginning his practice from Shanghai Chest Hospital, Dr Cao enriched his local experiences in roles of senior hospital management and as a surgeon covering in public and private hospitals.
Dr. Cao has strong clinical operating skills and great knowledge in pre & post-surgical management.
Dr. Cao has demonstrated expertise in adult cardiovascular surgery including valvular surgery, coronary artery bypass graft procedures and minimally invasive cardiac surgery techniques. Dr. Cao did the first case of MICS in early 1997 in Shanghai. So far, Dr. Cao has completed more than 3,000 cases of cardiac operations independently. In 2015, Dr. Cao expanded his clinic expertise into the field of minimally invasive operations for peripheral venous diseases and successfully introduced latest clinical technologies like EVLA into China. Since 1999, Dr. Cao has received international awards and published scientific articles. As a visiting scholar, Dr. Cao studied in Japan, Texas Heart Institute, Cleveland Hospital and Arizona Heart Hospital.
Moreover, Dr. Cao has been recognized in number of awards such as the 3rd Prize of Scientific and Technological Achievement Award of Shanghai, Travel Awards from ASCVS, and etc. Dr. Cao was a member of International Editorial Board of Asian Cardiovascular & Thoracic Annals.
Dr. Cao is fluent in English, Mandarin and Shanghainese.
MD, Shanghai Jiao Tong University