Heart Doc Sees Himself as 'Plumber for the Body'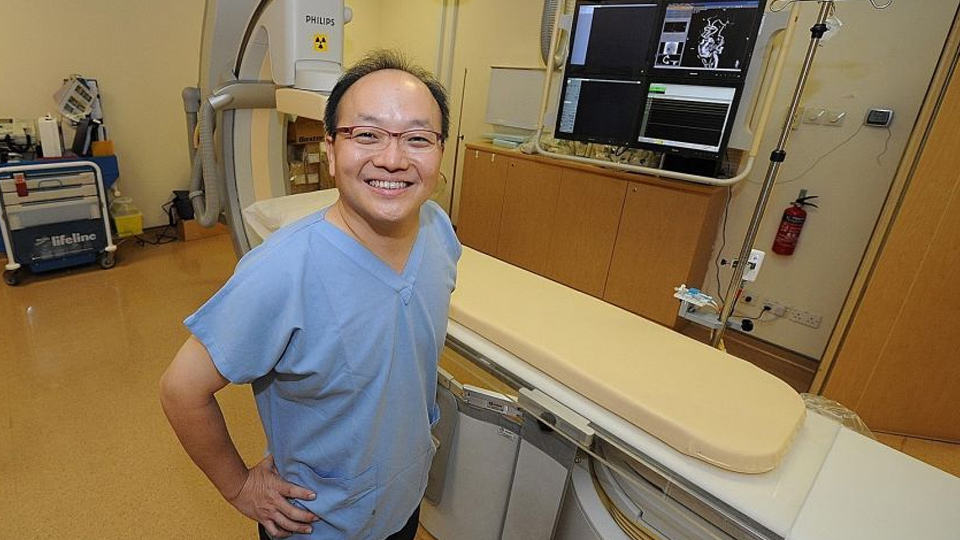 Although one of his main jobs is to open up narrowed arteries, Dr Teo believes prevention is better than cure.
Q: I sub-specialise in interventional cardiology because…
A Coronary artery disease is the most common problem for heart patients. In emergency situations in which patients are having heart attacks, opening up blocked arteries with balloons and stents can help save lives.
In elective settings, the stenting of narrowed arteries will ensure plenty of blood goes to the heart when patients exercise, thereby keeping them free of symptoms such as chest pain.
Q: Blood vessels in the heart are fascinating because…
They determine the health of all organs in the body.
A reduction in blood supply in the arteries will lead to the malfunction of organs, most notably the heart, brain and kidneys.
---
SILENT KILLER
"It (coronary artery disease) is often silent. Most patients show no symptoms despite having fairly narrowed arteries. This is particularly true in diabetic patients, whose sensation of pain is reduced due to nerve damage."
CARDIOLOGIST TEO SWEE GUAN
---
Q: One little-known fact about coronary artery disease is…
It is often silent. Most patients show no symptoms despite having fairly narrowed arteries.
This is particularly true in diabetic patients, whose sensation of pain is reduced due to nerve damage.
Coronary artery disease is often picked up only when a patient suffers a heart attack, or during a health check-up.
Q: What I do is like being…
A plumber for the body.
I open up blocked or narrowed arteries to allow continuous supply of blood to the body at rest and during exercise.
But more than that, I also share with patients the importance of adopting healthy lifestyles and using medication to keep their blood vessels healthy for years to come.
In other words, prevention is better than treating narrowed arteries.
---
BIO BOX
TEO SWEE GUAN
AGE: 46
OCCUPATION: Specialist in cardiology at Raffles Heart Centre in Raffles Hospital
Even back in secondary school, he was fascinated by the heart.
He describes it as " a simple yet elegant organ consisting of an electrical circuit, a muscular pump and arterial pipe lines".
"In its simplest form, it serves as the sole pump in our body, circulating blood, and delivering nutrients and oxygen, while removing waste."
Dr Teo earned his medical degree in 1996 at the University of New South Wales while on a scholarship from the Australian government.
He received his specialist training in Singapore, Germany and the United States.
Before joining Raffles Hospital in 2013, he was a senior consultant and the director of the Coronary Care Unit at the National University Hospital.
He is married to a 46-year-old housewife. They have three sons, aged 18, 16 and 14.
---
Q: A typical day for me starts…
With me waking up at 6am and taking my boys to school.
I usually reach Raffles Hospital by 7.30am. I go for my morning walk in sports attire and breakfast in Jalan Besar.
I am back in the hospital by 8.45am to take a shower before seeing patients in the wards and clinics.
I run outpatient clinics in the mornings and reserve the afternoons for interventional procedures.
During the weekends, I may go cycling to add variety to my exercise regimen. I also relax and bond with my family.
Q: Out of all the types of cases I have come across, I remember…
A 30-year-old patient who was healthy and training for the Individual Physical Proficiency Test (IPPT) with regular 3km runs.
One day, he felt so short of breath that he had to stop every 100m during his run.
At the emergency department, he was diagnosed as having an acute heart attack. Emergency angiography showed that he had very large heart arteries and his right heart artery was blocked by a thrombus, made up of blood clots clumped together.
This could be due to ulceration of the inner walls of arteries or sluggish blood flow in large arteries.
In more than 95 per cent of acute heart attack cases, stenting would be done, but not in his case since his heart attack was not due to cholesterol plaque.
We removed part of his thrombus with suction, opened the artery with a balloon and gave him a blood thinner to prevent more blood clots. Further tests showed the clots had cleared up.
This is an example of how treatment is individualised for each patient.
Q: Things that put a smile on my face are…
Seeing patients becoming stable with treatment, despite coming in very sick from their heart attacks.
It always brings a smile to my face whenever I see their relieved family members crowding around them in the intensive care unit.
Q: Patients who get my goat are…
Those who do not take ownership of their health.
They are not compliant with their medication and some continue to smoke even after multiple heart attacks.
I find that the best medical outcomes are when patients and doctors work together as a team.
Q: It breaks my heart when…
Patients suffer from complications that are potentially avoidable.
Most patients with weak hearts are told to restrict their water intake to between 1 litre and 1.5 litres a day. When they drink excessively, water will accumulate in their lungs and cause acute shortness of breath.
Patients who have had stents implanted in their vessels need to be on blood thinners, especially in the first 12 months after the procedure.
If they stop the medicine, blood clots can form inside the stents and cause a heart attack.
I always make sure my patients understand the importance of taking their medication regularly before I discharge them from the hospital.
Q: My best tip…
Is to call an ambulance immediately if you or someone you know develops severe chest pain, a sign of a heart attack.
Getting immediate medical attention can vastly improve the chances of surviving a heart attack.
In one Japanese study, patients who took fewer than three hours from the onset of chest pain to emergency ballooning were 30 per cent less likely to die or develop heart failure, compared to those who took a longer time.