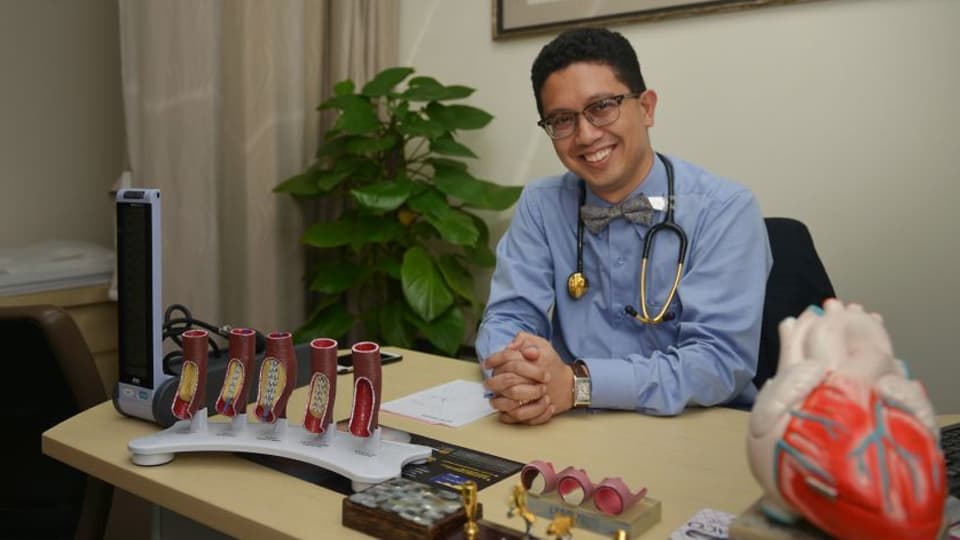 Cardiologist Dr Abdul Razakjr Omar, seen here in his Raffles Hospital office, says common advice to prevent a heart attack like eating healthily, staying trim and exercising regularly may sound passe to some, but it works for many people.
Q: I specialise in cardiology because…
I am privileged to be given the opportunity to help others manage hear diseases. Many common chronic diseases such as diabetes mellitus, hypertension and high cholesterol are risk factors for heart disease, particularly for heart attack. These conditions play a part in the building up of fatty deposits within the walls of arteries. This contributes to the formation of a blood clot, or thrombus, inside a blood vessel, which can break loose to obstruct blood flow in an-other blood vessel.
Q: One little-known fact about the heart is…
A healthy adult heart pumps approximately 7,500 litres of blood a day. The heart is fascinating because it beats about 100,000 times a day without stopping, even when we are asleep.
Q: What I do is like being…
A plumber, as I would be unblocking choked arteries. I am also like an electrician who rectifies any abnormal electrical circuit of the heart, or a photographer who obtains and interprets images of the heart.
---
BIO BOX
DR ABDUL RAZAKJR OMAR
AGE:45
OCCUPATION: Specialist in cardiology, consultant and managing partner at Raffles Heart Centre, Raffles Hospital
Whenever someone has complaints of chest pain, breathlessness, fainting spells or heart palpitations and goes to Raffles Hospital, he will most likely be referred to Dr Razakjr. He tries to solve the patient's problems, yet also understands the limits of a physician, quoting that a doctor will try "to cure sometimes, to relieve often, to comfort always". Dr Razakjr is a board member of the National Kidney Foundation and the Medifund committee in Ang Mo Kio-Thye Hua Kwan Hospital, and a visiting consultant at the National University Heart Centre, Singapore, among others.
His scientific research focuses on issues related to cardiac arrhythmia (irregular heart rhythm) and sudden cardiac death. He created a grassroots movement, Geng Sihat SG, with some friends to promote healthy living among Singaporeans. He is married to a 45-year-old homemaker. They have two children, aged 18 and 14.
---
Q: A typical day for me …
Starts at 9am in the workplace. I am involved with patient consultations in the clinic and the ward, as well as surgical procedures – primarily minimally invasive ones such as coronary stenting, catheter ablations and cardiac device implantation. There are also times where I am involved with teaching medical students from our local universities. My knock-off time is never fixed but, lately, it has been after 7pm. My after work hours are very precious. I spend time with my family and do volunteer work too. Like any family, we will go out together– dining, watching movies and travelling. We managed to enjoy the Northern Lights last November in Ice-land despite the bone chilling cold weather.
Q: I have come across all types of cases…
But have seen only one 19-year-old suffering a heart attack since I started in cardiology in 2000. I attributed his heart attack to his five-year smoking history, during which he smoked 20 cigarettes a day. On the other hand, I know of a 90-year-old man who fulfilled his bucket list recently– enjoying the world's best dives for coral at the coral reefs in Raja Ampat, Indonesia. For many years, he has been eating right, exercising regularly and staying slim. His heart function is normal for his age, hence he is able to go through the rigour of such an activity.
Q: Things that put a smile on my face are…
Patients who put in their best effort to get better from their diseases. They take their medicine regularly, try their best to quit smoking and adopt healthy diets. After all, it is not the years in your life that count. It is the life in your years.
Q: It breaks my heart when…
I read about the heart-attack death of a man who was the sole breadwinner, leaving his young children and wife to fend for them-selves.
Q: My best tip…
Is to prevent a heart attack by eating healthily, staying trim and exercising regularly. This may sound passe to some, but works for many people.