Up Close with Dr Samuel Loh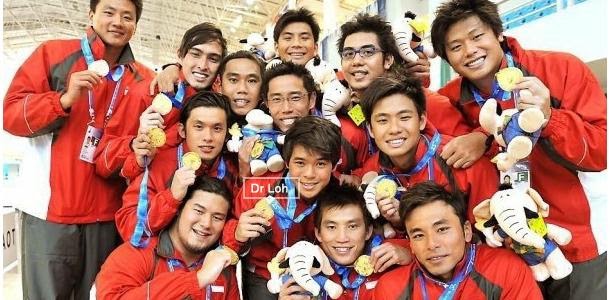 "Singapore Men's Water Polo at SEA Games in Laos '09 with winning Gold"
Dr Samuel Loh graduated from the University of Melbourne with a Doctor of Dental Surgery While in dental school, he encountered a clinical demonstrator, who asked him how clean he was, and how often he tided his room. Luckily, Dr Loh is a generally clean and tidy person, and answered as such. Later on, he learned that the clinical demonstrator believes that doing dentistry is an extension of oneself, and his response managed to earn him decent marks from the demonstrator.
Despite dental health awareness being on the rise, he believes that more can still be done. "Besides being functional, our teeth also contribute to our overall well-being," said Dr Loh. "Bad dental health can negatively affect your social function and other dimensions of your health status, and ultimately your overall quality of life."
What made you want to become a dentist?
Since young, my mum has been telling me about the importance of dental health. When she was younger, she was not well-informed on how to care for her teeth. Consequently, she needed a lot of work done such as dental implants and crowns. Seeing as how she was affected by that, I wanted to grow up and be able to contribute to the community by improving dental health. I strongly believe that good oral health contributes to the overall well-being of a person.
How would you describe your work?
The most important part of my work is gaining the trust of my patients. I spend some time establishing to the patient that they can expect the best service from us and that he/she is central to the patient-clinician relationship.
What's a typical day for you like?
I'm an early riser and I look forward to a good cup of coffee before work. I get to work early to prep for the day. After work I would hit the gym or swimming pool before enjoying dinner with friends or family.
What do you do in your free time? / Where will you be during your free time?
I'm quite an active person, so during my free time you will find me in the gym, playing water polo or swimming. I picked up road cycling while I was overseas and am looking to resume that. Otherwise I do enjoy trying out new cafes or bars with my friends and family.
Fun fact about you?
I am a former national athlete! I spent my younger days playing a lot of water polo and represented Singapore in the 2009 SEA Games in Laos in my peak. Sadly, I had to give that up to pursue my other dream: Dentistry!
A dental/medical advice you have is….
In Singapore, although dental awareness is on the rise, a large proportion of people still neglect dental health or think that it is secondary. Dental health contributes significantly to overall well-being of a person! Bad dental health can negatively affect one's social functions, other dimensions of health status, and overall life quality.