Patients with multiple disc-degeneration stages often suffer from intense pain. Although earlier forms of spinal fusion procedures help to relieve the pain to some measure, the relief is usually short-term.
Hybrid fusion is a new spinal fusion surgery for patients with degenerative disc disease.
Hybrid fusion provides patients with a permanent relief from the pain. Hybrid fusion is a breakthrough for patients, especially younger individuals, as the treatment will no longer be at the expense of their ability to lead an active lifestyle.
Launched worldwide in 2007, Raffles Hospital was one of the pioneer users of hybrid fusion in Asia Pacific. To date, there were nine foreign and local patients who had undergone hybrid fusion at Raffles Hospital.
With a short downtime of just five days, patients can now look forward to regaining full mobility faster and experience less pain. Hybrid fusion also protects the adjacent level of the spine from degenerating. This is a crucial advancement in technology as adjacent level degeneration is the long-term effect of the older form of spinal fusion technique.
How does hybrid fusion work?
Hybrid fusion involves using a stiff section of a rod to treat the degenerated discs, while a welded flexible section extends further above to offer protection to the adjacent disc.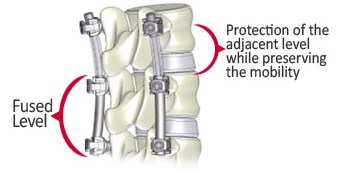 "The flexible part provides about five degrees of motion, sufficient to promote normal motion. Besides preventing problems with a hypermobile disc, the patient experiences less pain. More importantly, the patient is able to resume his or her normal activities quickly," said Dr David Wong, Specialist in Orthopaedic Surgery, Raffles Orthopaedic Centre.
Hypermobile describes the condition when joints move beyond their normal range with little effort, thereby causing instability.
According to Dr Wong, an estimated 20 per cent of patients who undergo the older form of spinal fusion surgery are at risk of suffering from an adjacent level degeneration or disc disease within the next ten years.
"When fusion is done, the affected vertebrae become stiff and this lack of motion puts stress on the adjacent vertebra. The adjacent vertebra then becomes hypermobile to compensate for the lack of motion and this causes problems later on," Dr Wong enlightens.
With this new procedure, the risk of adjacent level degeneration and instability, movement restriction and pain down the years is eliminated.