Raffles Hospital Shanghai, a 400-bed tertiary hospital, will provide international tertiary level medical services to locals and expatriates living in Shanghai, including the surrounding provinces, as well as international patients from neighbouring countries. Read more.
Raffles Medical Centre in Beijing was converted into a hospital to deliver more seamless care to patients.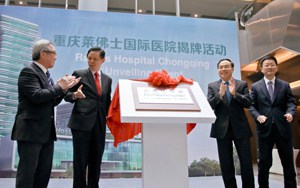 Opening of Raffles Hospital in Chongqing
Raffles Medical Group opened the Raffles Hospital in Chongqing, a 700-bed hospital which will gradually offer a full complement of specialist services.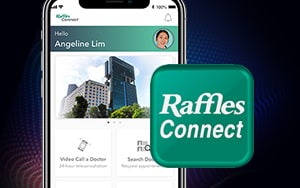 Access All Your Healthcare Needs with Raffles Connect
Raffles Medical Group is proud to be the first healthcare group to provide a healthcare platform called Raffles Connect that offers a comprehensive suite of services to its patients.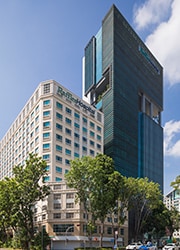 Raffles Specialist Centre
Raffles Specialist Centre began operations in January 2018. The medical tower will contribute an additional 220,000 square feet of space, thereby almost doubling the space available for clinical services in the integrated medical complex. Raffles Specialist Centre houses specialist centres and diagnostic services. Link bridges will connect the two buildings on all floors (from level 1 to 13) to better integrate operations for optimal patient flow. Inpatient facilities in Raffles Hospital such as wards, intensive care units and operating theatres will be upgraded and expanded.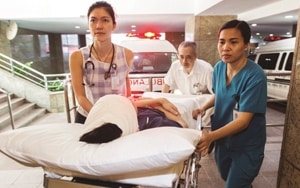 Raffles Hospital: First Trauma Accredited Private Hospital
Raffles Hospital has been accredited and certified as a trauma hospital by the National Trauma Committee. It is the first private hospital in Singapore to undergo the accreditation process.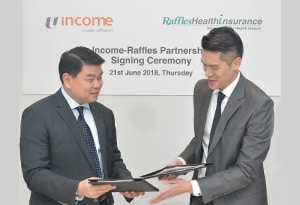 Partnership with NTUC Income
NTUC Income (Income) and Raffles Health Insurance (RHI), entered into a strategic partnership. The IncomeShield Private Specialist Panel (the Panel) offers IncomeShield policyholders access to over 200 medical specialists in private practice spanning across different specialty areas via the Panel. RHI will also extend clinical indicator assessment to Income as part of the partnership. The assessment ensures that the Panel delivers appropriate and high quality healthcare to IncomeShield policyholders sustainably.