By late February 2020, when it was clear a pandemic was looming in the near horizon, Raffles Medical Group provided pandemic support and consultancy to our 6,000 clients so that they could continue with their business operations with the least disruptions possible, and adequate protection for their employees.
We summed up the 2020 year activities as our way of welcoming a better and brighter new year. Here's a recap of major milestones and activities.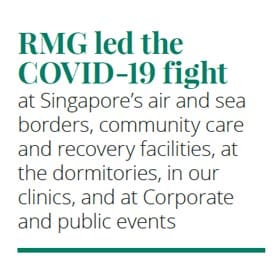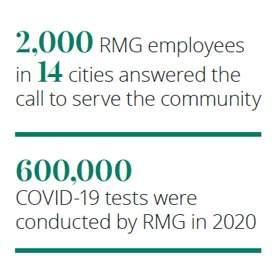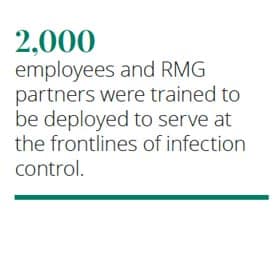 JAN 2020

Set up and manned screening stations at Changi and Seletar Airports

FEB 2020

Deployed healthcare team to assist with the evacuation of 266 people from Wuhan to Singapore.

---

Provided pandemic support and consultancy to 6,000 RMG clients.

Early MAR 2020

Conducted health screening of post-quarantine individuals at Changi Airport Terminal 3 clinic.

---

Raffles Medical clinics were appointed by MOH as part of the PHPC network.

Mid MAR 2020


Performed over 40,000 swab tests and cared for dormitory residents over a 4-month period.

Late Mar 2020

MOH appointed 11 Raffles Medical clinics to provide Swab and Send Home (SASH) for suspected cases.

---


Expanded resources to receive more Emergency Care Collaboration (ECC) patients to ease the patient load at public hospitals at the height of the pandemic.

APR 2020


Appointed by MOH as the designated healthcare provider for community care /
recovery facilities at Changi Exhibition Centre and Marina Bay Cruise Centre.

---


Deployed 2 doctors and 20 nurses to support triage and teleconsultation for residents of the Changi East Terminal 5 Dormitory.

May 2020


Commenced Repatriation screening and fit-to-fly services.

JUN 2020


Supported airport screening and testing for all the special business travel lanes in Singapore.

---


Offered pre-departure tests at 5 Raffles Medical clinics.

AUG 2020


Conducted Routine Rostered Testing PCR tests for companies as part of Singapore's re-opening.

SEP 2020

Appointed by MOH as the designated healthcare provider for community care / recovery facilities at Singapore EXPO and MAX Atria.

---

Appointed by MOH to conduct serology tests for recovering COVID-19 patients.

OCT to NOV 2020


Expanded SASH support from 11 to 36 RM clinics island-wide.

---

Played a critical role in facilitating Singapore's first Cruise-to-nowhere with pre-departure / arrival tests for passengers.

---


Raffles Connect became Singapore's first app-based COVID-19 test booking platform.

DEC 2020


Commenced voluntary COVID-19 test service at all 36 Raffles Medical clinics island-wide.