Zion Home for the Aged is a sheltered home for aged females. It was established in 1979 by Zion Presbyterian Church. Zion Home is a registered society and charity registered under the Charities Act of 1982.
AMF adopted Zion Home in June 2015. Our volunteer doctors visit residents monthly to provide primary care needs. Treatment costs are covered by AMF.
Raffles Chinese Medicine's Physician Tan Weii Zhu has been visiting Zion Home since 29 June 2017 to provide consultations including acupuncture treatments.
We have grown close with the residents of Zion Home and both residents and our volunteer doctors look forward to these visits.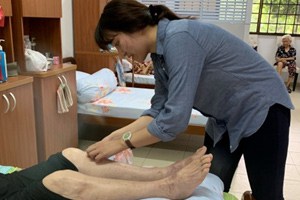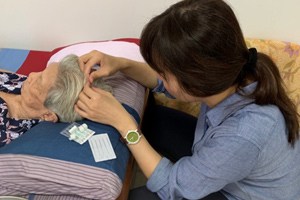 Acupuncture treatment by Dr Tan Weii Zhu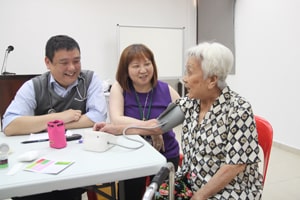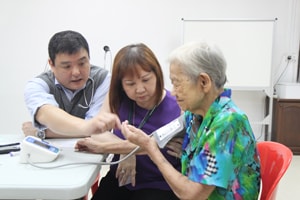 Dr Melvyn Wong provides free consulting to residents of Zion Home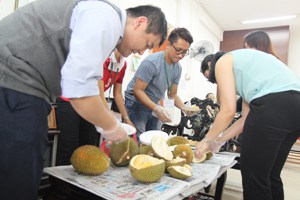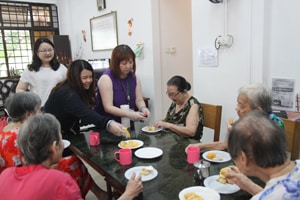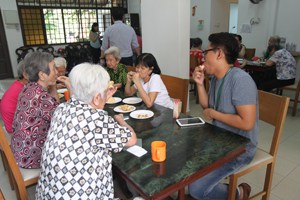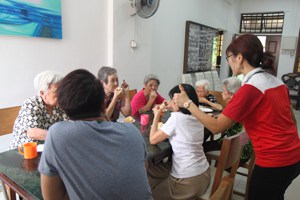 Durian party for residents and staff of Zion Home with the help of volunteers from Raffles Medical Group
PCF Sparkle Care at Simei
PCF Sparkle Care at Simei and Yew Tee provide much-needed day care and rehab facilities to the elderly and people with dementia in the heartlands. AMF has been assisting them in delivering ad-hoc rehab assessments of their clients since May 2016.
Dr Farhan, who is our Consultant Geriatrician, has also been providing pro bono dementia examinations and an initial diagnosis for clients with suspected early signs of forgetfulness.
Helping needy families impacted by the Covid-19 pandemic
Asian Medical Foundation (AMF) collaborated with Beyond Social Services (BeyondSS) to help families severely impacted by the Covid-19 pandemic. $105,000 worth of Sheng Siong Supermarket Pte. Ltd. vouchers were donated to help families under the care of BeyondSS over three months.
BeyondSS provides direct support to families living in rental flats in 14 clusters  and has identified 350 families who are in urgent need of help. This includes 70 families in Redhill and Bukit Merah View, 180 families in Henderson and another 100 families in Lengkok Bahru and Stirling Road.
From June 2020, each family will receive a $100 voucher over the course of three consecutive months.