Distribution of $100 grocery vouchers to the elderly whose lives and livelihoods may be affected due to COVID-19. AMF worked with the Agency for Integrated Care to identify the 30,000 needy and vulnerable seniors who have little to no family support living in one or two room HDB flats. These seniors will be given the AMF Elder Vouchers to purchase food supplies and household items.
For two months, grassroots leaders and volunteers from the People's Association (PA) reached out and engage these seniors through house visits to inform them to collect these vouchers. With the letter and their NRIC for verification, the seniors or their family members can collect the vouchers at any of the 63 Sheng Siong supermarket outlets island wide.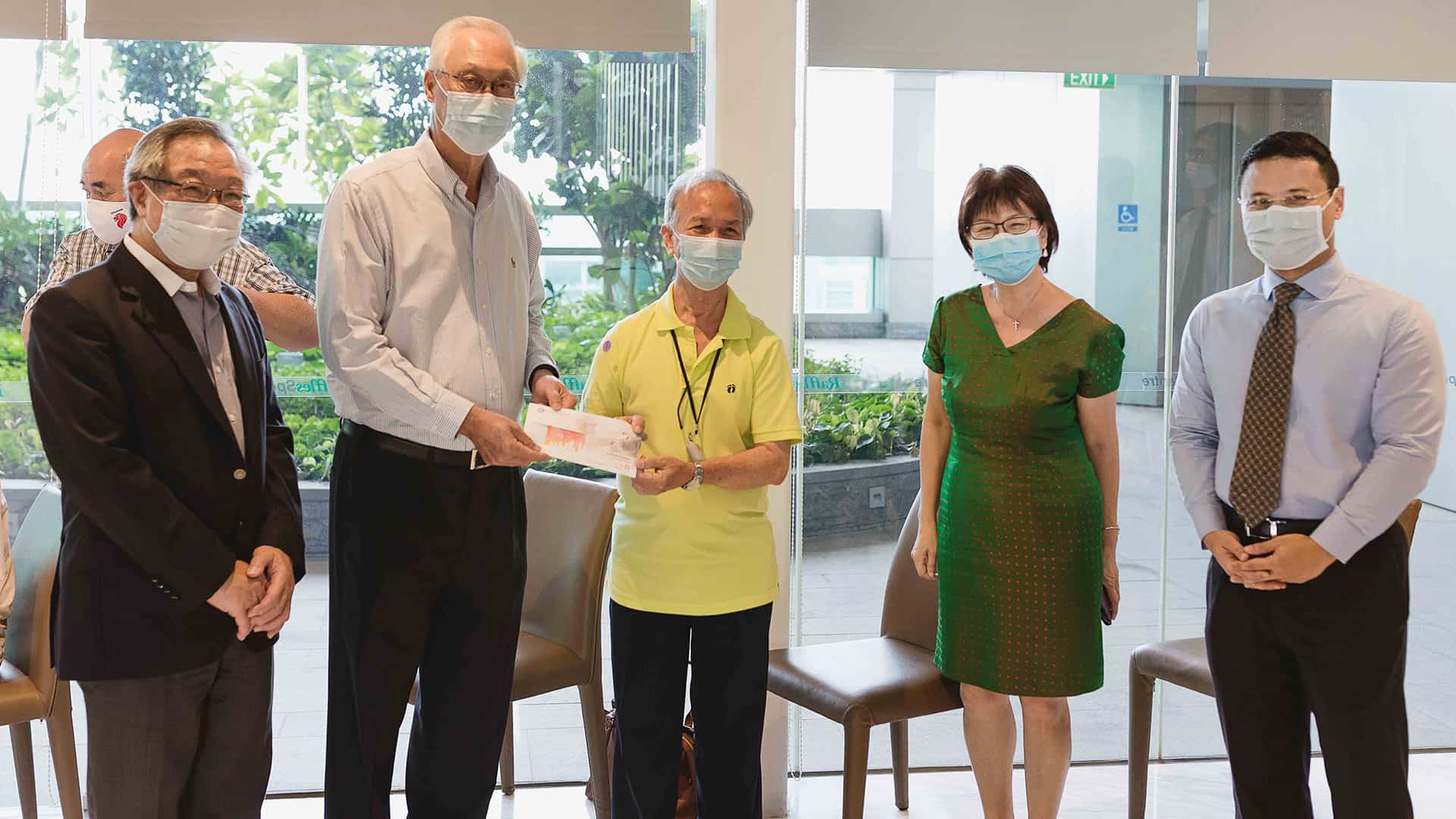 ESM Goh Chok Tong, patron of the Silver Care Fund presenting the AMF Elder Vouchers to a beneficiary. ESM Goh is accompanied by Dr Loo Choon Yong, Chairman, Board of Trustees, AMF (pictured first from the left) and Minister for National Development and Minister-in-Charge of Social Services Integration, Mr Desmond Lee (pictured first from the right) and MP of Jalan Besar GRC and Mayor of Central CDC, Ms Denise Phua (pictured second from the right).
In response to COVID-19 and to help the elderly with digitalisation, AMF sponsored SingHealth's telehealth pilot project that aims to leverage technology to provide accessible, safe and better care for seniors staying in the East of Singapore.
Seniors will be trained in the use of digital platforms to manage their health conditions.  These seniors are those with chronic medical conditions and who require post-discharge care. They will be trained by volunteers to monitor their blood pressure and other medical conditions using the devices, including video consults.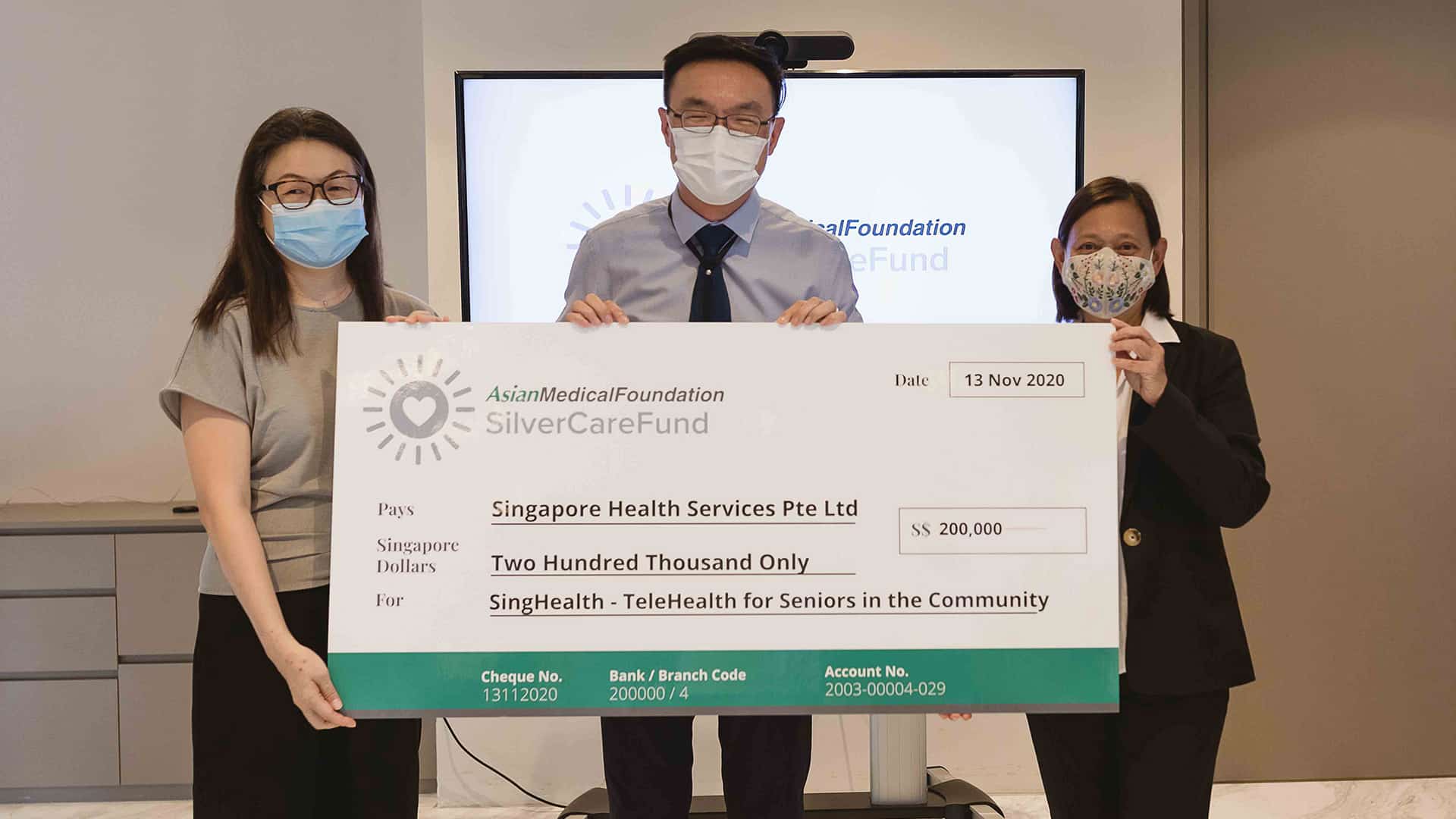 Mrs Loo, presenting a cheque of SGD$200,000 to SingHealth's Ms Yap Mei Foon, Director, Integrated Care and Dr Michael Wong, Group Director, Regional Health System. This gesture symbolises AMF's support and commitment towards the telehealth project.
Click here to find out more about the Official Launch of the AMF Silver Care Fund that happened on 13 November 2020.
Zion Home for the Aged is a sheltered home for aged females. It was established in 1979 by Zion Presbyterian Church. Zion Home is a registered society and charity registered under the Charities Act of 1982.
AMF adopted Zion Home in June 2015. Our volunteer doctors visit residents monthly to provide primary care needs. Treatment costs are covered by AMF.
Raffles Chinese Medicine's Physician Tan Weii Zhu has been visiting Zion Home since 29 June 2017 to provide consultations including acupuncture treatments.
We have grown close with the residents of Zion Home and both residents and our volunteer doctors look forward to these visits.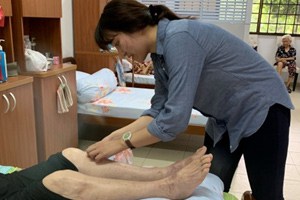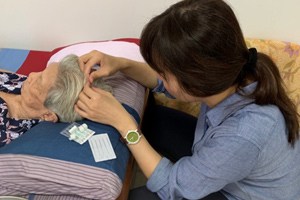 Acupuncture treatment by Dr Tan Weii Zhu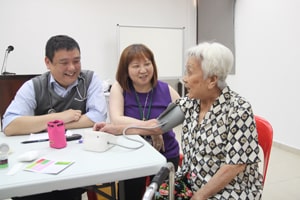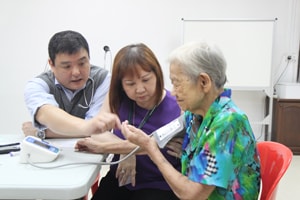 Dr Melvyn Wong provides free consulting to residents of Zion Home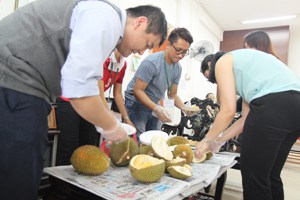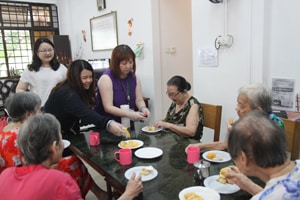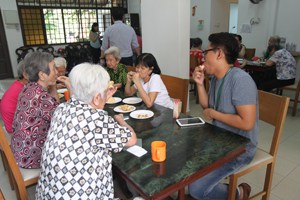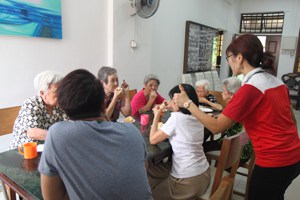 Durian party for residents and staff of Zion Home with the help of volunteers from Raffles Medical Group
PCF Sparkle Care at Simei
PCF Sparkle Care at Simei and Yew Tee provide much-needed day care and rehab facilities to the elderly and people with dementia in the heartlands. AMF has been assisting them in delivering ad-hoc rehab assessments of their clients since May 2016.
Dr Farhan, who is our Consultant Geriatrician, has also been providing pro bono dementia examinations and an initial diagnosis for clients with suspected early signs of forgetfulness.
Helping needy families impacted by the Covid-19 pandemic
Asian Medical Foundation (AMF) collaborated with Beyond Social Services (BeyondSS) to help families severely impacted by the Covid-19 pandemic. $105,000 worth of Sheng Siong Supermarket Pte. Ltd. vouchers were donated to help families under the care of BeyondSS over three months.
BeyondSS provides direct support to families living in rental flats in 14 clusters  and has identified 350 families who are in urgent need of help. This includes 70 families in Redhill and Bukit Merah View, 180 families in Henderson and another 100 families in Lengkok Bahru and Stirling Road.
From June 2020, each family will receive a $100 voucher over the course of three consecutive months.