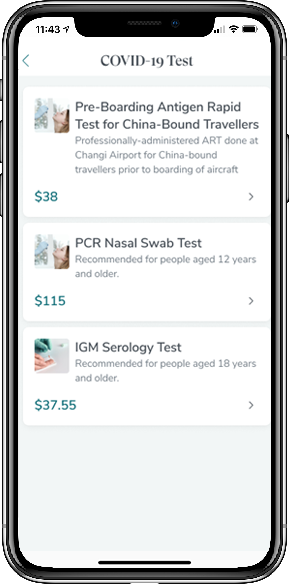 Pre-Departure
COVID-19
Swab Test
For business travellers requiring a pre-departure COVID-19 swab testing, you can book an appointment through Raffles Connect. Travellers to China can also have the IgM antibody test done at any of the pre-departure swab clinics.
For more information about COVID-19 testing, please visit COVID-19 Tests.
Costs of the COVID-19 tests are available on the Raffles Connect app.
How to make a pre-departure COVID-19 swab test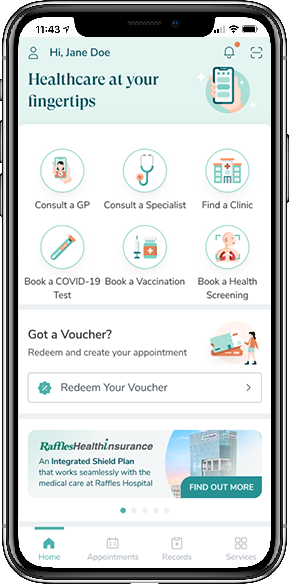 Step 1
Select Book a Test on the Raffles Connect home page. You need to login or sign-up to Raffles Connect before starting the process.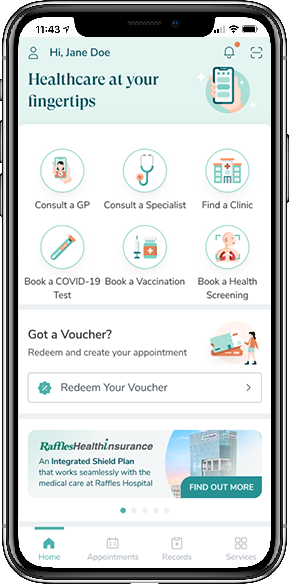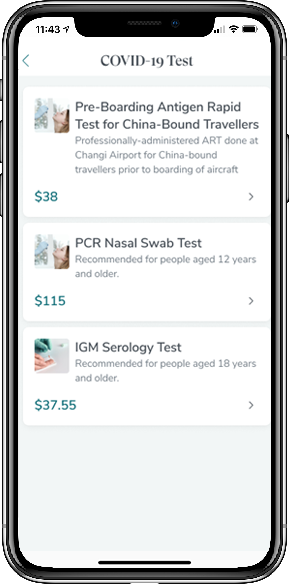 Step 2
Select your COVID-19 PCR test that is suitable for your pre-departure testing needs.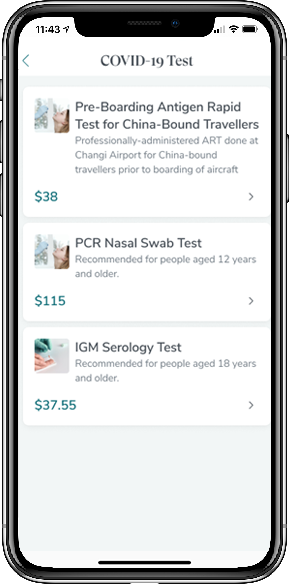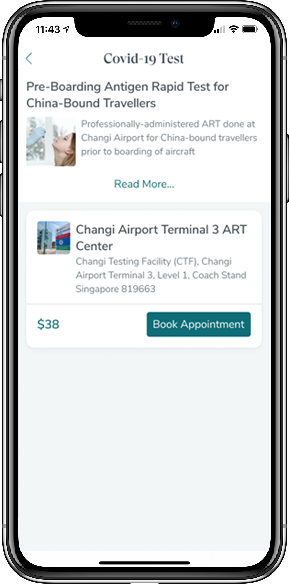 Step 3
Select your preferred Testing Location.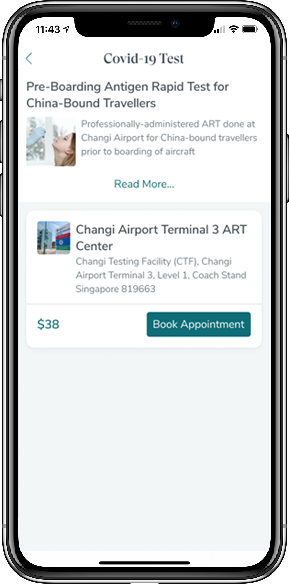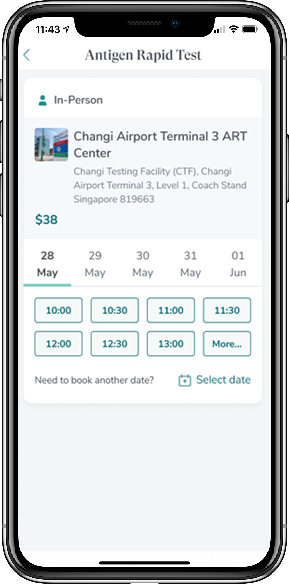 Step 4
Choose your appointment date and time.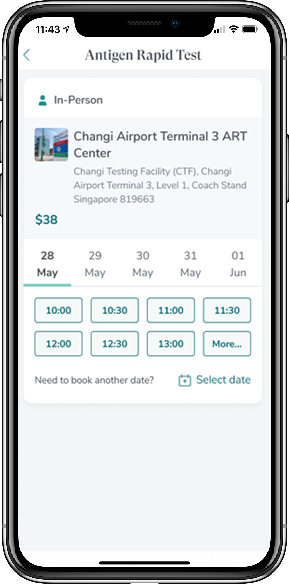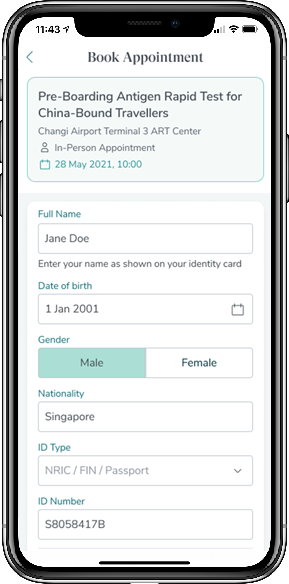 Step 5
Verify your personal particulars.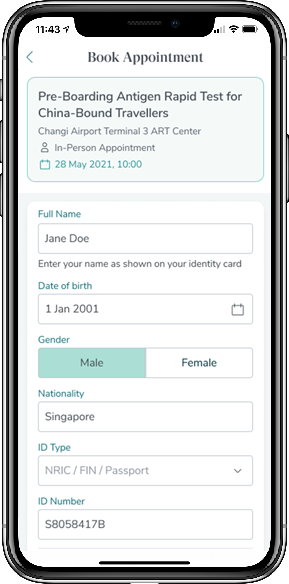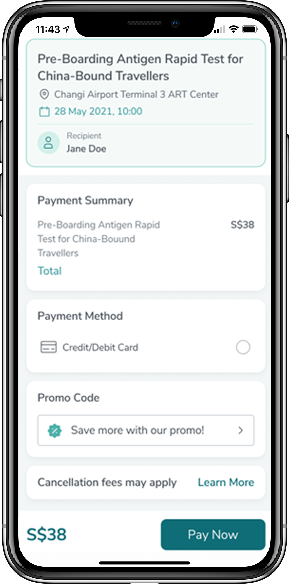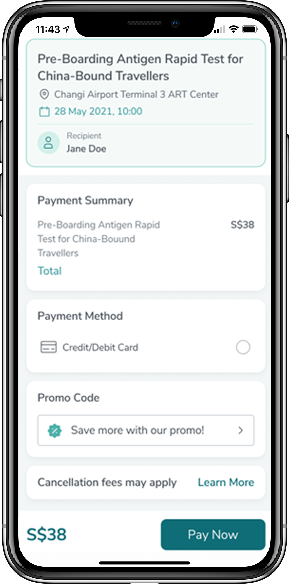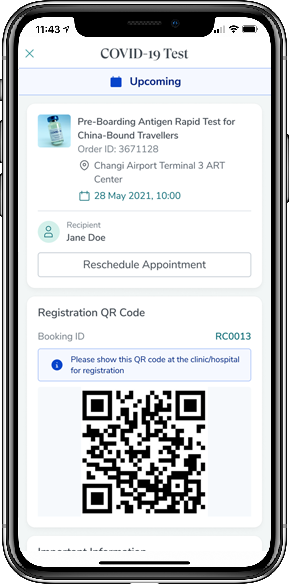 Step 7
You will be shown the appointment confirmation screen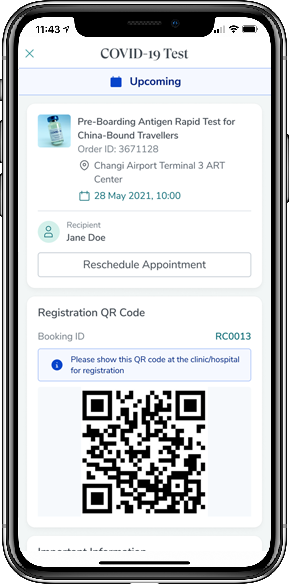 RM Clinics Pre-Departure Swab Clinics
Clinic
Address
Swabbing Hours
Swab available for children?
Changi Airport
Singapore Changi Airport
65 Airport Boulevard B2-01
Singapore 819663
24 hours
Yes


6 to 12 years old

RM @ Raffles Hospital
585 North Bridge Road
#0​2-00
Singapore 188770
Monday to Sunday
9.00am to 9.00pm
Yes


6 to 12 years old

Holland V
118 Holland Ave
Monday to Friday
8.30am to 7.30pm

Saturday & Sunday
8.30am to 7pm
Yes


6 to 12 years old

Sixth Ave
10E Sixth Avenue
#01-03
Singapore 276474
Tuesday to Friday
10.00am to 12.00pm
No
Shaw Centre
1 Scotts Road, Shaw Centre, Level 4
​Unit #4-09 to 14
Singapore 228208
Monday to Friday
9.00am to 3.00pm
Saturday
9.00am to 10.30am
Yes (Mon to Friday only)


6 to 12 years old

Raffles City
252 North Bridge Road
#02-17 Raffles City Shopping Centre
Singapore 179103
Monday to Friday
9.00am to 2.00pm
Saturday
9.00am to 9.45am
No
Harbourfront
1 Maritime Square
#03-56 HarbourFront Centre
Singapore 099253
Monday to Friday
9.00am to 1.30pm
Saturday
9.00am to 10.30am
No
Anchorpoint
370 Alexandra Road
#B1-41 Anchorpoint
Singapore 159953
Monday to Friday
10.00am to 11.00am
2.00pm to 4.30pm
No
Jurong East
Blk 131 Jurong Gateway Road
#01-267
Singapore 600131
Monday to Friday
9.00am to 12.00pm
2.0pm to 3.30pm
Saturday
9.00am to 11.30am
No
Jurong Point
1 Jurong West Central 2
#B1A-19D Jurong Point Shopping Centre
Singapore 648886
Monday to Friday
10.00am to 12.00pm
2.00pm to 4.00pm
Saturday
10.00am to 12.00pm
No
Clementi
Blk 446 Clementi
Ave 3 # 01-189
Singapore 120446
Monday to Friday
10.00am to 12.00pm
2.30pm to 4.00pm
No
Causeway Point
1 Woodlands Square
#05-20 Causeway Point
Singapore 738099
Monday to Friday
9.00am to 3.00pm
No
Northpoint
930 Yishun Avenue 2
#03-35 Northpoint City (North Wing)
Singapore 769098
Tuesday to Friday
10.00am to 12.00pm
2.00pm to 4.00pm
No
Sembawang
Blk 355 Sembawang Way
#01-06
Singapore 750355
Tuesday to Friday
10.00am to 12.00pm
2.00pm to 4.00pm
No
Ang Mo Kio
Blk 722 Ang Mo Kio
Avenue 8 #01-2825
Singapore 560722
Monday to Friday
9am to 7pm
Saturday & Sunday
9am to 9.30am
No PH swabbing
No
Bishan
Blk 283 Bishan Street 22
#01-177
Singapore 570283
Monday to Friday
9am to 12pm
2pm to 4pm
Saturday & Sunday
9am to 9.30am
No PH swabbing
No
Toa Payoh
Blk 177 Toa Payoh Central
#01-170
Singapore 310177
Monday to Friday
9am to 12pm
2pm to 4pm
Saturday & Sunday
9am to 9.30am
No PH swabbing
No
Lot 1
21 Choa Chu Kang Ave 4
#B1-07A Lot 1 Shopper's Mall
Singapore 689812
Monday to Friday
10.30am to 12.30pm
2pm to 3pm
Saturday to Wednesday
6.30pm to 7.00pm
Yes (Tues to Fri AM only)


6 to 12 years old

Yew Tee
21 Choa Chu Kang North 6
#01-02 Yew Tee Point
Singapore 689578
Tuesday to Friday
2.30pm to 4.30pm
No
Hillion
Hillion Mall 17 Petir Road
#02-7/8 Singapore 678278
Tuesday
10:30am to 12.30pm
Saturday
2.30pm to 4.00pm
Yes


6 to 12 years old

Tampines 1
10 Tampines Central  1
#03-28 Tampines One
Singapore 529536
Monday to Sunday & PH
2:30pm to 4:30pm
6:30pm to 8:00pm
Yes


6 to 12 years old

Loyang
Blk 259 Pasir Ris Street 21
#02-33 Loyang Point
Singapore 510259
Monday to Friday
8.30am to 1.00pm
2.30pm to 5.30pm (last appointment at 4.30pm)
No
White Sands
1 Pasir Ris Central Street 3
#04-19 Whitesands
Singapore 518457
Monday to Friday
2:30pm to 4:30pm
No
Hougang Central
Blk 809 Hougang Central
#01-180
Singapore 530809
Monday to Friday
2:30pm to 4:30pm
No
Rivervale Mall
11, Rivervale Crescent
#02-17 Rivervale Mall
Singapore 545082
Monday to Friday
2:30pm to 4:00pm
No
NEX
23 Serangoon Central
#B2-01, nex
Singapore 556083
Monday to Friday
2:30pm to 4:00pm
No
Compass One
1 Sengkang Square #04-09
Singapore 545078
Monday to Friday
9.00pm to 12.00pm
2.00pm to 4.00pm
Saturday
9.00am to 11.00am
No
Waterway Point
83, Punggol Central
#02-29 Waterway Point
Singapore 828761
Monday to Friday
9.00am to 12.00pm
2.00pm to 4.00pm
No
Bedok North
Blk 203 Bedok North Street 1
#01-467
Singapore 460203
Monday to Friday
8.30am to 12.00pm
2.00pm to 5.00pm
Saturday & Sunday
8.30am to 10:00am
No
Siglap
55 Siglap Road
#02-11/12 Siglap Centre
Singapore 455871
Monday to Friday
8.30am to 12:00pm

Saturday & Sunday
 8.30am to 10:00am
Yes


6 to 12 years old

Joo Chiat
471 Joo Chiat Road
Singapore 427680
Monday to Friday
8.30am to 12:00pm
Saturday & Sunday
8.30am to 10:00am
Yes


6 to 12 years old

East point
3 Simei Street 6 Eastpoint Mall
#02-27
Singapore 528833
Monday to Friday
8.30am to 1.00pm
Saturday & Sunday
8.30am to 11.00am
No
Changi City Point
5 Changi Business Park Central 1,
Changi City Point, #B1-55/56
Singapore 486038
Monday to Friday
8.30am to 1.00pm
Saturday
8.30am to 10:30am
No
Marina Bay
Financial Centre
12 Marina Boulevard #17-05
Marina Bay Financial Centre Tower 3
Singapore 018982
Monday to Friday
2:00pm to 4:00pm
No
Anson Centre
51 Anson Road #01-51
Anson Centre
Singapore 079904
Monday to Friday
9:00am to 4:00pm
Saturday
9.00am to 11.00am
No
80 Robinson
80 Robinson Road, #01-00
Singapore 068898
Monday to Friday
9:00am to 4:00pm
Saturday
9.00am to 11.00am
No
SLT
50 Raffles Place
#01-02A/C Singapore Land Tower
Monday to Friday
9:00am to 4:00pm
Saturday
9.00am to 11.00am
No
Powered by: