Meet Chiran Mandula Bopitiya, a senior executive in the Business Development Department at Raffles Health Insurance, and an RMG scholar.
Chiran has always had a fascination with technology. Majoring in Business Analytics allowed him to find the perfect balance between business and tech. At Raffles, Chiran gets firsthand experience of data analysis. A typical day for him includes accessing large sets of data; analysing and interpreting them.
Data is more than just numbers. Through the work that Chiran does, precious insights are obtained, which are critical in helping the organisation make important decisions.
Read on to find out more about Chiran's journey as a Raffles scholar.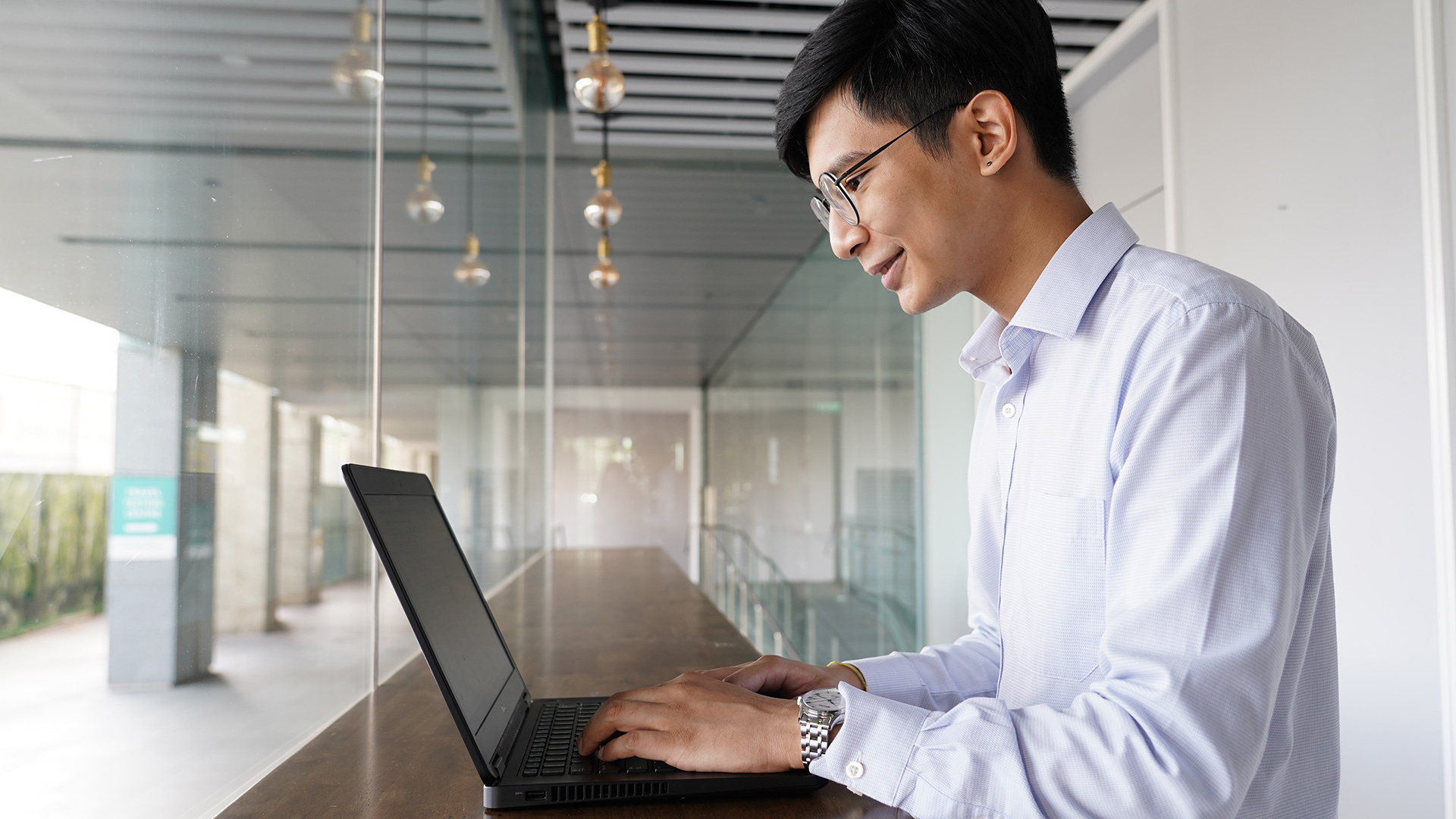 Why did you choose to major in Business Analytics?
I have always had a fascination with technology, but at the same time, I wanted to be in a field that is generalisable. I felt that Business Analytics encapsulates this balance of technology and business applications, and it motived me to major in this field. After graduating, I can safely say that it was indeed the right decision.
What was your first impression of the RMG Scholarship Programme? Did that change after you joined RMG?
I thought it would be a good opportunity to pursue a career in healthcare through the use of data. After joining the organisation, I recognised the importance of data analysis in healthcare. With the organisation and industry undergoing digital transformation, the field is now all the more important and I feel that it will help us stay at the forefront of healthcare.
How was it like to transit from a student to a full-time national serviceman, and finally, to a full-time staff in RMG? Were you able to adapt well in the organisation?
The four years of university in between national service and full-time work helped to ease the transition. My previous internships also prepared me for the work force. I would say that I am still adapting to the environment and figuring out how to implement the skills I learnt in school into what I do at work.
What is a typical workday like for you?
I work on several different projects so most of my time is spent working closely with the various project stakeholders, followed by coding and data analysis of the sets of data I receive from Raffles Health Insurance and Raffles Medical Group. Different projects call for different requirements and outcomes, so no two days are the same.
How has your journey in RMG been as a scholar?
For now, I believe my journey has only just started. Having only worked here for a year, the journey thus far has been rather unexpected. It is true when they say there is a stark difference between studying and working. I am still adapting and learning every day.
A particular opportunity I would like to highlight is one where I expressed my interest to be part of an investment project, and my supervisor eventually allowed me to be part of the committee. I appreciate the opportunity because it gave me a chance to learn and gain experience in other fields outside of data analytics. It also serves as a confidence booster because now I know that as long as we are willing to learn, there will always be opportunities open for us. I truly appreciate how the management is open to nurturing younger employees such as myself.
Is there anything in particular that you hope to achieve during your time in RMG?
As a personal goal, I hope to be able to lead a team that focuses on using cutting-edge technology to improve healthcare services. I believe that technology is a great enabling tool that can help bolster existing healthcare needs and create new opportunities for greater healthcare services. For example, computer vision algorithms and models have much potential in emerging services such as telemedicine. Blockchain technology can also be harnessed to extend our financial payment options to a wider target audience around the globe, which can be very convenient for medical tourists. It can also have potential use cases in certifying authenticity of important documents such as insurance policies and medical records. I hope that one day, I will be able to spearhead a team and help the organisation improve our services digitally.
What is one thing you would like to say to students who are considering the RMG Scholarship Programme?
I believe it is important for them to consider their interests and passions. Often we may make hasty decisions due to a multitude of reasons, so I would advise them to ask themselves if a career in healthcare is something that they wish to pursue.
Student Programme Enquiries