At Raffles, people are our most important asset. We nurtures committed and driven individuals who desire to excel and possess the passion to care for our patients. Whether you are starting your professional life after graduating from a University / polytechnic schools or already have a vast experience nursing career in Nursing, We invite you to experience a life-changing career as a Nurse. There are three career development pathways for Registered Nurses (RNs) to allow them to pursue career goals according to their interests and specialties / competencies.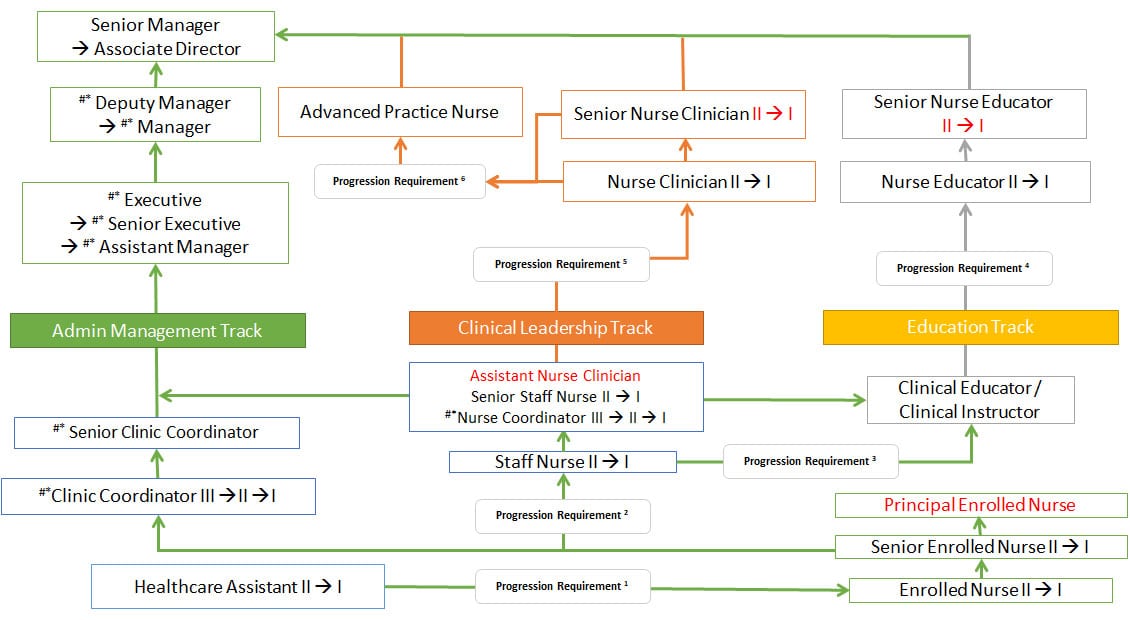 Progression Requirement:
1 NITEC in Nursing or EN Certificate
2 Diploma/ Degree in Nursing or RN Certificate
3 Clinical Instructor (CI) and/or teaching and assessing course and/or Spec Dip in Clinical Education
4 Post grad/ Adv/ Spec Diploma or equivalent certificate in clinical education
5 Post grad/ Adv/ Spec Diploma or equivalent certificate in nursing specialty
6 Master in Nursing (NUS)
#Only applicable for RM clinics
*Only applicable for SOC
Enrolled Nurses / Healthcare Assistant Track
Local *Enrolled Nurses can progress to be a Senior Enrolled Nurse to take on higher nursing responsibilities. You will have the opportunities to upgrade yourself professionally with the Post-Nitec Courses at Institute of Technical Education, College East.
Foreign *Enrolled Nurses / *Healthcare Assistant is required to sit for the SNB Registered Nurse (RN), Enrolled Nurse (EN) or Registered Midwife (RMW) Licensure Examinations when they intend to progress to be a Registered Nurse / Enrolled Nurse respectively. The examination is designed to evaluate their competency to practise nursing/midwifery in Singapore.
If you are keen to lead or manage a ward / clinic / department, you can take the Management track. We can entrust you to nurture your team's professional and personal development as well as fostering a good working environment for them.
You can advance in the Clinical Track as a Nurse Clinician if you have the passion to provide clinical leadership & direct care to our patients and families. You will have numerous opportunities to enhance your knowledge in specialized nursing such as Critical Care, Medical-surgical, Orthopaedic, Oncology, Geriatric etc. You will lead your team to deliver holistic and comprehensive patient care to promote health and recovery.
Teaching nurses is an exciting and challenging career, and the nurse educator role offers a wealth of opportunities. You can pursue the Education Track to become a Nurse Educator If passing on knowledge and nurturing aspiring nurses is what you enjoy. You can help to develop and implement education and training programmes for nurses.