Meet Hannah, a senior retail pharmacist with Raffles Health, and an RMG Scholar.
Hannah graduated from the National University of Singapore (NUS) with a degree in pharmacy. During her course of study, the idea of securing a full-time job motivated her to sign up for the RMG Scholarship Programme. When asked why she chose to major in pharmacy, Hannah said that she had a passion for science and wanted to pursue a profession in healthcare.
Read on to find out more about Hannah's journey as a RMG Scholar.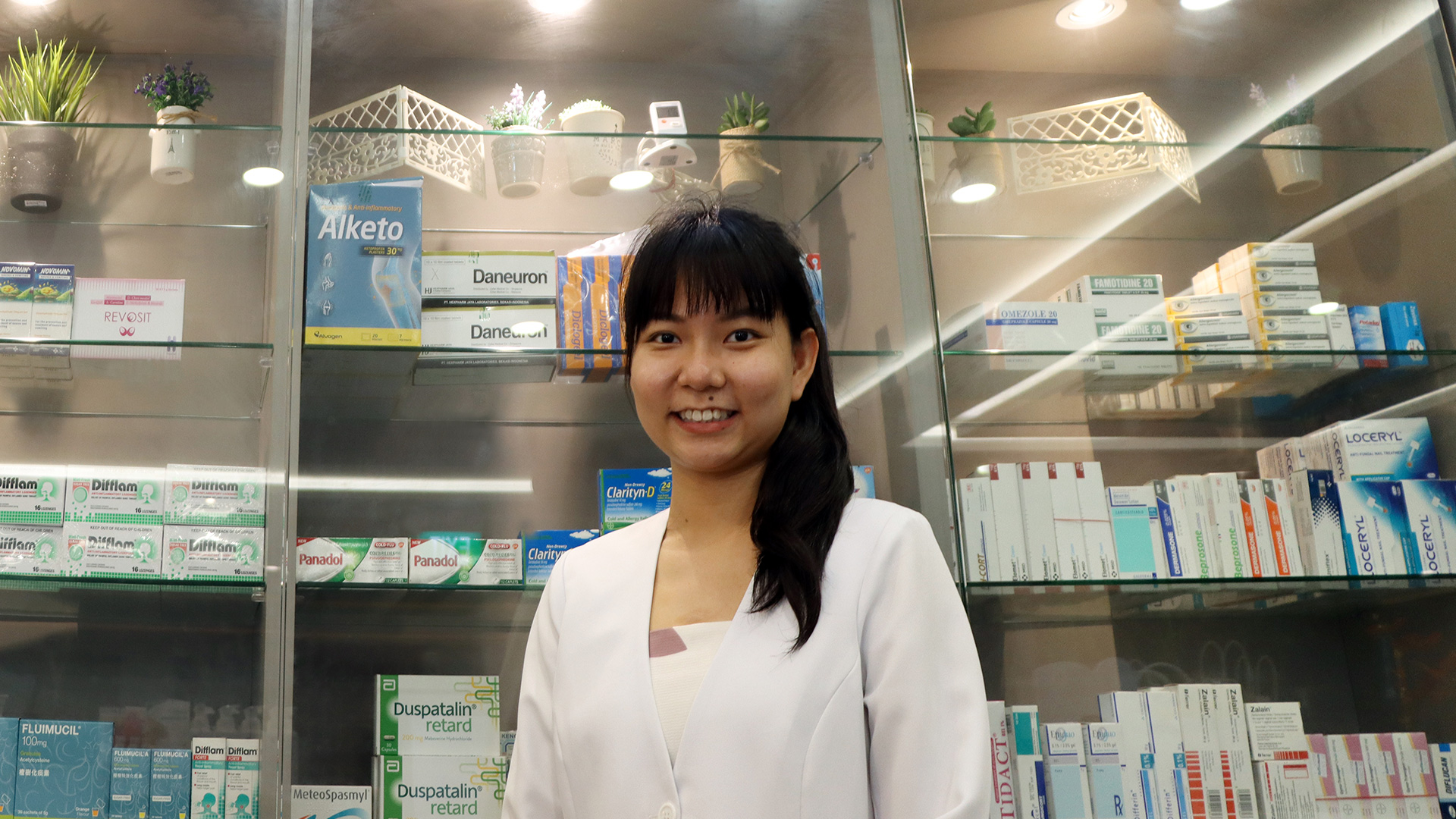 Why did you choose to major in Pharmacy in NUS?
Science was one of my favourite subjects in school, and I wanted to pursue a profession related to healthcare. However, I was not too comfortable with direct patient contact. To gain more experience and insights about pharmacy, I signed up for a pharmacy camp conducted by NUS after completing my A Levels, and got to know more about the course. I also became acquainted with seniors who shared interesting insights about the field. It was then when my interest in pharmacy sparked, as I found that it aligned with my interests and goals.
What was your first impression of the RMG Scholarship Programme? Did that change after you joined RMG?
When I first heard about the RMG Scholarship Programme, I was elated as I felt that it would be a great opportunity for me to secure a full-time job before I graduate. I was also drawn by the opportunities available that would allow me to undergo various internships to better explore the role of a pharmacist. The scholarship allowed me to pursue my degree and also provided me with the relief of securing a job after I graduated. After all, the worry of most graduates is the fear of not getting employed. With this scholarship, that was a worry I do not have to face.
My experience as an RMG scholar remained positive even after I came on board as a full-time staff upon graduation. The RMG Scholarship Programme provided a nurturing ground for me to explore and grow as a fresh graduate. I was assigned a mentor and I am ever grateful to this mentor of mine who would often check in on me to see if I am coping well. My mentor has been friendly and helpful, and is always ready to render a helping hand when I needed one.
What is a usual day for you like at work in Raffles? Besides advising patients and dispensing medicine, what other work do you do?
Being a retail pharmacist at Raffles Health, I get to interact with customers from all walks of life. I would attend to customer's queries and dispense medications based their needs such as the ailments they are experiencing.
Additionally, I am also involved in various projects from time-to-time. For instance, taking part in discussions regarding the formulation of Raffles Health's in-house supplements, and liaising with local health authorities for various licensing, such as the pharmacy's licence, and importers and wholesaler licences for medical devices. I also play a role in the listing of new products in our retail pharmacy.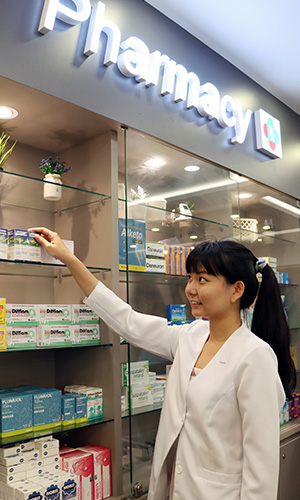 What was the most challenging task at work to date as a pharmacist in the inpatient pharmacy? How did you work your way through it?
As a pharmacist in Raffles Health, I do carry a lot of responsibilities in my daily job. Even though there may be instances when I am unable to discuss certain ideas or work processes with a fellow pharmacist, there are other pharmacists and managers from other departments whom I can always check with. My colleagues in RMG are friendly, and they are always willing to assist me.
How has your journey in RMG been as a scholar?
Starting my journey as a pharmacist in RMG meant that I was trained in the pharmacy department. Working in this department provided me with opportunities to work in both inpatient and outpatient settings. This has exposed me to a wide variety of medications used in different settings. At the same time, it has also helped me   familiarised with the system and various work processes. This benefitted me, and made it easier when I was transferred to Raffles Health to be in charge of the retail pharmacy because I had already been trained in a similar working environment. I was familiar with the medications the hospital carries, as well as the work processes involved.
How would you describe your time in Raffles Health?
My time in Raffles Health allowed me to explore a different side of being a pharmacist. Apart from the clinical aspect, I was also involved with regulatory work, and sale of medical devices and health supplements. This was a pleasant experience for me, and I look forward to honing my skills and grow to become a better role model for my fellow colleagues.
What is one thing you would like to say to students who are considering the RMG Scholarship Programme?
Do not be afraid about the bond that ties you to the company. Besides job security, the RMG Scholarship Programme will also provide you a good opportunity to learn and gain valuable work experience.
Student Programme Enquiries