Meet Kah Yong, an occupational therapist with Raffles Rehabilitation Centre, and an RMG Scholar.
Kah Yong graduated with honours from the Singapore Institute of Technology (SIT) with a degree in Occupational Therapy. During his course of study, he was intrigued to sign up for the Raffles Medical Group (RMG) Scholarship as he wanted to hone his skills by learning from a multi-disciplinary team and gain exposure by attending to a variety of cases. When asked why he chose to major in occupational therapy, he shared about why he found it extremely rewarding to help his patients regain their daily functions.
Read on to find out more about Kah Yong's journey as a RMG Scholar.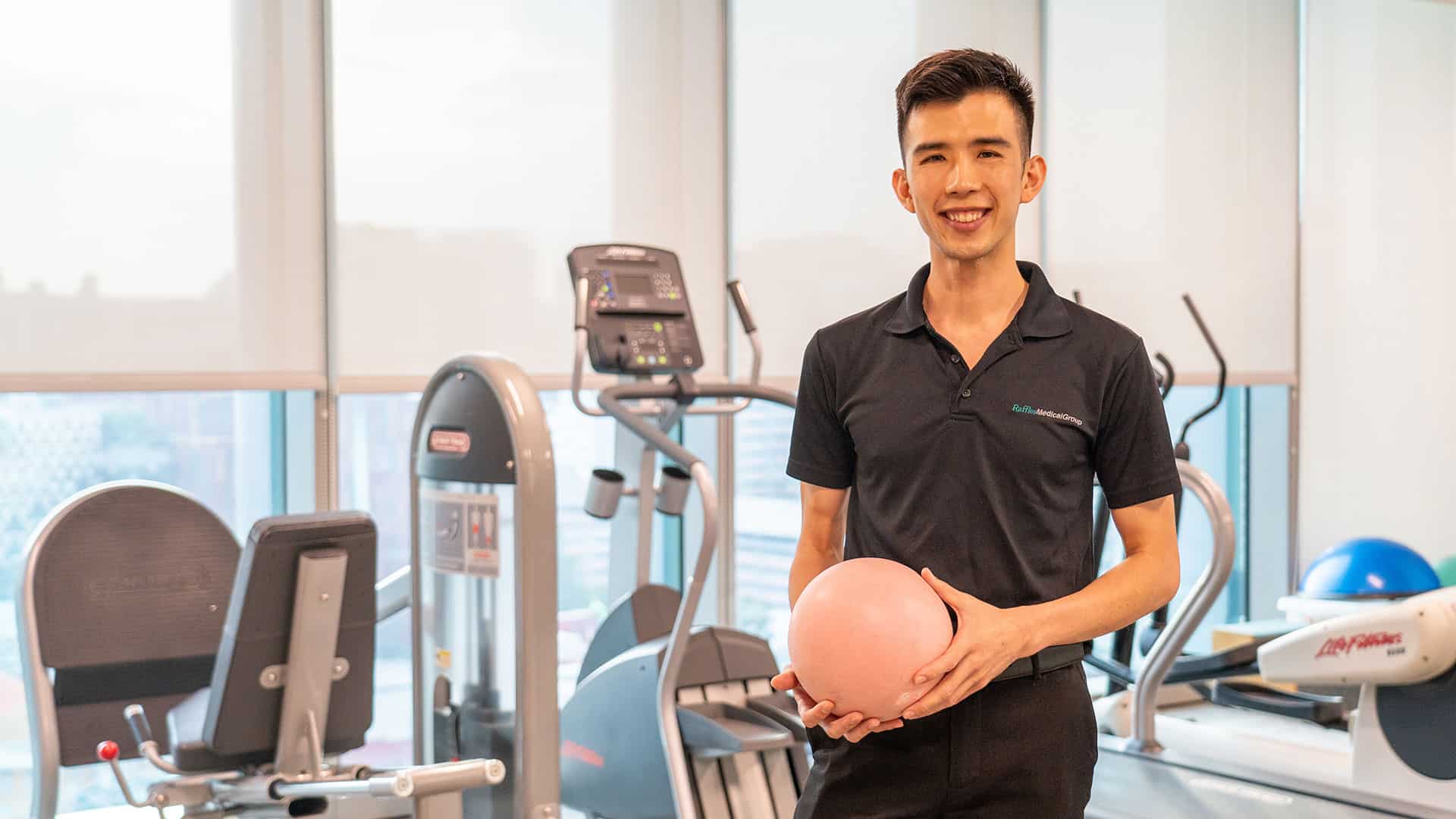 What did you major in and why was that your choice of study?
I chose to major in occupational therapy because I strongly believe in the importance of patient-centred care and promoting independence for my patients. A patient's transition back to his or her daily life after an episode of illness or a new diagnosis is often overlooked within the healthcare system. Hence, I wanted to be part of the team that can help patients regain their daily lives. I find it rewarding when my patients regain their daily functions, which in turn supports their caregivers.
What was your first impression of the RMG Scholarship Programme? Did that change after you joined RMG?
I was excited to discover this opportunity and felt that it would be my privilege to start my career with such an established private healthcare group. Nonetheless, as I have just kicked started my career as an occupational therapist, I felt intimidated and nervous about not being able to fill the shoes of my role. Fortunately, after joining RMG, I am fortunate to meet very supportive colleagues, seniors, and managers who are extremely willing to help guide and develop my skills as a therapist.
What encouraged you to take on the scholarship?
I was motivated to learn from a multi-disciplinary team in an acute hospital setting, and to hone my skills by attending to a wide variety of cases, all of which fits the profile of RMG. During the interview sessions, I learnt that RMG is dedicated to groom their employees and have a less structured pathway for career progression. With this scholarship, I believe that I will be given more opportunities to progress in my career.
What is a typical workday for you?
When the day begins, the occupational therapy team will have a morning meeting primarily to discuss and present cases to each other. This is a fantastic opportunity for learning because this is a time when rehabilitation ideas and suggestions will be exchanged. During the meeting, we also get to discuss on-going projects and latest occupational therapy research that might be relevant to our practice.
After the morning meeting, I will head to the wards to start my rounds. This takes up most of my day where I will be (1) performing initial and cognitive assessments, (2) reviewing and retraining my patients' activities of daily living (ADLs), (3) discussing discharge plans with other healthcare colleagues, (4) providing memos and discharge summaries, or (5) conducting caregiver trainings.
If I still have some pockets of time before the end of the day, I usually spend it on discussing cases with other healthcare professionals or doing some self-learning. The occupational therapy team also has in-service sessions once every few months where each of us would share about a topic that we have researched on, or attended a course for.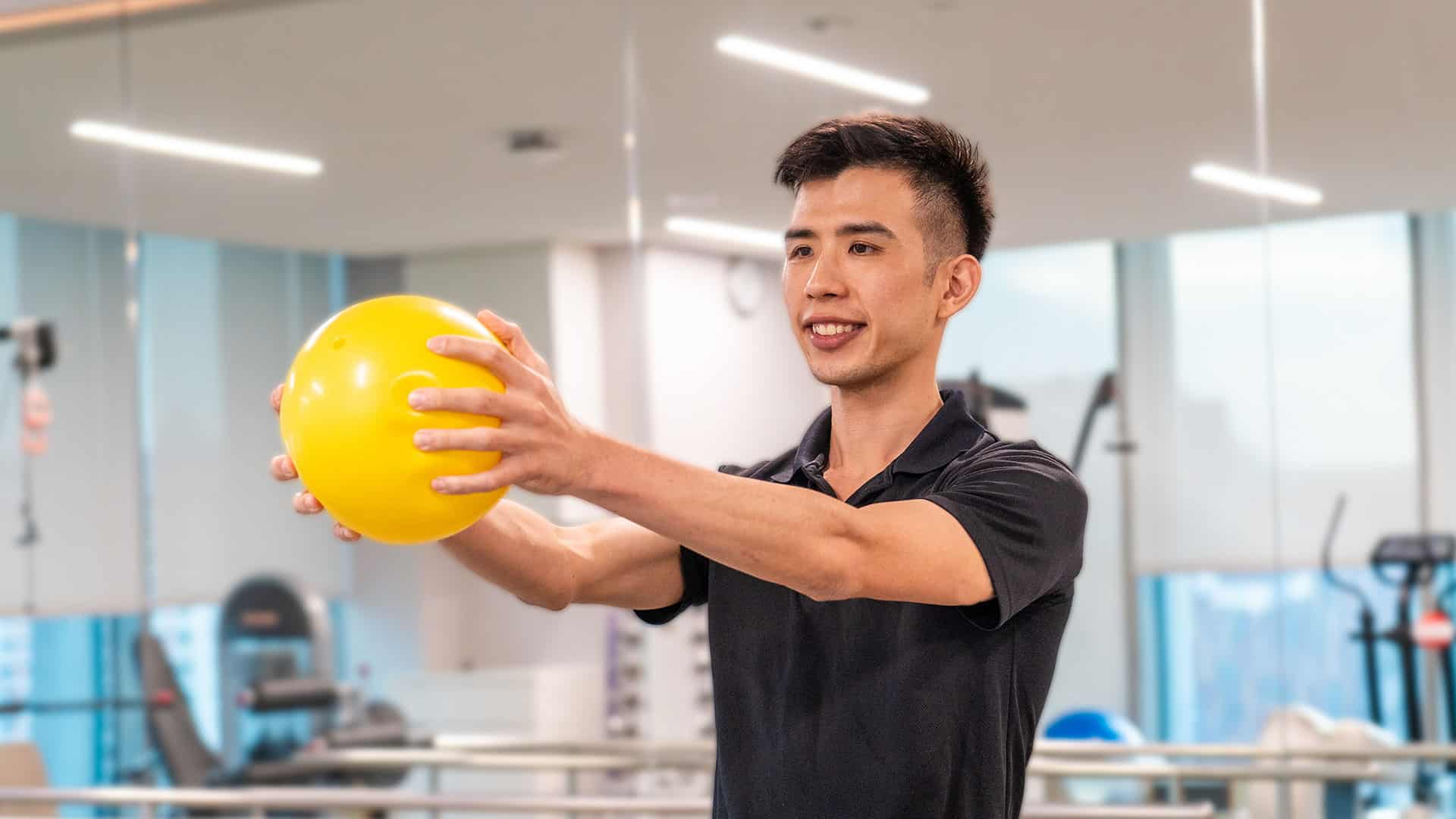 What is the most challenging part of your job?
I would say that the most challenging part of the job is that I have to be continuously up to date with new information and research regarding rehabilitation. Even after two years of being an occupational therapist, I still feel like I'm just scratching the surface of what I can learn or specialise in. That's what makes the job challenging but fulfilling at the same time.
How do you think the RMG scholarship programme has benefitted you?
The programme has grounded me during my time in university because I know I would be working towards a tangible goal. It also made me feel supported and included as I was invited back to Raffles Rehabilitation Centre for my internship, mentor meetings, dinner and dance, interviews, and annual general meetings. This sense of support that I have received continued till when I became a full-time employee, which helped ease my transition from being a student to a therapist.
How do you think you can value add to RMG post-graduation?
Talk to more people about what you want to do! Go for interviews, open houses, and research online. Put yourself out there and keep asking questions until you find an answer that speaks to you. With a clear understanding of your goals, you will be able to convince others to support your endeavours.
Student Programme Enquiries