Meet Rathigka Subramaniam, a senior staff nurse in Raffles Hospital and an RMG scholar.
Rathigka has always been passionate about helping those in need. Her journey in nursing began when she took up a basic nursing course in secondary school and had the experience to know what it was like to work in a hospital.
As an RMG Scholar, Rathigka was offered a window of opportunity in deepening her knowledge in nursing. She was able to experience job rotations at various departments in the hospital and specialist centres, as well as pursue her Bachelor of Science in Nursing and Advanced Diploma in Nursing with a specialty in Neuroscience.
Read on to find out more about Rathigka's journey as an RMG scholar.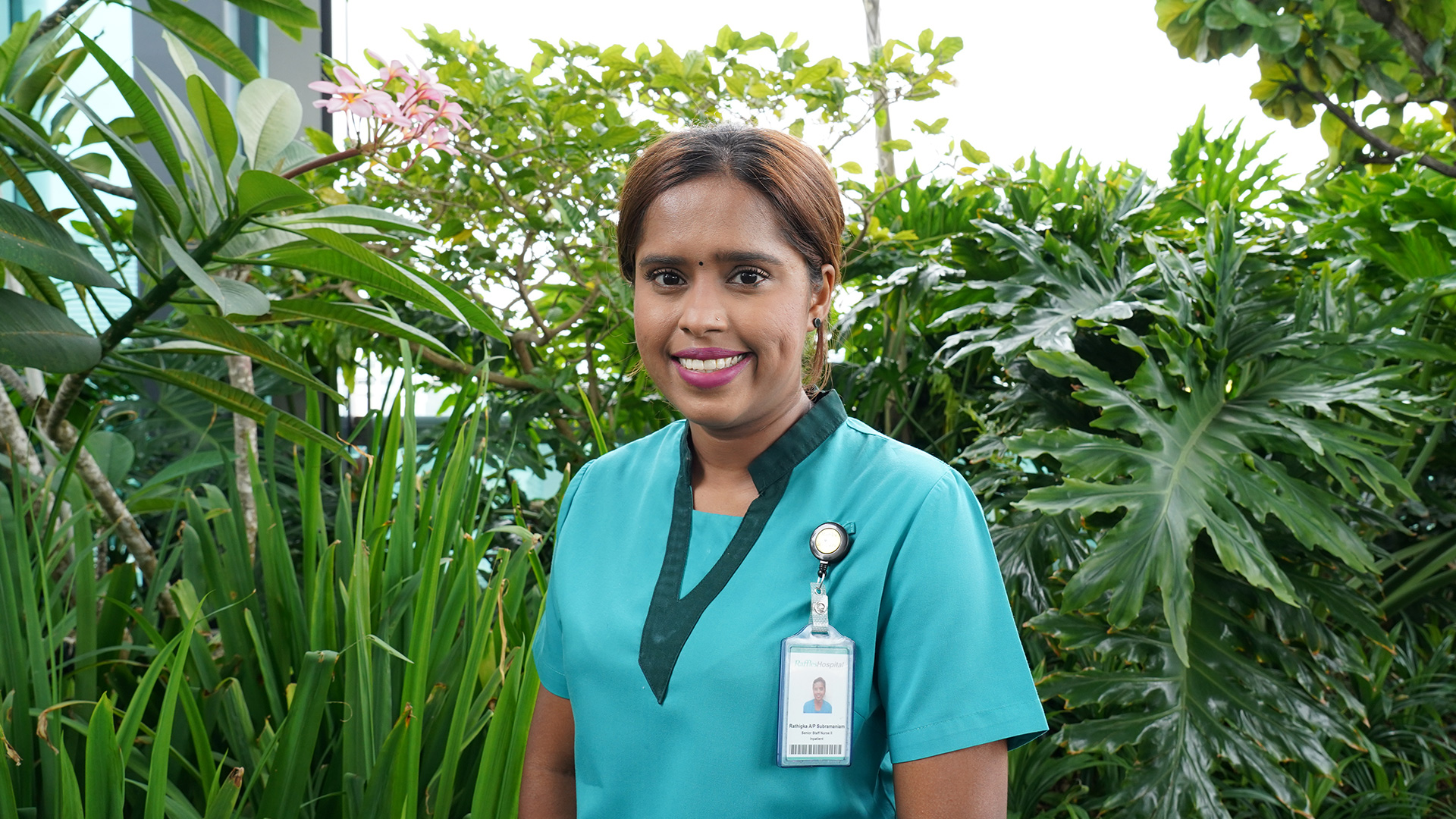 What inspired you to be a nurse?
When I was younger, I discovered that helping the needy gave me a sense of purpose in my life. My passion for nursing began when I first joined St John's Brigade in secondary school and picked up basic life-saving skills such as first aid. When I was 15 years old, I was offered the opportunity to complete both basic and advanced nursing courses that allowed me to undergo an attachment at a local hospital for two weeks. The two-week experience in the hospital gave me greater insights to the art of nursing, and eventually led me to pursue the profession. As nursing aligns with my interests and passion, I have never looked back.
What encouraged you to sign up for the RMG scholarship?
With RMG's footprint all over Asia, RMG's hospitals and specialist centres are widely known to provide high standard of holistic care for patients. Knowing that joining the RMG family would mean that I get to learn from the best healthcare practitioners and pick up the highest level of quality nursing care, I signed up for the scholarship with RMG to kick start my nursing career.
How has your journey in RMG been as a scholar?
My scholarship journey with RMG began when I pursued my Bachelor of Science with Honours in Nursing Practice at the Singapore Institute of Technology (University of Manchester). RMG provided scholars with a designed career pathway to groom individuals into future healthcare leaders, which gave me assurance that there will be career growth and progression as a Raffles nurse.
During my term breaks, I was given the chance to meet my mentor and participate in meetings, and get-together sessions. Having been invited to company events such as the annual dinner-and-dance, I was able to interact with fellow nursing colleagues, which broadened my perspective on the roles and responsibilities as a nurse in RMG. The exposure gave me a sense of familiarity with how working in RMG is like; giving me an extra boost of confidence to excel during my probation.
Did you undergo any job rotations in RMG?
There is a career pathway specially designed for RMG scholars. Ever since I became a practice nurse in 2016, I have undergone several job rotations in different departments. I am now a senior staff nurse in the inpatient ward.
Do you think the RMG Scholarship Programme benefitted you?
After graduation, I was offered a career pathway that helped me hone my nursing skills. After expressing my interests in management and education, I received numerous opportunities to attend in-house trainings, such as the nursing preceptorship, charge nurse, and clinical instructor courses to further develop my skills.
The career route offered by RMG allowed me to explore various disciplines through job rotations in the intensive care unit, neuroscience centre, as well as the medical and surgical units. Upon completion of my degree and advanced Diploma, I also went through peritoneal dialysis (PD) training, and this has enabled me to look after patients on PD.
The job rotations aided scholars like me to experience different levels of workload and work pace.
I have gained immense knowledge from the various experiences in the multi-disciplinary wards and enhanced my critical thinking skills, which enabled me to attend to emergency cases smoothly. These experiences motivated me to provide the best possible care for my patients.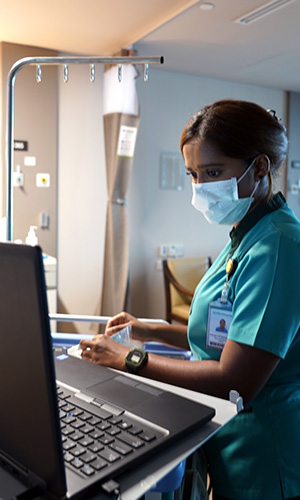 What inspired you to take up Advanced Diploma in Nursing (Neuroscience) after receiving your degree?
I have always been intrigued by the mystery and complexity of the brain. I believe that it offers continuous learning since the world is still learning something new about the human brain every day. New questions about human nature and behaviour are raised every day.
I took up the honours programme at the Singapore Institute of Technology to learn more about how to provide effective evidence-based and patient-centric care. I was fortunate to have RMG sponsor my course of study in this field, so I can stay up to date with the best practices in neuroscience and gain new skills in caring for patients with neurological and neurosurgical conditions.
What is one thing you would like to say to students who are considering the RMG Scholarship Programme?
"Hardships often prepare people for an extraordinary destiny" is a saying that I always keep in mind.
Be gracious. Integrity is essential, and honesty is the best policy. Bearing in mind that if you make a mistake, report it immediately. If you are unsure about something, voice it out, and take some time to do your own research. Always ask for help when you are in doubt because it helps you learn, and at the same time improve your knowledge and skills.
Keep an open mind. Nurses should have a thirst for knowledge at all times because  it is a never-ending learning journey in nursing. We must be open to all feedback to improve our strengths and fine-tune our weaknesses. Lastly, never be afraid to ask. Speaking of which, I am still learning from new staff and students every day!
Never give up. It may be tough at the start of your nursing journey, but there is always light at the end of the tunnel. You will be rewarded with an abundance of medical and nursing knowledge that will help you in shaping your career as a nurse and future leader in healthcare. Always remember your pledge as a nurse to serve, help, and care. Also, never forget the power of smile. Compassion is the key to nursing.
Student Programme Enquiries