Vaccination & Check-up for Baby's First 6 Months
$988.70
Consultation by paediatrician
Developmental assessment
Vaccines for prevention of Hepatitis B, Diphtheria, Tetanus, Pertussis,
Poliomyelitis, Haemophilus Influenza B and Pneumococcal Disease
Bundle up with
2 doses of Rotavirus vaccine

for an additional $189.55
Recommended Care Plan
Your Baby's Age
Vaccinations Given / Procedures Done
6th Week
Paediatrician Consultation
6-in-1**
4th Month
Paediatrician Consultation
5-in-1* and Pneumococcal
6th Month
Paediatrician Consultation
6-in-1** and Pneumococcal
Vaccination & Check-up for Babies 9 to 18 Months Old at $950.35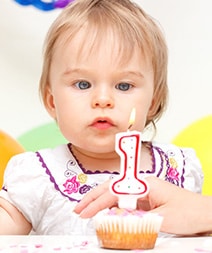 Package includes:
Consultation by paediatrician
Developmental assessment
Vaccines protecting against diphtheria, tetanus, pertussis, poliomyelitis, haemophilus influenza B, pneumococcal disease, Measles, Mumps, Rubella and chicken pox
Bundle up with
2 doses of Hepatitis A vaccine

for an additional $200.50.
Recommended Care Plan
Your Baby's Age
Vaccinations Given / Procedures Done
9th Month
Paediatrician Consultation
Developmental Assessment
12th Month
Paediatrician Consultation
Measles, Mumps, Rubella, Varicella, and Pneumococcal
15th Month
Paediatrician Consultation
Measles, Mumps, Rubella, and Varicella
18th Month
Paediatrician Consultation
5-in-1*
* 5-in-1 consists of Diphtheria, Tetanus, Pertussis, Poliomyelitis, Haemophilus Influenza B
** 6-in-1 consists of 5-in-1 and Hepatitis B
The above-mentioned services are available at:
Prices quoted are in Singapore Dollars and are inclusive of GST.
Costs of approved vaccinations can be claimed from your child's Child Development Account. Please make an enquiry for more information.
Items in the package are non-exchangeable and non-refundable, including unutilised portions.
Not applicable with other promotions, discounts, or corporate programmes.
Other terms and conditions apply.
Listed terms are subject to change without prior notice.