Preparing for a family is an exciting journey, and we understand the difficulties many have faced while trying to conceive. If you have been trying to conceive naturally for a while with no success, a good first step is to take a fertility test.
Raffles Fertility Assessment for Couples is a great starting point for couples to evaluate their fertility health and determine any underlying issues that may cause infertility.
Raffles Fertility Assessment for Couples
Price: $408.00 (inclusive of GST)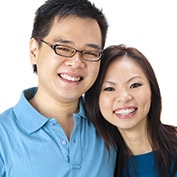 Location: Raffles Fertility Centre, Level 12, Raffles Hospital
Fertility test package includes:
Review of the results with a fertility specialist (upon availability of results)
Transvaginal ultrasound scan
Egg reserve blood test (AMH)
Pap smear
Thyroid stimulating hormone test
Prolactin hormone test
Semen analysis (for male)
This package consists of two separate components which will require you and your partner to come down twice to do the necessary tests and consultation upon results collection.
Please click here for more information.
This package is only available at Raffles Fertility Centre @ Raffles Hospital, Level 12.
This package is not applicable with other discounts or promotions.
This package is only applicable to new patients with no prior visits to Raffles Fertility Centre.
This package is not applicable to patients who have received assisted reproductive treatments and consultation before at any other fertility centres.
This package is not applicable if you have seen any fertility specialist before or had any test done before.
This package is not applicable if either of you have conceived (had a pregnancy) before. Resulting in livebirth, miscarriage or abortion.
This screening excludes medication and other health examinations.
Patients with male fertility issues will require further consultation with a urologist. Our team will be able to assist with the necessary appointments upon referral.
Price is not inclusive of any additional tests and follow-up consultations recommended by the specialists.
This package is not applicable for insurance claims.
This package is strictly non-refundable / non-transferrable.