Raffles Male Fertility Assessment will help you assess your fertility health and determine underlying issues that may cause male infertility.
Raffles Male Fertility Assessment
Price: $258 (inclusive of GST)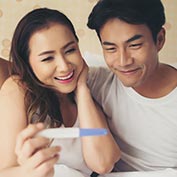 Location: Raffles Fertility Centre, Level 12, Raffles Hospital
This screening test package includes:
This package consists of two separate components, which will require you to come down twice to do the necessary test and consultation upon results collection.
Please click here for information.
Only review consultation is included, and it does not include any additional tests recommended by a fertility specialist. Only applicable at Raffles Fertility Centre in Raffles Hospital (Singapore). Price is in Singapore dollars and inclusive of GST.
The package is not applicable with other discounts or promotions.
This screening excludes medication and other health examinations.
Price is not inclusive of any additional tests and follow-up consultations recommended by the specialists.
The package is not applicable for insurance claims.
This package is strictly non-refundable / non-transferrable.