Raffles Hospital has been awarded Accreditation with Distinction, the highest recognition awarded by the American Nurses Credentialing Centre (ANCC), as a provider of nursing continuing professional development for the second time. This re-accreditation has been granted for four years till 2026. We are among a distinguished group of providers that have completed a review without any progress report requirement and we are the only hospital in Singapore that achieved accreditation with distinction. This accreditation is acknowledged as promoting the highest standards of nursing and performing as a quality leader in nursing excellence. This Award is testament that our nurses receive and will continue to receive updated knowledge of the best nursing practices, and access the highest calibre of education to meet certifications or licensure requirements, which in return value-adds to the recovery journey of our patients.
Raffles Hospital has been awarded the 2022 ANCC NCPD Premier Award, the highest recognition awarded by ANCC.  We are the first private hospital in Asia to receive this award. We are now among the distinguished group of NCPD-Accredited organizations that have been conferred the prestigious award.
---
"As an ANCC NCPD-accredited organisation, it signifies that Raffles Hospital is committed to the growth of our nurses through high-quality nursing continuing professional development (NCPD)," said Ms Lilian Yew, Chief Nurse.
"The dedication and diligence of our nursing team is exhibited through this recognition. Likewise, our nurses can be assured that they receive updated knowledge of best nursing practices and access to the high calibre of education to meet certifications or licensure requirements, which in return value-adds to the recovery journey of patients," Lilian shared.
---
What the ANCC's accreditation means for an organisation is that it has the ability to demonstrate quality and instill excellence in curriculum design and delivery of continuing nursing education (CNE). Raffles Hospital meets with stringent criteria in ensuring CNE activities are effectively planned, implemented, and evaluated. The outcome from the ANCC places Raffles Hospital among a distinguished group of providers that have completed a review without any progress report requirements. With this international accolade, our professionally trained nurses are widely acclaimed and recognised by various relevant licensing and regulatory bodies.
For more information on ANCC Accreditation Program, please click here.
Watch this video to see nurse leaders like Ms Lilian Yew describe how ANCC NCPD accreditation provides the framework for lifelong learning.
The Nursing Education Department (NED) is dedicated to providing quality nursing education that develops critical skills, knowledge and professionalism, maximising the potential of local and international nursing talents.
Leveraging the nursing expertise and experience of our clinical doctors and nursing leaders, we offer a wide range of nursing continuing professional educational (CPE) programmes that focuses on clinical practice that equip learners with hands-on learning experience.
At Raffles Hospital, we firmly believe that lifelong learning and professional training are key components to the growth and development of nurses, helping them excel in their roles as caregivers, health educators, counsellors and managers.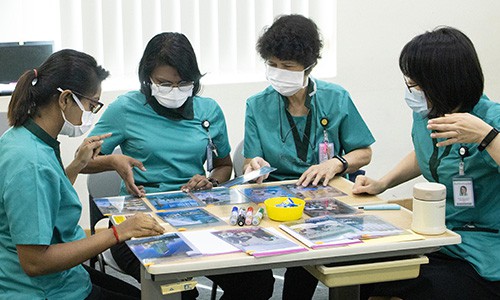 The Nursing Orientation Programme spans a month and is designed for newly-hired nurses to induct them to professional standards and responsibilities of being a nurse. It focuses on developing effective decision-making skills (ie. patient safety, risk assessment, prevention and management, and essential nursing skills) and strives to build confidence in nurses. This will allow them to effectively go about their daily clinical practice and to ease into their new healthcare environments quickly.
A mix of online learning and classroom mediums are used to optimise learning and set objectives. Technology is also used to match each nurse's learning style. Every nurse is given greater flexibility of learning at their own time and pace. Nurses are required to attend a one-day classroom session and upon completion, they must complete mandatory E-learning modules by a month's time. The nurses will then be awarded a certificate of attendance.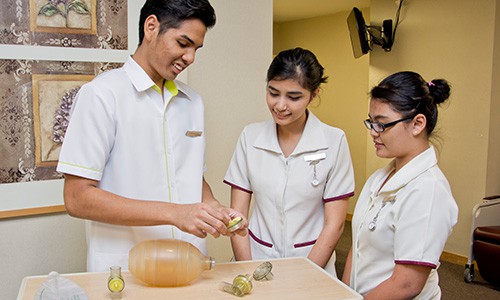 Local Nursing Student Clinical Placement
Raffles Hospital has been accredited by the Singapore Nursing Board (SNB) as a certified training ground for students' internship since 2006. The Nursing Education Department (NED) has been receiving students from various educational institutions such as:
National University of Singapore (NUS)
Singapore Institute of Technology (SIT)
Nanyang Polytechnic (NYP)
Ngee Ann Polytechnic (NP)
Institute Technical Education (ITE)
Health Management Institute (HMI)
The clinical attachment programme is categorised as follows:
Pre-registration Programme for students from Diploma in Nursing & Degree in Nursing courses
Pre-enrolment Programme for students from NITEC in Nursing
Post-registration Programme, tailored for registered nurses who are pursuing an advanced diploma in various nursing specialties
During their clinical attachment, a structured orientation programme inducts students to various clinical settings. We have a dedicated team of educators in the NED working closely with respective nurses, nursing clinicians and managers to help students achieve their learning objectives and sharpen clinical skills and competencies. We have included our interns in our in-house training programmes and paired them with clinical preceptors who mentors them throughout their attachment stint. We foster a cohesive bond with our students and value their feedback. This keep us on a continuous track of improvement and enhancement of our facilitation.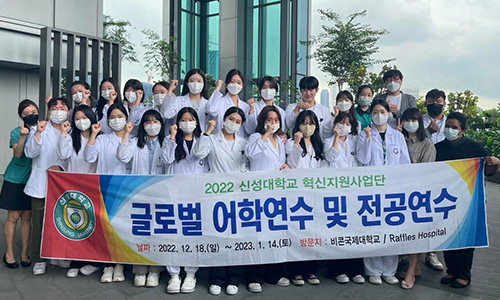 Overseas Nursing Education Programme
Over the years, the NED has been receiving an influx of international students from Korea, China, Taiwan, Australia, Germany and many other countries for observational clinical attachments.
This international internship programme serves to complement overseas academic education with observational insights to clinical nursing practice in Singapore's healthcare system and exposes the students to service excellence standards and management at a private hospital.
Comprehensive hospital tours are conducted at specialty operating units, allied health departments and clinical areas across various nursing disciplines. The programme is often tailored to meet specific learning needs of students at various levels of tertiary studies.
For more information on this programme: