Raffles Life Support Centre offers essential life support training programmes that are open to individuals and organisations. We can customise them to your organisation requirements and / or conducted at your premises.
Here are the courses we currently offer:
BCLS and AED Instructor Course
$248.40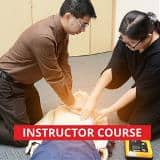 The BCLS and AED Instructor Certification Course is designed to develop learners to be proficient Cardiac Life Support Instructors, with the skills and knowledge to facilitate Singapore Resuscitation and First Aid Council (SRFAC) accredited courses in their organisation or in the community. Learners will be introduced to various instructional methods and end the course with a practicum to demonstrate their competence in the subject matter.
They will learn how to:
Apply key principles of Learning and Facilitation.
Understand their roles and responsibilities as an Adult Educator (AE).
Demonstrate proficiency in current BCLS + AED skills and concepts.
Demonstrate correct function, use and troubleshooting of training equipment.
Evaluate learners effectively according to principles of assessment.
Conduct a successful BCLS + AED training programme.
Participants are required to complete at least two BCLS + AED training attachments at any SRFAC accredited Training Centres (TC) before being endorsed as an instructor. They will be awarded a certificate that is accredited by the Singapore Resuscitation and First Aid Council with a validity of two years.
Duration:
CPR with AED Course
$86.40
The CPR and AED Certification Course provides learners with essential knowledge and skills to identify cardiac emergencies and perform Cardiopulmonary Resuscitation (CPR), in conjunction with the use of an Automated External Defibrillator (AED). Learners will experience a mix of online learning and face-to-face instruction, aimed at preparing graduates to perform cardiac resuscitation with confidence and competence.
They will learn how to:
Implement the Chain of Survival for cardiac emergencies.
Recognise signs and symptoms of sudden cardiac arrest / heart attack.
Understand the importance of Early Defibrillation and its impact on survival rates.
Perform CPR + AED on an unconscious victim.
Familiarise with AED protocol, documentation and reporting.
This course is accredited by the Singapore Resuscitation and First Aid Council (SRFAC).
Duration:
Certification: 4 hours (0.5 days)
Standard First Aid with CPR and AED Course
$156.60 (Certification Course)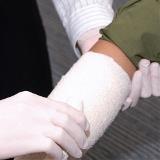 The Standard First Aid with CPR and AED Certification Course is a comprehensive training programme that covers critical aspects of first aid. It is designed to equip learners with in-depth knowledge and skills in rendering appropriate first aid treatment. Learners will experience elements of individual and collaborative learning.
Learners will be able to render immediate and effective treatment during a medical emergency by:
Understanding the role, responsibilities and importance of a First Aider.
Assisting victims with potential respiratory difficulties.
Rendering effective treatment for circulatory injures and problems.
Managing bone, joint and muscle injuries appropriately.
Recognising and treatment of victims with suspected nervous system injuries.
Managing victims' skin-related problems such as burns and heat injuries.
Assisting victims with injuries related to poisoning, bites and stings.
Handing and transporting an injured victim.
Performing CPR and / or AED on an unconscious adult.
This course is accredited by the Singapore Resuscitation and First Aid Council (SRFAC).
Duration:
Certification: 21 hours (2.5 days)
A minimum of 80% attendance record is required for learners to sit for the assessment. Absentees may request make-up lessons only upon producing a medical certificate. Participants who did not complete their assessment successfully will have to re-take the assessment (MCQ/Practical) on another day within one month. Additional assessment attempts will be subjected to an administrative fee of $10.
All payments are on a strictly non-refundable basis and must be made before course commencement, failing which Raffles Medical Group reserves the right to cancel or postpone the participant's registration for the specific course date.