Raffles Healthcare Institute (RHCI) is the educational arm of Raffles Medical Group (RMG). It was set up in July 2013 with the objective of contributing to training of local and overseas healthcare professionals to meet the growing healthcare manpower development needs.
With its establishment, RHCI brings together under one umbrella all the training programmes within RMG for medical specialist and in family medicine, dental, nursing, allied health, healthcare management and life support.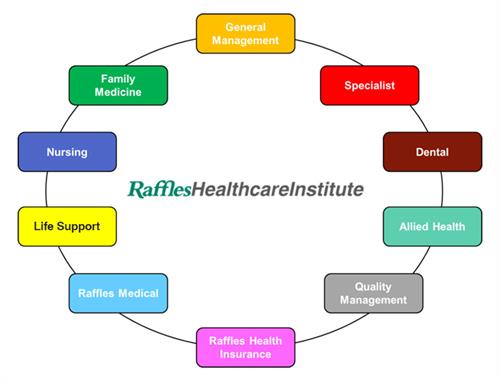 As the training arm of RMG, RHCI leverages on the expanding base of clinical and management expertise and resources of Raffles Hospital and the network of specialist, family medicine and dental clinics. In addition, RMG's institutionally-based group practice model affords a structure of clinical leadership and governance and a staff of medical professionals which support teaching and education.
RHCI offers a wide range of educational programmes which include continuing medical education, clinical attachments for nursing and allied health students and trainees, and courses and workshops related to clinical skills, patient safety, service quality, healthcare management, and professional and continuing education.
As a private healthcare institution, RMG adds value to the educational experience of each student / trainee by providing not only clinical experience but also exposure to private sector standards of service excellence and business management.