What is Laparoscopic Sleeve Gastrectomy?
Laparoscopic sleeve gastrectomy, or lap sleeve surgery, is a type of bariatric surgery. It helps severely obese patients lose weight by reducing the size of their stomach. With a smaller stomach, your food intake will be reduced, allowing you to feel full when you eat less.
The resulting weight loss will help to improve or prevent many life-threatening weight-related conditions, such as diabetes, high blood pressure, high cholesterol, and stroke. You will also enjoy greater mobility and a better quality of life.
You will need to meet the minimum requirements to qualify for the procedure, which includes:
Having made reasonable effort to lose weight through diet, exercise or medication but have not lost a significant amount of weight, or have regained your lost weight.
Your body mass index (BMI) is above 37.5, or above 32.5 with accompanying health problems, such as diabetes, hypertension, hyperlipidaemia, or obstructive sleep apnoea.
You will also need to consult our specialists and undergo screening tests. Besides evaluating your eligibility, these tests will help to exclude other treatable metabolic causes of obesity and help you understand more about the procedure.
If you wish to learn more about the procedure, or find out whether you are eligible, make an appointment to consult our bariatric surgeon.
What Happens During a Lap Sleeve Gastrectomy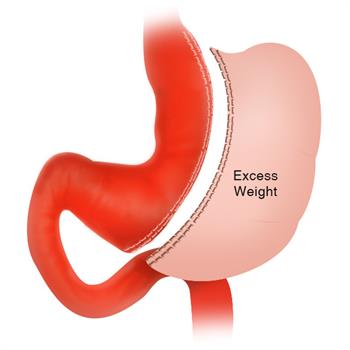 The lap sleeve gastrectomy is done laparoscopically, which reduces post-operative pain and healing time. A few small incisions, ranging from 0.5 to 1.5cm will be made in your abdomen.
A telescopic camera, instruments and staple devices are inserted through these incisions into your stomach. The surgeon then staples and cut your stomach to create a tube and reduce its capacity. The entire operation will take up to two hours.
In the first few weeks after your surgery, your diet will be limited to fluids and pureed foods only. You will also need to take B complex vitamins to help with the healing process.
As your stomach now has a smaller capacity, you will feel full after eating much less. Your calorie intake will decrease, resulting in sustained weight loss. Depending on the weight, an average person may lose about 50 to 60 per cent of his or her excess weight1, which is about 20 to 70kg, at a rate of three to four kilograms a month. You should also follow-up with your doctor every year so he or she can monitor your progress.
1 Excess weight is your current weight minus your ideal weight.
Make An Appointment
Make an appointment or contact the surgery centre to consult a surgeon. To make an appointment, select "Specialist Appointment". Under Specialist Appointment Details, select "General Surgery", and include Laparoscopic sleeve gastrectomy in the ​Remarks.
Make an enquiry. We will get back to you within 2 working days. You can reach us at 6311 1140.