Why Choose Raffles Dental?
Medisave claimable:
Up to $​950 per dental implant
Clinics conveniently located islandwide
Fully equipped with digital X-ray imaging services
24-hour emergency callback service at Raffles Hospital available
What Are Dental Implants?
Dental implants are replacement options for the roots of your missing teeth. They provide support for implant-supported crowns and bridges. These implants come in the form of titanium posts or screws that are inserted into your jawbone surgically.
How Do Dental Implants Compare To Dentures?
Dental implants are commonly used as alternatives to dentures and bridges.
Some may find dental implants to be more convenient and comfortable than dentures, as they are fixed in the jaw, and do not require additional support to remain stable during chewing.
Dental implants also do not require the tooth structure to be removed as compared to bridges, as it functions as a single unit, and does not depend on adhesion to adjacent teeth for retention.
| | Dental Implants | Dentures |
| --- | --- | --- |
| Price | From S$2,​916 | From S$540 |
| Type of claim applicable? | Medisave | CHAS |
| Replace missing teeth? | | |
| Reduce jawbone loss? | | |
| Surgery required? | | |
| Additional cleaning required? | | |
*Prices are inclusive of GST, and excludes consultation and consumables fee.
*Prices indicated are only for the treatment itself. Additional procedures (such as installing dental crowns) that may be required are not included.
*Other terms and conditions apply.
Make an appointment with any of our dental clinics to find out if a dental implant is the right teeth replacement option for you.
What Happens During A Dental Implant Consultation?
Am I suitable for Dental Implants?
You may be suitable for dental implants if you:
Have one or more missing teeth.
Have healthy teeth and gums.
Do not have other health conditions that prevent you from undergoing a surgery, or may affect post-surgical healing.
Dental implants may also be suitable for people with badly diseased teeth. In such cases, it is possible to extract those teeth and have the dental implants done on the same day. Further assessment is required to determine your eligibility.
If you are suitable for a dental implant treatment, your dentist will prepare you for the procedure by taking impressions of your teeth and gums to make a study model, as well as a 3D X-ray of your jaw. These will help your dentist to determine the most appropriate treatment plan for you.
Additional surgery may be required if you do not have enough jawbone to support the implant. Your dentist will discuss with you options to increase the amount of jawbone, such as bone grafts or sinus lift surgery.
What Happens During A Dental Implant Procedure?
A dental implant surgery is performed under local anaesthesia. It will take longer if additional procedures are required.
During the surgery, your dental surgeon will: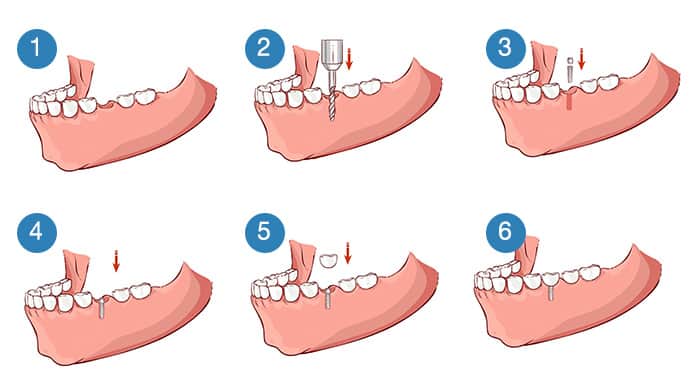 Make incisions on the gums at the implant site to expose the bone.
Drill a space in your bone for the implant to be inserted.
Insert the implant into the jawbone space.
Stitch the gums surrounding the implant fixture to cover the exposed bone.
After your surgery, you may experience some discomfort at the implant site, such as:
Swelling of your face and gums
Bruising
Pain
Bleeding
Your stitches will be removed one week after the surgery.
Depending on the extent of your surgery and the type of dental implant selected, your jaw may take eight weeks to six months to recover. Once the implant site has recovered, your dentist will proceed to fabricate a dental crown that will be placed on your implant.
What Are Some Dental Implant Complications?
Implant failure may occur if an infection develops around the dental implant site, or if your bite is not properly adjusted.
Your implant-supported crown and bridges may also fail if you regularly bite, clench, or grind your teeth. The constant pressure from these activities may cause wear and tear on your dental implant, which increases the chance of it breaking or failing.
Follow these tips to keep your dental implant in good condition and reduce the chance of breakage:
Have regular check-ups with your dentist. Regular dental visits allow your dentist to check if your dental implant is in good condition. You should also get an X-ray update of your existing dental implant annually.
Practise good oral hygiene. Your dentist may recommend special dental equipment to clean the areas around the implant fixture.
Avoid habits that damage your teeth. Avoid activities that place unnecessary pressure on your dental implant, for example eating hard foods.
If you wish to consult a dentist to find out more about dental implants, you can make an appointment online or contact a dental clinic near you. We have 12 dental clinics located islandwide.
In Singapore, Raffles Dental provides a comprehensive range of services to prevent, diagnose and treat dental and oral diseases. Our dental clinics are conveniently located islandwide, and include Raffles Hospital, Holland Village, Woodlands, and Tampines. We are dedicated to providing the highest standard of professional care and service to our patients.