Routine dental check-ups are important as it allows the dentist to be able to detect problems early and help you maintain proper oral health.
At Raffles Dental, our routine dental checkups include the following: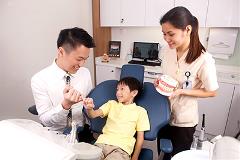 Teeth
Examined for decay, faulty fillings, cracks and wear.
Gums
To ensure that they are healthy. Bleeding gums are signs of gum disease.
Mouth
Bones, cheeks, tongue, palate and other parts of the mouth and face will be examined for any signs of diseases.
Dental X-ray examinations are an important part of the routine dental checkup as it can detect problems which may not be apparent during the clinical examination. An X-ray examination may reveal:
Small areas of decay between the teeth
Presence of periodontal (gum) disease
Location of impacted teeth, eg wisdom teeth
Infections in the bone
Abscesses, cysts or tumours
Developmental abnormalities
After the examination, our dentist will provide you with a treatment plan and discuss the implementation of the plan with its associated costs.
Apart from regular brushing and flossing of your teeth, it is essential to make routine, twice-a-year dental check-ups a priority because the mouth is a gateway to the rest of your body and good oral hygiene contributes to good overall health.
CHAS / Merdeka & Pioneer Generation




Simply present your card to enjoy the following dental services from $10.70*.
*CHAS eligibilities apply
Dental services include:
Consultation
Scaling & Polishing
Topical Fluoride