Why Choose Raffles Dental?
Subsidies for CHAS and PG available
Improve your smile and help you eat better
Clinics conveniently located island-wide
Fully equipped with digital X-ray imaging services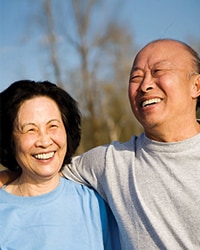 Dentures are artificial teeth replacement options for your natural teeth that restore your smile and help you eat better. They are usually made with acrylic, or a combination of acrylic and metal.
Your dentist will usually evaluate your suitability for dentures first. It involves a comprehensive dental examination and taking an X-ray of your jaw and mouth. Your dentist may also discuss with you about other teeth replacement options, such as dental implants.
Make an enquiry with us to check your suitability.
Procedure for Making Dentures
Once your dentist has confirmed your suitability, it will take approximately five dental visits for your dentures to be made. During these visits, your dentist will:
To get used to having the dentures in your mouth, you should wear them most of the time during the first few days, except when sleeping.
You may experience some discomfort in the first few months when wearing the dentures, such as:
Excessive salivation
Difficulty in eating
Difficulty in pronouncing certain words
Minor irritation in your mouth
These problems will disappear as you become more comfortable with your dentures and have adjusted to it.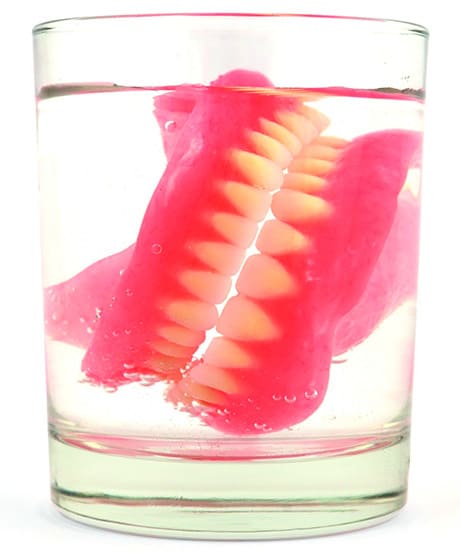 It is important to keep your dentures clean. Not caring for them will result in your dentures getting dirty and smelly. Unhygienic dentures can also cause fungal growth in your gums.
Here are some tips to keep your dentures well-maintained:
Brush or wash your dentures after every meal.
Avoid adjusting the dentures on your own.
Do not soak your dentures in very hot or boiling water as the heat may distort your dentures.
Avoid dropping your dentures, as they may crack or chip upon impact. If you have a tendency of dropping your dentures while brushing them, consider placing a basin of water underneath when doing so.
Store your dentures in room temperature water. Leaving them out to dry causes them to lose their shape.
You should visit your dentist to get your dentures checked and ensure proper fitting regularly. Ill-fitting dentures not only irritate your gum, they also cause ulcers and put you at higher risk of oral cancer.
Your jaw and gums will shrink over time as you age. Therefore, your dentist will adjust your dentures to ensure you are comfortable wearing them, or suggest a replacement if they no longer fit.
Well-maintained dentures usually last about five to eight years before they need to be replaced.
If your dentures are causing you discomfort, send us an enquiry
to get them checked.
Subsidy Rates for Dentures
CHAS Subsidy (Up to S$)
Dental Services
Claim Limits
Blue Tier
Orange Tier
Pioneer Generation
Removable Denture
Complete (Upper or Lower)
Up to one upper and one lower denture per three calendar years.
S$256.50
S$170.50
S$266.50
Removable Denture
Partial or Simple*
(Upper or Lower)
Up to one upper and one lower denture per three calendar years.
*For replacement of less than six teeth.
S$98.00
S$65.50
S$108.00
Removable Denture
Partial or Complex*
(Upper or Lower)
Up to one upper and one lower denture per three calendar years.
Partial or Complex*
S$210.00
S$140.00
S$220.00
Denture
Reline / Repair
(Upper or Lower)
Up to one upper and one lower denture
Reline / Repair (Upper or Lower)
S$75.00
S$50.00
S$85.00
Send us an enquiry to find out more about the cost of getting a set of dentures.
In Singapore, Raffles Dental provides a comprehensive range of services to prevent, diagnose and treat dental and oral diseases. Conveniently located island-wide, including Raffles Hospital, Holland Village, Woodlands, and Tampines, we are dedicated to providing the highest standard of professional care and service to our patients.