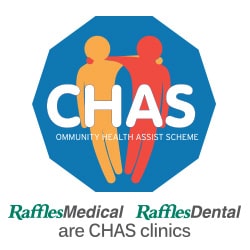 Raffles Dental clinics are participatory clinics under the CHAS scheme. To receive CHAS, Pioneer Generation or Merdeka Generation subsidies for your dental treatment, please present your card and NRIC upon registration.
Some treatments may require co-payment. Please check with your dentist to confirm the fees that you may need to pay before your treatment.
Make an appointment online or contact a dental clinic near you for a dental consultation.
Table 1: CHAS Subsidy Tiers
CHAS Subsidy Tier
Subsidy Received For
Selected Dental Services
Selected Dental Services
Up to $261.50 per procedure
(dependent on procedure)

Crowning
Cementation
Curettage
infected socket
Denture
Denture reline
Extraction
Filling
Root canal treatment
Polishing
Scaling
Topical fluoride

Up to $266.50 per procedure
(dependent on procedure)
Up to $256.50 per procedure
(dependent on procedure)
Up to $170.50 per procedure
(for dentures, crowns and root canal treatments only)
Table 2: CHAS Subsidy Rates for Dental Treatment
Amount payable by patient* = Total clinic charges – CHAS subsidies
*CHAS eligibilities apply.
*With effect from 1 November 2019
CHAS Subsidy (Up to $)
Dental Services
Claim Limits
Blue
Orange
MG
PG
Consultation
Up to 2 consultations per calendar year.
$20.50
-
 $25.50
$30.50
Extraction, Anterior
Up to 4 extractions per calendar year (shared across all types of extractions).
$28.50
-
 $33.50
$38.50
Extraction, Posterior
$68.50
-
 $73.50
$78.50
Filling, ​Simple
Up to 6 fillings per calendar year (shared across all types of fillings).
​$30.00
-
 $35.00
$40.00
Filling, ​Complex
​$50.00
-
 $55.00
​$60.00 
Removable Denture, Complete (Upper or Lower)
Up to 1 upper and 1 lower denture per 3 calendar years.
$256.50
$170.50
 $261.50
$266.50
Removable Denture, Partial, Simple* (Upper or Lower)
Up to 1 upper and 1 lower denture per 3 calendar years. 
*For replacement of less than 6 teeth.
$98.00
$65.50
 $103.00
$108.00
Removable Denture, Partial, Complex (Upper or Lower)
$210.00
$140.00
 $215.00
$220.00
Denture Reline/Repair (Upper or Lower)
Up to 1 upper and 1 lower denture reline/repair per calendar year.
$75.00
$50.00
 $80.00
$85.00
Permanent Crown
Up to 4 permanent crowns per calendar year.
$127.50
$84.50
 $132.50
$137.50
Re-cementation
Up to 2 re-cementations per calendar year.
$35.00
-
 $40.00
$45.00
Root Canal Treatment (Anterior)
Up to 2 root canal treatments per calendar year (shared across all types of root canal treatments).
$164.00
$109.50
 $169.00
$174.00
Root Canal Treatment (Pre-molar)
$210.00
$140.00
 $215.00
$220.00
Root Canal Treatment (Molar)
$256.50
$170.50
 $261.50
$266.50
Polishing
Up to 2 polishing per calendar year.
$20.50
-
$25.50
$30.50
Scaling
Up to 2 scaling per calendar year.
$30.00
-
 $35.50
$40.00
Topical Fluoride
Up to 2 topical fluoride per calendar year.
$20.50
-
$25.50
$30.50
X-ray
Up to 6 X-rays per calendar year.
$11.00
-
 $16.00
$21.00