Don't let stress, insomnia, or chronic pain get in the way of your life. Let our Traditional Chinese Medicine (TCM) physicians manage your problem areas with a personalised treatment plan to help you regain internal balance for good health.
A health examination will be carried out to assess your problem areas. After which, our TCM physicians will recommend one session of acupuncture to improve your overall health during the consultation.
Acupuncture involves inserting thin, sterile needles into your body to stimulate specific acupoints. It is based on the TCM concept that energy, or Qi, circulates throughout our body along energy pathways called meridians.  Each meridian is connected to a specific organ system and has important stimulation points situated along it, called acupoints.
In a healthy person, Qi flows smoothly along the meridians, and energy is well-dispersed throughout the channels. Energy flow may be disrupted by factors such as wind, cold or dampness. This causes the energy flow to be imbalanced within the body, and pain or symptoms will arise.
Acupuncture helps to restore your internal energy balance and activates your body's natural ability to heal.
Promotes holistic health and well-being.
Relieves pain and aches caused by various health conditions.
Supports a healthy digestive system and weight management.
Helps address stress, chronic fatigue and insomnia.
Why Choose Raffles Chinese Medicine

We have English and Mandarin speaking physicians who are registered with the TCM Practitioners Board in Singapore.
Our team integrates eastern and western medicine to provide the best care for our patients. Patients get treatment from TCM physicians, who work closely with our western medicine specialists to co-manage medical conditions such as fertility, women's health, and pain management.
We offer patients the benefits of TCM that are established, safely administered and managed according to modern quality standards.
Let us help you relieve your aches and pains, and get you on the path to good health.​
TCM Acupuncture Package
$130.00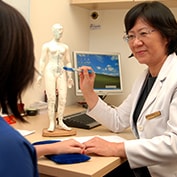 Location: Raffles Chinese Medicine, Raffles Hospital Level 2
This package includes:
One consultation and health examination with our TCM physician.
A personalised treatment plan based on your symptoms.
Price is inclusive of GST.