In view of the heightened risk of further importation of COVID-19 to Singapore,
MOH advises Singaporeans to defers all overseas travel
Be socially responsible. See and doctor and stay at home if you are not feeling well.
Wash your hands regularly with soap and water for 30 seconds or use an alcohol based hand sanitizer.
Wear a mask if you leave your home and at home as well should you have a fever or respiratory symptoms.
In case of symptoms suggestive of respiratory illness, either during or after travel, wear a surgical mask, seek medical attention, and share your travel history with your health care provider.
Cover your mouth with a tissue paper when coughing or sneezing, and dispose the soiled tissue paper in the rubbish bin immediately
When issued a medical leave by your GP for respiratory symptoms, be sure to stay home. Mixing in large crowds, or continuing to go to work or school when ill, even with mild symptoms, will allow potential community transmission of viral infections to take place.
Persons on Leave of Absence(LOA) should be socially responsible and comply with the LOA. They should remain in their residences as much as possible, minimise having visitors and maintain good records of persons with whom they come into close contact.  Persons on LOA may leave their residences for daily necessities or to attend important matters, but they must minimise time spent in public spaces and contact with others.
Persons on Stay-home-notice( SHN) MUST remain in their place of residence at all times during the 14-day period, even if it is to purchase food and essentials. If necessary, they may opt for home delivery services or enlist the assistance of others for their daily necessities.They should minimise contact with others, and avoid having visitors to their residence. They should maintain a record of persons they come into close contact with during this period.At all times, they should monitor their health closely, i.e. twice daily for fever (i.e. ≥ 38°C) and respiratory symptoms such as cough and breathlessness.
Consider getting the Influenza Vaccination: Although it does NOT confer protection against COVID-19, it would minimize chance of you contracting influenza symptoms that would result in unnecessary anxiety.
Use SafeEntry to check in and out when required, download and install the TraceTogether app.
Commencement of Phase 2 of Circuit Breaker Easing Measures
The multi-ministry task force announced that Singapore would reopen in, 3 phases – termed SAFE REOPENING, SAFE TRANSITION and SAFE NATION. Singapore exited a two-month-long "circuit breaker" designed to limit the spread of COVID-19 on Jun 1. Phase 2 of the country's reopening will start on Jun 19, the COVID-19 multi-ministry task force announced on Jun 15.
What Will Resume or Open in Phase 2?
Small-group social gatherings of up to any five people can resume. Within the home, households may receive up to five visitors at any one time.
Retail businesses may reopen their physical outlets.
Food and beverage dine-in will be allowed, with up to five people allowed to sit together. Tables must be spaced one metre apart. Outlets will have to cease liquor sales and consumption at 10.30pm. Live music, as well as television and video screenings will not be allowed in all F&B outlets at this stage.
Tuition and other private enrichment classes can resume, with the exception of singing or voice training classes.
Personal health and wellness, and home-based services will be allowed to resume.
Registered clubs and societies will be allowed to operate at their registered premises.
All other healthcare services, including eldercare services in the community, individual health screenings will resume.
Aesthetic services will resume.
Face-to-face visitations at residential facilities for the elderly, including nursing homes, welfare homes, sheltered homes and adult disability homes, will resume.
Playgrounds, beaches, lawns and fields, stadia, swimming complexes, sports halls, hard courts, gyms, fitness studios, bowling centres and function rooms will open. This also applies to similar facilities in private settings such as condominiums and clubs.
Larger public venues with high human traffic such as malls and large standalone retail outlets will be subject to capacity limits, and operators will be required to prevent crowds or long queues from building up within and in the immediate vicinity of their premises.
Congregational and other worship services may resume from Jun 26 - starting with up to 50 people at a time - in Phase 2 of Singapore's post-"circuit breaker" reopening. Singing and other live performances are not permitted during the worship service. From 18 Aug 2020, ROs can have up to 30 persons on-location for these productions, of which up to 10 persons can be unmasked at any one time. If there is "live" singing during these recording/broadcast sessions, a maximum of 5 persons present may be unmasked at any one time. Those who are unmasked for singing must maintain at least 2 metres safe distance from other individuals. All other persons present must remain masked and maintain a 1 metre separation.
Cinemas in Singapore can reopen from Jul 13, with up to 50 patrons in each cinema hall among other safe distancing measures. Up to five people who are friends or family may sit together in cinemas without the 1m safe distancing requirement.  However, different groups of patrons must comply with the 1 metre safe distancing requirement. All patrons must wear a mask at all times, even inside the cinema hall, except when consuming food and drink.
From the week of 27 July 2020, secondary schools, Junior Colleges and Millennia Institute will have the option to resume lower-risk Co-Curricular Activities (CCAs) and other school activities, with appropriate SMMs in place. For primary schools, such activities will resume only at a later date, once we are able to assess the progress for the older students.CCAs and school activities will take place with the following SMMs in place, which may require adjustments to game formats and rules.Maximum of 20 students per activity and where possible, the composition of participants should be fixed to minimise inter-mingling. For example, badminton CCAs may resume, with a maximum of 20 participants per venue; within the activity, groups of five or fewer students can interact more closely.
Places of worship may conduct marriage solemnizations. From 4 Aug 2020, solemnizations can involve up to 50 persons (up from the previous limit of 20 persons), excluding the solemnizer and religious and supporting workers, who must be kept to a minimum.
Places of worship may conduct wakes and funerals. Families may also continue to install niches for their loved ones in columbaria in places of worship. From 4 Aug 2020, funerals, wakes and installation of niches can involve up to 30 persons at any one time (up from the previous limit of 20 persons), excluding religious and supporting workers who must be kept to a minimum.
Columbaria in places of worship may re-open to visitors from 4 Aug . Families who visit in groups are limited to no more than 5 persons in a group, with safe distancing of at least 1 metre between groups
Religious organisations (ROs) are allowed to conduct 7th lunar month prayer services in their places of worship or external venues for up to 50 persons at a time (excluding religious and supporting workers, which should be kept to a minimum) and must observe the following safe management measures
Activities that still cannot resume for now
Some activities, where many people come into close contact for long periods of time, will take more time to resume. This is to ensure large clusters do not form. These include:
Large-scale events and venues, such as conferences, exhibitions, concerts and trade fairs
Entertainment venues such as bars, nightclubs, karaoke outlets, theatres, as well as indoor and outdoor attractions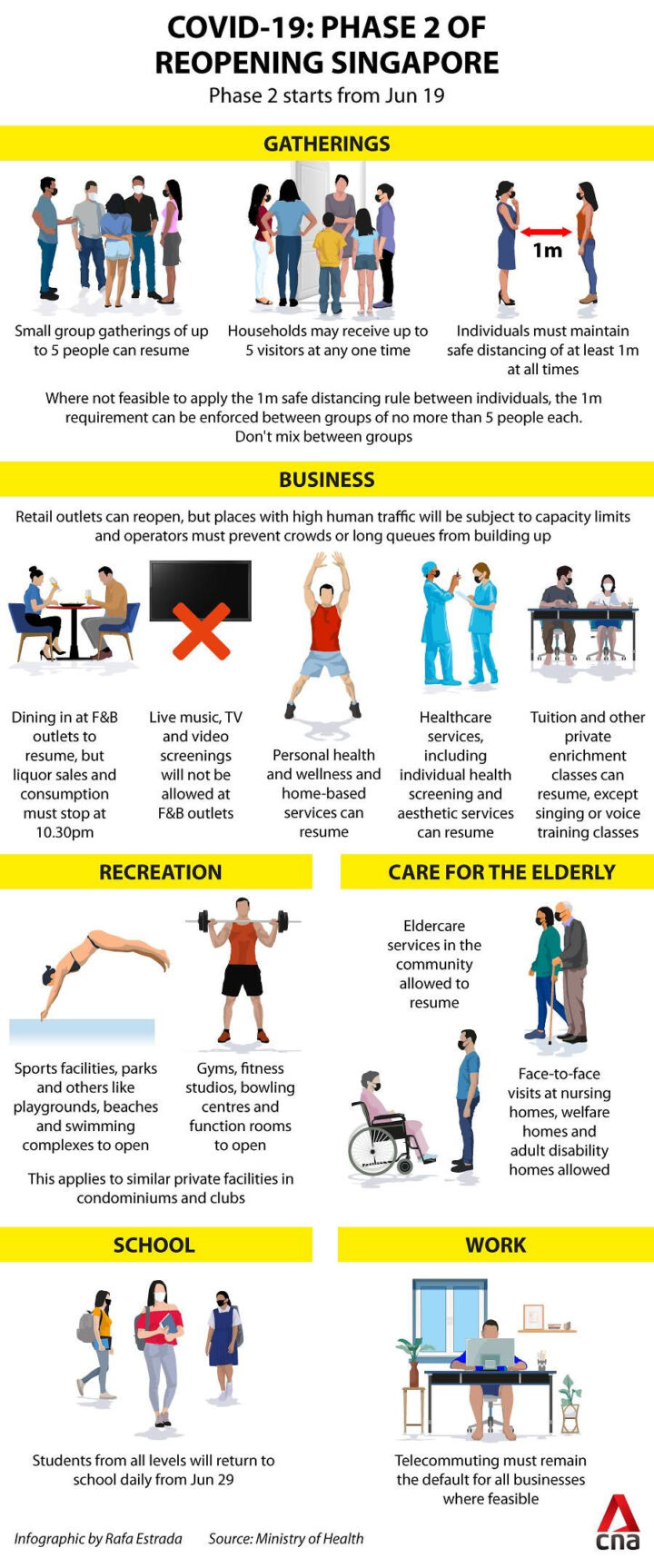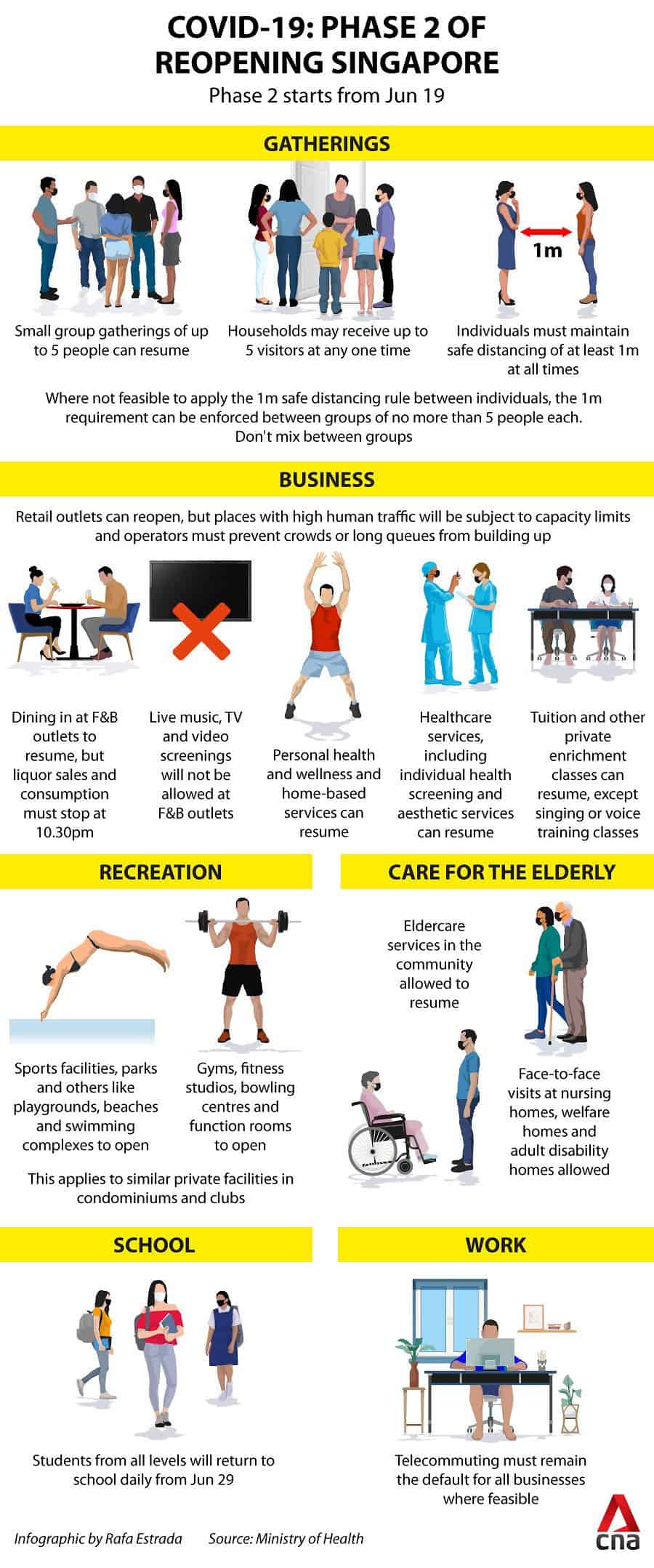 Make a pre-departure COVID-19 swab test appointment easy with Raffles Connect. Find out more