What you need to know about Sinopharm vaccine
The sixth vaccine to be authorised by the World Health Organisation (WHO) for its emergency listing, receiving WHO validation for safety, efficacy and quality. Developed by the Beijing Bio-Institute of Biological Products Co Ltd, a subsidiary of China National Biotec Group (CNBG), Sinopharm is an inactivated vaccine called SARS-CoV-2 Vaccine.
Raffles Medical Group has received approval under the SAR to provide Sinopharm COVID-19 vaccines in Singapore.
What's different about the Sinopharm vaccine?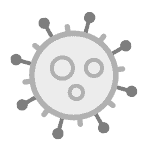 It uses inactivated virus to fight against COVID-19
Sinopharm uses a traditional and widely known method of inactivated virus to protect against COVID-19.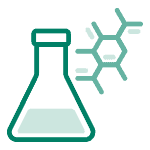 The virus is inactivated through chemical treatment
Beta-propiolactone is the chemical that binds to the SARS-CoV-2 virus' genetic material and inactivates it, preventing it from replicating and causing COVID-19.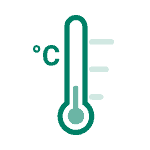 It is stored at normal fridge temperatures
Like the traditional flu vaccination, Sinopharm can be stored at normal refrigerator temperatures.
Who is eligible for taking Sinopharm?
| | |
| --- | --- |
| | Individuals aged 18 years and older, with no history of anaphylaxis. |
Individuals with a history of anaphylaxis or any form of severe allergic reactions to medication/food/vaccination should not be administered with the vaccine.
Individuals with a body temperature over 38.5ºC should postpone vaccination until the fever subsides.
---
What is the recommended dosage for administration?
| | |
| --- | --- |
| | According to WHO, the recommendation is two-dose with an interval of 3-4 weeks between first and second dose. |
How does Sinopharm vaccine work?

Similar to Sinovac, Sinopharm vaccine is a vaccine that uses inactivated COVID-19 virus to teach your immune system to make antibodies against COVID-19, creating an immune response to COVID-19.
When introduced to your body, your immune system will make antibodies against the coronavirus, attaching to viral proteins. As the vaccine uses a dead or inactivated virus, the vaccine can be safely injected into the arm without causing the individual to develop COVID-19.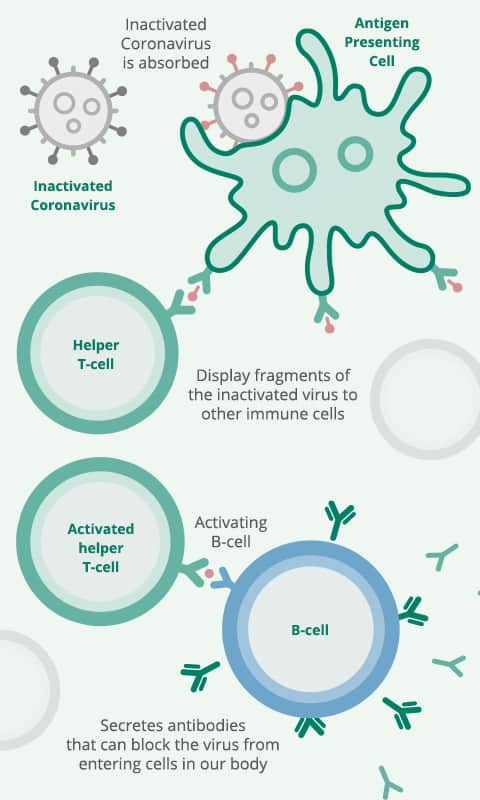 Once the vaccine is in your system, some of the inactivated viruses will be absorbed by a type of immune cell called the anti-gen presenting cell. This type of cell will then display some of the fragments of inactivated virus on its surface, then known as a helper T cell. If the fragment fits onto the surface protein of the cell, it then can be activated and gets other immune cells to also respond to the vaccine.
When you are vaccinated with Sinopharm, your body's immune system can respond to an infection of live coronaviruses by producing antibodies to block the virus.
How effective is Sinopharm?
Efficacy rate of 75% against symptomatic COVID-19 infection and an efficacy of 75% against hospitalisation.
SAGE (Strategic Advisory Group of Experts) from WHO has thoroughly assessed the data on quality, safety and efficacy of the vaccine and has recommended its use for people aged 18 and above.
The most commonly reported side effects in this trial were fever and pain at the injection site. Based on the data from clinical trials, the most common side effects recorded were:
headaches
fatigue
injection site reactions
These side effects were mild to moderate, and similar to those of other authorized vaccines against COVID-19.
Register your interest for Sinopharm COVID-19 vaccine
FAQs: Frequently asked questions about Sinopharm COVID-19 vaccine