The impact of COVID-19 on older people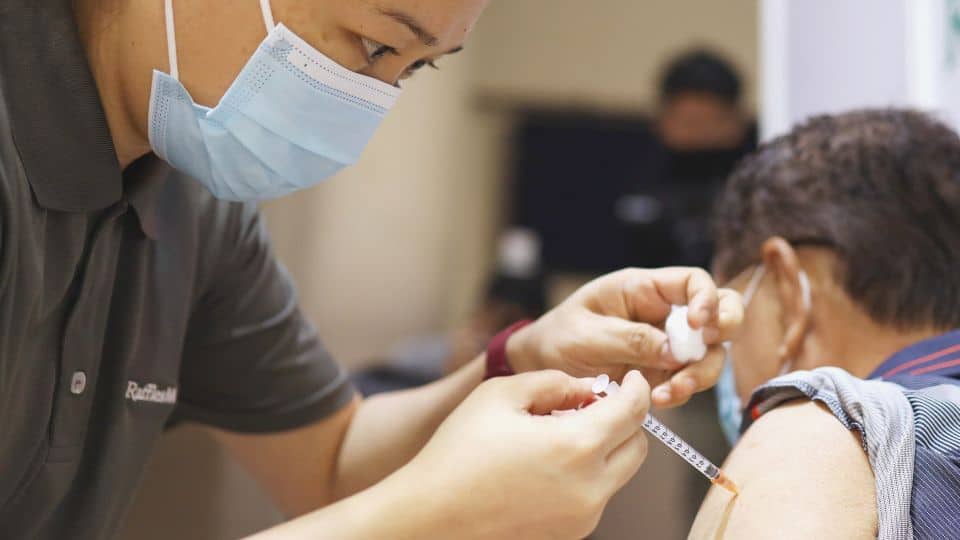 WHY THEY SHOULD BE VACCINATED
The global COVID-19 pandemic has affected the whole world infecting over 100 million people and causing 2.5 million deaths as of 27th February 2021. Studies on the pandemic have shown that COVID-19 has a heavy impact on older people.
Why should an older person get the COVID vaccine?
An older person should get the COVID-19 vaccination. They are at the greatest risk of dying from COVID-19. A person above the age of 85 has a 17-time risk of dying from COVID-19 as compared to a younger person. Older people with COVID-19 have also shown to frequently need hospitalisation, Intensive Care Unit (ICU) care and intubation/life support.
Staying in a hospital, even when not needing to stay in the ICU, can be difficult for an older person. They are at risk of getting infections, developing problems with walking, become confused, develop urine and bowel incontinence or conditions with urine and stool leakage. As a result, after discharge, they are at risk of needing long-term care in a community hospital or even nursing homes.
Why are older people at risk of dying?
Studies show that the risk of dying from COVID-19 if you are above 70 is higher despite the state of your physical health. However, there are some risk factors in an older person that puts them at an even higher risk.
A study of COVID-19 deaths in the UK involving over 500, 000 people who had COVID-19 studied risk factors associated with death. It showed that an older person had a higher risk of death with the following risk factors: high blood pressure, poor lung function, many illnesses and weak muscle strength.
An older person is at risk of a condition called "frailty". This age-related condition makes the body physically weak and vulnerable to poor health outcomes. Some of the factors described above are indirect measures of "frailty". For example, a possible sign of frailty includes weak muscle strength such as an inability to climb stairs. Having many illnesses and taking much medication is a possible sign of frailty.
Is it safe for an older person with chronic illness to get a COVID-19 Vaccine?
The COVID-19 vaccine is safe for older people with chronic illness. They include people with diabetes, hypertension, heart disease, kidney disease and dementia. Studies have shown that people with chronic illness can take the vaccine without serious side effects.
What is the impact of the pandemic on older people?
Besides the higher risk of death in older people from COVID-19, there are less visible but worrisome broader effects. The impact of loneliness and social isolation in older people is well-known. Studies have shown that lonely older people suffer from poor mental and physical health. Older people interact with others in places of worship, daycare centres and community spaces. Visiting these places may be their only way of interacting with others. During times of the pandemic, it may not be possible to conduct activities in the usual manner. An older person may choose not to visit given fears of catching COVID-19.
I had an 80-year-old patient recently who had to stop her volunteer work due to COVID-19 related restrictions. She is a volunteer at her granddaughter's school library. She looked forward to volunteering at the library everyday. When she was not allowed to do that, she slipped into a depression. She then ended up with a fall at home and fractured her back. It resulted in a lengthy hospital stay and poor health.
There are older folks who do not have family and friends to rely on. They depend on home care services by social organisations and volunteers. Due to COVID-19 restrictions, community caseworkers and volunteers are limited in their work, which causes this already vulnerable group of elderly in a more precarious state.
There is growing evidence that older people suffer from the effects of non-COVID-19 related illnesses during the pandemic due to the pressure on healthcare systems. For example, people with dementia have delayed access to diagnosis. There may be a delay in increasing dementia medications. New behaviour issues that appear may not be treated promptly.
The isolation and loneliness during lockdown have shown to worsen the mental state of people with dementia. A patient I encountered came to the emergency department after swallowing hand sanitiser as she thought the bottle of clear liquid was water. Her family reported that since the daycare centre closed during the lockdown, her behaviour had become more challenging to manage.
Why would I recommend my older family members to get the COVID-19 vaccine?
As a geriatrician, I understand what little reserves an older person has to fight infection. It is something I face at work with my patients every day. My 86-year-old grandmother is small and frail. She walks with a walking frame. However her mind is sharp and I enjoy her company so much. She is a valuable part of the family and I want her to be around for as long as possible. COVID-19 is a deadly disease especially in older people. I will encourage her to take the vaccine as soon as it is available to her.
There is a strong case for all of us to be vaccinated. As a healthcare worker, I have received both doses of the COVID-19 vaccine. There will be pockets of the population who will not be able to get the COVID-19 vaccine. These include young people below the age of 16, pregnant women and those with severe allergies. We need to achieve herd immunity for the vaccination to be effective. If we take the vaccine, we will be able to protect those unable to get vaccinated.
Be the First to Know!
Like what you see? Receive more health and wellness articles from Raffles Medical Group to aid you in leading a healthy lifestyle.
SUBSCRIBE