This facial acupuncture treatment uses the principles of traditional chinese medicine to help improve skin conditions.
Promotes collagen production
A TCM physician will use thin, fine acupuncture needles to stimulate blood circulation, so as to enhance your skin's healing and rejuvenation mechanism. This promotes collagen production which smoothens uneven skin surfaces, and reduces wrinkles, as well as pore size.
Balances your body's internal energy
This acupuncture treatment helps to improve your body's constitution and addresses underlying problems, such as stress and digestive issues, that contribute to poor complexion.
During the session, your TCM physician may also use body acupuncture alongside facial acupuncture to treat the underlying cause of your skin problem.
Benefits Of Facial Acupuncture
Improves skin complexion
Reduces dark eye circles and puffiness
Reduces fine lines and wrinkles
Lightens spots and scars
Tightens skin and pores
Why Choose Raffles Chinese Medicine

We have English and Mandarin speaking physicians who are registered with the TCM Practitioners Board in Singapore.
Our team integrates eastern and western medicine to provide the best care for our patients. Patients get treatment from TCM physicians, who work closely with our western medicine specialists to co-manage medical conditions such as fertility, women's health, and pain management.
We offer patients the benefits of TCM that are established, safely administered and managed according to modern quality standards.
Let us help you relieve your aches and pains, and get you on the path to good health.​
TCM Facial Rejuvenation Package
$130.00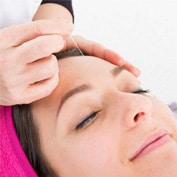 Location: Raffles Chinese Medicine, Raffles Hospital Level 2
This package includes:
One consultation and health examination with our TCM physician.
One facial acupuncture session.
Price is inclusive of GST.