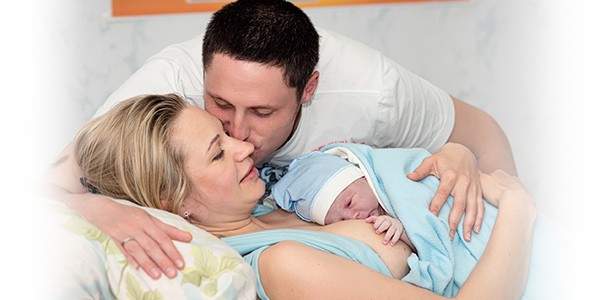 Raffles Hospital provides different types of maternity packages that meet the needs of every mother. Our experienced team of obstetricians and gynaecologists aim to provide comprehensive quality care and service during this precious moment while preparing you for the birth of your baby.
As a Baby-Friendly Hospital Initiative (BFHI) accredited hospital, we recommend skin-to-skin contact, a practice whereby the baby is laid directly on the mother's chest after birth. This keeps the baby warm and calm for at least an hour or so until his / her first feed.
We also encourage rooming-in – letting your baby stay with you during your stay in the hospital as it promotes mother and baby interaction to make breastfeeding easier.
For more information on Raffles Hospital Accreditation Journey, please click here
Delivery Packages
Hospital Charges
Maximum Medisave Claimable3
Single Room
2-Bedded Room
Normal Delivery


2 nights stay for mother & baby

$4,104
$3,564
$3,850
Normal Delivery with Epidural


2 nights stay for mother & baby

$4,968
$4,428
$3,850
Elective Caesarean section


3 nights stay for mother & baby

$6,804
$5,832
$6,050
Terms and Conditions
1. The delivery packages are applicable to standard hospital charges for the mother and baby during the stay which include:
For Mother
2 or 3 nights stay in choice of 1 or 2 bedded room and daily treatment fee
Standard medical / surgical consumables commonly used for delivery in the delivery suite, operating theatre and ward
Nursing care and common ward procedures for delivery
Cardiotocography (CTG) up to 8 hours for normal delivery
Lactation counselling and parentcraft
Confinement menu
Complimentary lodging and meals for companion (Single Room packages only)
For Baby
Newborn care at Nursery
Newborn blood screening for G6PD, ABO blood type, serum TSH
BCG and Hepatitis B vaccination (first dose)
Vitamin K injection and Bilirubin screen for baby
Newborn hearing test
2. The package prices stated above does not include the following:
Professional fees for obstetrician, anaesthetist and paediatrician
Treatment of complications, additional procedures and extended stay
Assisted deliveries, horoscopic deliveries, trial labour before Caesarean section, emergency Caesarean section
Room upgrade and non-standard medical/ surgical consumables such as abdominal binder
Delivery and management of premature baby, twins/ triplets
Neonatal special care such as phototherapy, additional newborn tests e.g. metabolic screening
Admission to Neonatal Intensive Care Unit
Emergency services, specialist outpatient services, laboratory tests and diagnostic imaging services
3. Estimated maximum MediSave claimable limits includes $900 for antenatal care.
4. Package payment is collected in full upon admission.
5. Prices include GST and are subjected to periodic review.
Our confinement menu is designed to provide essential nutrients for recuperating mothers, restoring their body's health after childbirth.
Our consultant and team will provide tips on general baby care such as bathing, bottle feeding, weaning, and breastfeeding.
Post-lactation Consultation
One-to-one session with our certified lactation consultant and team to help you if you have any breastfeeding concerns after discharge.
Flat Screen TV
Free WiFi
Safe Deposit Box
Hairdryer, ​iron and ironing board are available upon request at no extra charge.
In-Room Dining Menu Choose from a variety of cuisines which include Western, Asian favourites and Japanese meals, prepared for you by our kitchen with the supervision of our dietitians.
Wondering what to expect during the magical moment when your baby arrives? Join us for a maternity tour to preview our full range of maternity facilities and services or download our maternity guide.
Maternity tours are conducted three times a week at the following days and timings:
Monday: 3.00pm
Wednesday: 3.00pm
Saturday​: 3.00pm
Business Centre at Level 8
(Please arrive ​five minutes before any of the scheduled tours.)