Executive Medical Services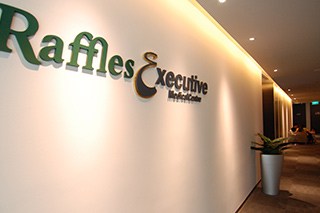 Raffles Executive Medical Centre (REMC) is a premier medical centre that aims to provide a holistic one-stop general outpatient service experience for you – starting from the appointment-making process, consultation, arranging for diagnostic tests to getting your medication dispensed to you.
Our team of senior family physicians, nurses and healthcare managers are at hand to provide and coordinate the diverse medical needs of primary healthcare and health screening for you and your family. Should you require specialised care, you would be pleased to know that you have the entire expertise of Raffles Hospital behind you.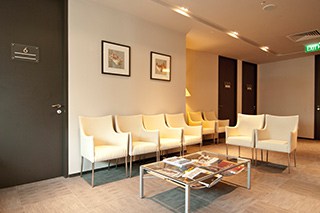 We will schedule an appointment for your consultation with our Physician as well as provide little touches such as free Wi-Fi access and light refreshments for busy executives and individuals like you.
Location: Raffles Hospital, Level 12
Tel: 6311 2288
Mondays to Fridays: 8.30am to 5.30pm
Saturdays: 8.00am to 1.00pm
Sundays and Public Holidays: Closed
General Practice/Family Medicine
Treatment for acute conditions
Acute ailments are conditions such as cough, flu, fever, backache, pain, diarrhoea, stomach flu, sore throat, bacterial infections, hand, foot and mouth disease, chicken pox, vomiting.
Chronic disease management
Senior Family Physicians in REMC take the extra effort in managing chronic diseases like Diabetes, Hypertension, Cholesterol, asthma, or cold. If you have not already enrolled in the Healthier SG programme, find out more and learn how to choose REMC as your preferred Healthier SG clinic today.
Lifestyle disease management
Nurses and doctors educate and counsel patients on smoking cessation, diet control and weight control. Treatments and medications are administered to patients with hair loss problems.
Laboratory tests and radiological assessments
---
Minor Surgery
---
Immunisation Programmes
Immunization programmes are available for adults to protect against subsequent infection or disease such as Hepatitis A and B.
---
Travel Health Services
Be in good health when you travel. REMC offers the following services to make your trip safe and worry-free.
Travel Health Advice
Travel booklets, travel advise and travel consultations are available upon request.
Vaccinations
Do not forget to have your travel vaccinations before you go on your trip! REMC provides comprehensive travel vaccinations, flu vaccinations and Anti-Malaria medication.
Pre-travel fitness assessment/Certification of fitness to travel
REMC provides certification for travel and fit-for-travel assessments.
Treatment and management of travel-related conditions
REMC provides detailed consultation on treatment and management of travel-related conditions like Malaria, motion sickness, food poisoning and more.
---
Executive Health Screening
Silent killers include heart disease, diabetes, hypertension and cancers.
Our team will assist you throughout the health screening process. We offer a comprehensive range of packages to meet individual needs.
Our standard Wellness or Raffles Health Screening Packages are tailored specially for men and women of different age groups and needs. Consult our team to find a package to suit your needs.