To make your stay in the hospital a comfortable one, you can expect to enjoy the following facilities and services.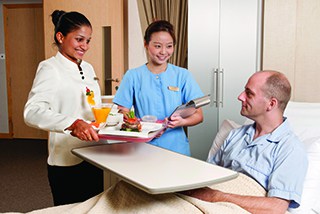 Electric Bed
Your hospital bed is an electric bed. It has easy control buttons for adjusting bed positions.
Precaution: For safety, please ensure no one is under the bed when the bed adjustment functions are being activated.
Nurse Call Bell
Please use the call bell if you need assistance from the ward staff.
Food Service
We offer an in-room dining concept with a menu offering a broad selection to satisfy many personal tastes and preferences. You may choose from a variety of cuisines including Western, Asian favourites and Japanese prepared for you by our kitchen with the supervision of our dieticians. With due regard to religious sensitivities, no pork or lard is used in the preparation of the meals.
A La Carte Meal Service
We also extend an a la carte meal service from 8.00am to 7.00pm daily for patients and companions at a charge. Please approach our ward nurses for the a la carte menu and to place your orders.
Television/Radio
Local television programmes and selected radio channels are available from the TV set in your room. Refer to TV channel 1 for all TV programmes and radio channels available.
Bedside Telephone
Bedside telephones are available in all the rooms.
Safe ​Deposit ​Box
Please make use of the safe deposit box available in your room to safe keep your cash and other valuables.
Newspapers
A copy of the local newspaper will be delivered daily to you.
Toiletries
You will receive a complimentary toiletry pack containing a face towel, bath gel, toothbrush, toothpaste, shower cap, comb and shampoo. Additional toiletries packs and disposable shaving kit are chargeable.
Hairdryer
Hairdryer is available upon request. Please ask the nurse if you need assistance.
Slippers
Slippers are available upon admission.
Electricity
The power in Singapore is 240 Volts. Two and three pin adaptors for electrical appliances are available for loan. Please ask the nurse if you need assistance.
Internet Access
Internet access on your own computer/mobile devices is available by connecting to the free wireless service provided within the hospital (Raffles Hospital).
Once connected, open up any browser to be brought to the RMG disclaimer page. Click "I Agree' to access the wireless service. Please ask the nurse if you need assistance.
Facsimile Service
Please proceed to Raffles International Patients Centre located Level 2 if you require this service. Please speak with our nurse or call 6 3111666 if you need assistance.
Mail Drop Service
This is located at the reception counter in the main lobby.
Birth Registration
From 29 May 2022, registration for all births will be simpler and faster on LifeSG.
Mobile Phones
The use of mobile phones in the hospital is discouraged as it disrupts patient's rest. Mobile phones are allowed for emergency use by staff only.
Laundry Service
Professional laundry service is available upon request. Item collected at 9.00am will be returned to you by 8.00pm on the same day (Express Service) or 11.00am on the following day (Normal Service). Please speak to the nurse if you require this service.
Iron & Ironing Board
Iron and ironing board is available upon request. Please speak to the nurse if you require this service.
Prayer Mat/Compass
Complimentary use of prayer mat and compass can be arranged upon request. Please speak to the nurse if you require this service.
Maintenance
Please report any problems in your room to the nurse.
No Smoking
Smoking in the hospital is prohibited by law.
Parking
Our car park is located on level 3 to 6. Parking charges are displayed here