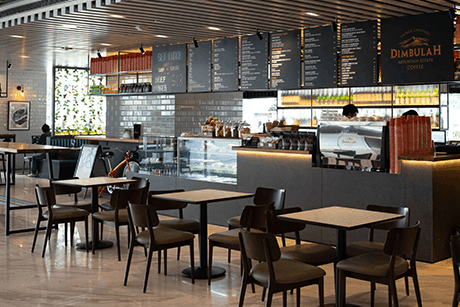 Opening Hour
Mon to Wed: 7am to 11pm
Thu to Fri​: 7am to 12am
Sat​: 8am to 12am
Sun & PH: 8am to 10pm
Location
Raffles Specialist Centre, lobby
---
Dimbulah Coffee is the only cafe in Singapore with their own plantation. This exclusive boutique coffee is made from the finest arabica beans carefully nurtured from 'plantation to cup' and paired with excellent modern Australian cuisine. Down under favourites such as lamingtons, smashed avocado, and brekkie wraps are served during the day and complimented by pizzas, Australian beef burgers and sticky date pudding in the evening. Dimbulah Coffee has great ambience to not only get your productivity game on but also relax from a hectic day. Open daily with happy hour promotions on house wine and beer from 5pm to 7pm.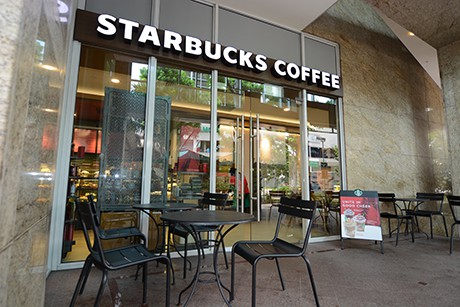 Opening Hour
Mon – Fri: 7.30am – 10.00pm
Sat – Sun: 8.00am – 10.00pm
Location
Raffles Hospital, Beside Taxi Stand, Level 1
---
Since 1971, Starbucks Coffee Company has been committed to ethically sourcing and roasting the highest quality arabica coffee in the world. Today the company is the premier roaster and retailer of specialty coffee in the world. The unique Starbucks Experience is brought to life for every customer through Starbucks Coffee's unwavering commitment to excellence.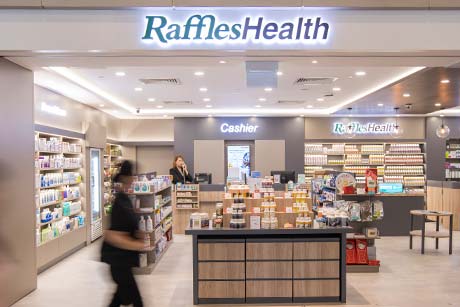 Opening Hour
Mon – Fri: 8.00am – 6.45pm
Sat: 8.00am – 5.00pm
PH: 11.00am – 5.00pm
Closed on Sundays
Location
Raffles Hospital, Level 1 Lobby
---
Raffles Health carries Raffles Medical's Group range of nutraceuticals products that are formulated by our doctors to meet your nutritional needs. A variety of snacks, personal and beauty products are also conveniently available at our pharmacy.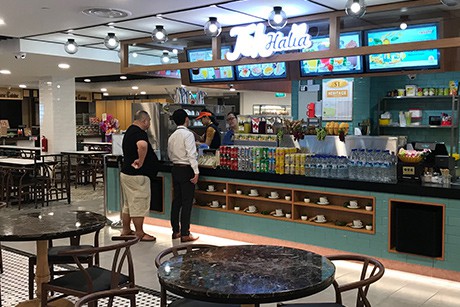 Opening Hour
7.00am – 11.00pm Daily​
Location
Raffles Specialist Centre, Basement Level 1
---
Located at Basement 1 of the Raffles Specialist Centre, the 600-seat Heritage Food Street operates daily from 7am till 11pm. Delight yourself with delectable local and international dishes offered by the 15 stalls such as chicken rice and fried kway teow, and Japanese and Korean cuisines.
Opening Hour
Mon – Fri: 7.00am – 7.15pm​
Sat, Sun, PH: 8.00am – 7.15pm
Location
#01-05, Junction of Victoria Road and Ophir Road
---
Bringing back the traditional Nanyang Coffeehouse nostalgia, Fun Toast serves well-brewed fragrant Coffee and Tea, deliciously fresh Yuan Yang Soft Bun, Ham & Cheese French Toast and many others. Try their signature Soya Sauce Chicken too, you'll be back for more!
Opening Hour
Monday - Friday: 9.00 am - 6.00 pm
Saturday : 10.00 am - 5.00 pm
Sunday : Closed
Location
Raffles Specialist Centre, level 1
---
Cold Pressed Juice | Juice Detox Program | Raw Vegan | Natural Organic | Nutritionist Consultation | Turmeric Latte | Ayurveda Products
Opening Hour
Mon – Fri: 8.00 am – 8.30 pm
Sat: 8.30 am – 8.00 pm
Sun & PH: 9.00 am – 8.00 pm
Location
Raffles Hospital, Level 1
---
At Subway, your favourite subs, salads and wraps are freshly prepared right before your eyes. From a range of fresh ingredients, to our commitment to quality, there's a lot to be excited about.