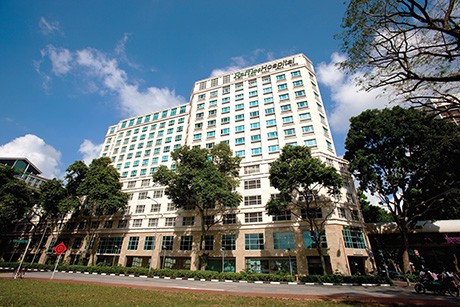 Your specialist has recommended hospitalisation for you. If you are scheduled for surgery or procedure, you could be admitted either a day before or on the day of surgery.
Watch this video to find out about the admission process and facilities at Raffles Hospital.
Learn about the nursing services provided by the medical team during your hospitalisation stay in this video.
You can select from any of the following room types:
Presidential Suite
Raffles/Victoria Suite
Ophir/Nicoll Suite
Executive Suite
Junior Suite
Deluxe Room
Single Bed Room
2-Bedder Room
Should you wish to be transferred to a different room type, this can be arranged subject to availability. You may make your request through the nurse in your ward.
You will be provided an estimate of the hospital bill prior to your admission/surgery. This estimation is based on a statistical average of hospital bill sizes of past admissions, and for a standard procedure barring any complications. Your actual hospital bill may vary from the estimated bill size depending on the individual circumstances such as severity or complication of your medical condition, investigation, treatment, and length of stay.
Where to Go to for Admission
Please proceed as advised in the Admission Letter to the Business Centre at:
Level 7 (Day Surgery)
Level 8
Level 9
Level 10​
What to Bring for Admission Registration

Please bring the following for registration:
Admission Letter
Identification Documents:
NRIC
Birth Certificate (if under 15 years old)
Passport & FIN card (for foreigners only)
Identity Cards of Medisave Account Holders whose Medisave accounts will be usedto pay the bill (Account holders should be present)
Deposit required for admission as indicated on the Financial Counselling Form
Letter of Guarantee must be submitted to our Business Centre for direct billing to your employer or insurance company
What to Bring for Your Hospital Stay

All X-Ray/Ultrasound/CT/MRI Scan Films or CDs
Loose and comfortable clothing
Do not bring valuables (jewellery, excessive amounts of cash)
Avoid using make-up, perfume, deodorant or lotions. All make-up , nail polish and lotions should be removed prior to treatment
Avoid wearing contact lenses; wear glasses instead
You will be required to make payment on the day of admission during the registration. The amount payable upon admission is indicated on your Financial Counselling Form. Payment may be made in cash or via NETS or credit cards.
Preparation Before Admission for Surgery

Fasting
If your procedure requires fasting, do not eat or drink anything before surgery for a time period as advised by your specialist. This includes water, coffee, any other fluids, hard candy, chewing gum and tobacco. If you eat or drink, your surgery may need to be delayed or rescheduled.
Smoking and Alcohol
Do not smoke or drink alcohol 24 hours prior to surgery.
Medications
Medications are to be taken in the morning on the day of your surgery as per instructions given by your specialist.
Generally, medicine for your heart, high blood pressure and asthma should be taken with a sip of water (no other liquids) prior to your surgery and before arriving at the hospital, unless instructed by your specialist.
Feeling Unwell
Please notify your specialist if you develop a cold, persistent cough, fever or any other health-related problems prior to the surgery.
Pre-Operative Instructions
Please follow the pre-operative instructions that are given to you by your specialist or nurse.
Your Surgical Experience at Raffles - Preparing For Your Surgery
Worried about going for a surgery? If it is your first surgical experience, you may have such fear and apprehension. That's natural as you do not know what to expect.
In this first of three videos, we explain the pre-admission process of surgery and explore the list of do's and don'ts before your day of surgery:
Your Surgical Experience at Raffles - The Day of the Surgery
Ever wonder what happens in the Operating Room? Afraid of the pain you may feel after the operation? In this episode we take a look at what happens on the day of your surgery. Discover what you can expect to happen before and after your surgery is completed:
Your Surgical Experience at Raffles - Recovering from the Surgery
Though the daunting part of your surgical experience is over, it's still important to take good care of yourself while you recover. In this episode, we tell you what to expect when staying in the Inpatient Ward, and what steps you should take to promote your recovery after you leave the hospital:
Admission to Paediatric Ward

Orientation
As you settle in, our staff can assist to orientate you to the ward and its facilities.
Wrist Identification Band
A white wristband with your name, NRIC and ward number will be given to you. A red wristband will be used if you have a drug allergy. Please wear it at all times while in the Hospital as it will enable our staff to confirm your identity for care purposes.
Daily Ward Routine
The routine in the ward will include activities such as ward rounds by doctors, medication dispensing, meals and bedtime. In addition, activities such as laboratory test, x-ray, treatment and other procedures will take place when required.
Patient's Own Medication
To ensure your safety and therapeutic effectiveness, please do not bring your own medications, or self-administer your own medications during your stay in hospital. Please take only the medications given to you by the nurse, and take them promptly when served.