Chinese New Year Food Guide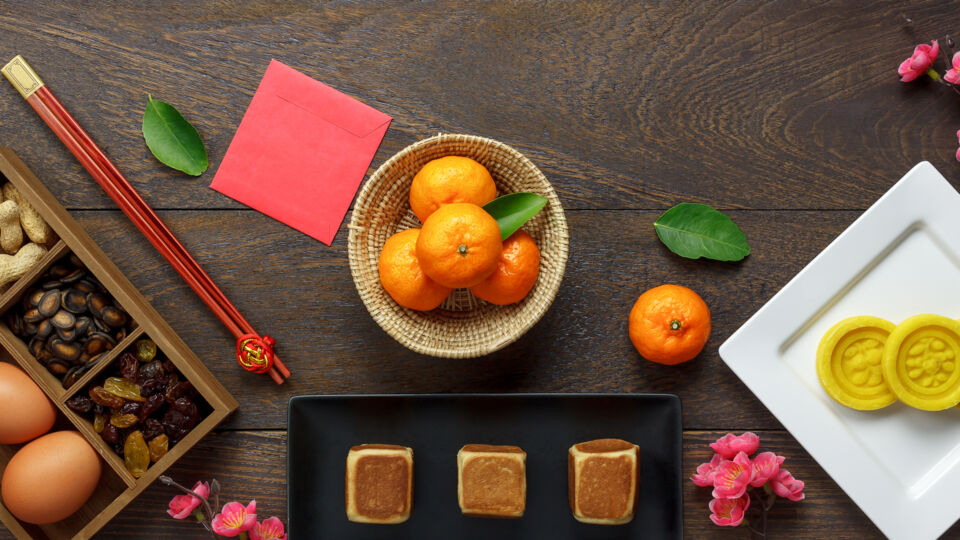 What's Chinese New Year without the yummy food? One of the key highlights of the home visitations are the gastronomic delights that are prepared lovingly by our hosts. We explore 6 popular goodies and their nutritional content.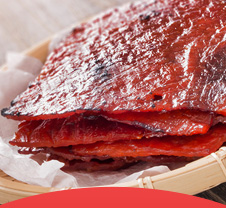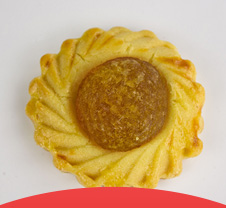 Pineapple Tarts
2 pieces, 40g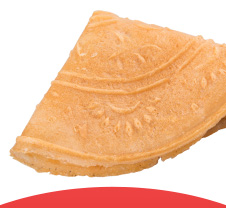 Love Letters
4 rolls, 52g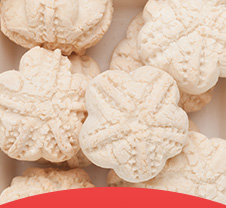 Kueh Bangkit
5 pieces, 30g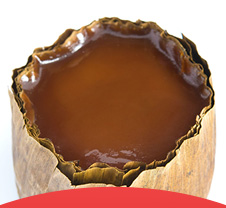 Nian Gao
1/4 portion, 106g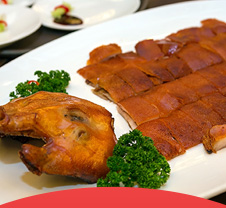 Suckling Pig
1 serve, 168g, roasted
8 Tips for Healthy Eating
During Chinese New Year
1
Eat according to the recommended serving size or smaller portions.
2
Choose foods low in calories such as fruits and prepare foods with less oil, fat and coconut milk, if needed.
3
Choose foods high in fibre to prevent constipation during the festive season.
4
Limit intake of sweet foods such as nian gao, sweet biscuits, candies and chocolates.
5
Choose fresh fruits as snacks or desserts.
6
Limit intake of foods high in salt such as chips and crackers.
7
Drink plain water instead of sweetened beverages.
8
Limit alcohol intake. Excessive intake can be harmful to health.
Chinese New Year
Calorie Cheat Sheet
Main Dishes

Food
Serving size
(weight)
Calorie
Apam
1 piece (30g)
60
Bahulu
3 pieces (25g)
100
Glutinous rice ball (tang yuan)
1 small bowl / 7 pieces tang yuan + syrup (80g)
100
Nian gao fritters
1 piece (50g)
220
Love letters
4 pieces (50g)
210
Steam glutinous rice cake (nian gao)
1 whole piece (300g)
690
Peanut cookies
4 pieces (40g)
200
Smiling doughnut
1 big piece (40g)
135
Tapioca flour cookie
4 pieces (20g)
90
Crispy honeycomb cookies
3 pieces (30g)
150
Steam layer rice cake
1 slice (60g)
90
White radish cake
1 whole piece (80g)
160
Longan, magnolia petals, red dates and snow fungus dessert
1 small bowl (80g)
40
Longan with sea coconut
1 small bowl (80g)
40
Pineapple tarts
4 pieces (30g)
140
The six combination dessert
1 small bowl (80g)
40
Snack and Nuts

Food
Serving size
(weight)
Calorie
Bak kwa, pork
1 piece (90g)
370
Mini chicken bak kwa
1 piece (40g)
150
Cantonese peanut puffs (Kok chai)
4 pieces (90g)
420
Cashew nuts (oil roasted, salted)
1 small bowl (40g)
230
Deep fried arrow head
1 small bowl (30g)
140
Fortune cookies
2 pieces (10g)
40
Peanuts (roasted)
1 small bowl (30g)
170
Pistachio nuts (roasted)
1 small bowl (30g)
160
Kua-ci
1 small bowl (40g)
135
Assorted nuts (roasted)
1 small bowl (40g)
220
Prawn crackers
2 big pieces (40g)
170
Prawn rolls
1 small bowl (40g)
200
Twisted cookies
3 pieces (30g)
20
Fruits

Food
Serving size( weight)
Calorie
Chinese yellow pear
1 whole (170g)
50
Dried persimmons
1 piece (80g)
195
Mandarin orange
1 whole (100g)
50
Orange
1 whole (130g)
40
Persimmons
1 whole (140g)
90
Banana
1 whole (80g)
60
Pomelo
1 piece (40g)
10
Beverages

Food
Serving size (weight)
Calorie
Plain water
1 glass (250ml)
0
Cordial drink
1 glass (250ml)
80
Carbonated drink
1 can (325ml)
130
Packet drink
1 packet (200ml)
90
Chinese tea
1 glass (250ml)
0
Alcohol

Food
Serving size (weight)
Calorie
Beer (2 – <8% alcohol)
1 can (320ml)
106
Wine / Toddy (8 – <15% alcohol)
1 serving (140ml)
108
Brandy / Whisky / Rum / Gin / Vodka (>30% alcohol)
1 serving (35ml)
114