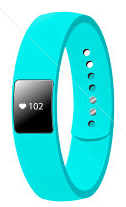 From a sleek bracelet that monitors your heart rate in real time to a stylish belt that tracks your steps, fitness gadgets have not only aced the style stakes, but also taken your workouts to a whole new level. But to what extent are you compromising your health for style by donning these gizmos?
The concept of using wearables – such as heart rate monitors, smartwatches, step meters and many others – to help track and monitor our fitness better is not something new. There's just something about collecting biometrics that gives us a unique feeling of control over our health.
But do the devices work and does using them do you any good? We get our experts Dr Lee Eu Jin, Specialist in Orthopaedic Surgery & Consultant, Raffles Orthopaedic Centre; and Dr Teo Swee Guan, Specialist in Cardiology & Consultant, Raffles Heart Centre, to shed some light on the advantages and disadvantages of owning these devices.
Yes, you should get it
It indirectly improves my performance Such devices help athletes monitor their performance during each training session. According to Dr Lee, wearing fitness gadgets alone does not improve one's performance directly, but they help monitor activity levels as well as identify the type and performance to aid in sports training and progress.
It motivates me For many, having some form of data measurement will help one to better gauge the amount of effort required to reach a certain fitness goal and strive for further improvement if they are not satisfied with their progress. Dr Lee shared that many of his patients, who have used step meters, reported that they are motivated to improve and increase the number of steps taken during exercise. The same applies to people who use other types of tracking devices.
It helps me to understand my body To a certain extent and depending on the functions of your device, the data you receive can help you analyse how well you are exercising and understand your body's reaction to a particular workout better. Dr Teo noted that it is useful for a patient with a heart condition to use a heart rate monitor during workout as this helps the patient to monitor his upper heart rate limit, as advised by his doctor, during exercise.
You can probably skip it
Is it just about numbers?
When you become too reliant on the data feeback from your device, "one has to be cautious because being too focused on numbers will distract one from the more important things like doing proper pre and post exercise stretching, warming and cooling down, taking the fun out of exercise. We must remember that they are simply tools to monitor our progress," advised Dr Lee.
Is it a shortlived novelty?
It is easy to get excited to use the device when you first buy it. However, Dr Lee added that this often withers off after a few months when the novelty wears off. Therefore, it is more important to understand the significance of engaging in regular exercise by enjoying it, so as to sustain the habit and turn it into a lifestyle.
Is it expensive?
While it can be stylish and fashionable to be seen wearing a sleek wristband or a smartwatch during exercise, this comes with a price that most people would not consider as 'value for money'. Dr Teo highlighted that some 'cheaper' alternatives include using simple targets measured by duration or distance, and utilise free fitness tracker mobile apps that are readily availablefor download on your phones.
Is there a function for every activity?
As much as we would like, majority of the fitness gadgets available in the market contain functions to track cardio activities, eg. brisk walking, cycling, swimming, but not for muscle-strengthening ones. Dr Teo noted that these wearable gadgets are not designed for sleep monitoring as the data accuracy is not validated for clinical use.
Is there a need to keep charging it?
Be prepared to charge your device. In order to measure the amount of distance covered and average speed of your run, it is useful to have a GPS function which tracks data more accurately. However, this feature increases the device's cost and shortens its battery life, leading to frequent charging.
If you need a fitness gadget to measure and chart the progress of your fitness goals, it would be useful to consider purchasing one that suits your purpose. However, if cost is a factor, there are always free mobile apps that are available for download which serve the same purpose. Above all, the goal is to make regular exercise a lifelong habit that helps pave the way to enjoying a better quality of life.
Before sweating it out with your very first fitness gadget, Dr Teo has the following advice to share:
Set a reasonable goal
It is important to gradually increase the level of physical activity regardless of whichever exercise programme you decide to embark on. If you have not been active for a long time, it's important to work your way up progressively over time. Start out with 10 minutes per session first.
Look beyond the numbers
Some gadgets allow you to see how your activity level is connected to your diet, for instance. You can use additional apps to help you better achieve your goals, if your main focus is to lose some extra pounds.
Aim for 150 minutes a week
The Health Promotion Board recommends 150 minutes of physical activity a week. You can spread it out across five days in a week engaging in a minimum of 30 minutes of moderate-intensity aerobic activity.
Check for signs
Exercise often serves as an early warning sign of coronary artery disease. Seek medical attention if you experience chest pain during exercise.
Consult a doctor
People with chronic diseases such as coronary or lung diseases are advised to have a check-up before starting an exercise programme. Should you develop chest pain or excessive shortness of breath during exercise, get yourself examined by a doctor.