The ultimate guide to your first dose of the COVID-19 vaccine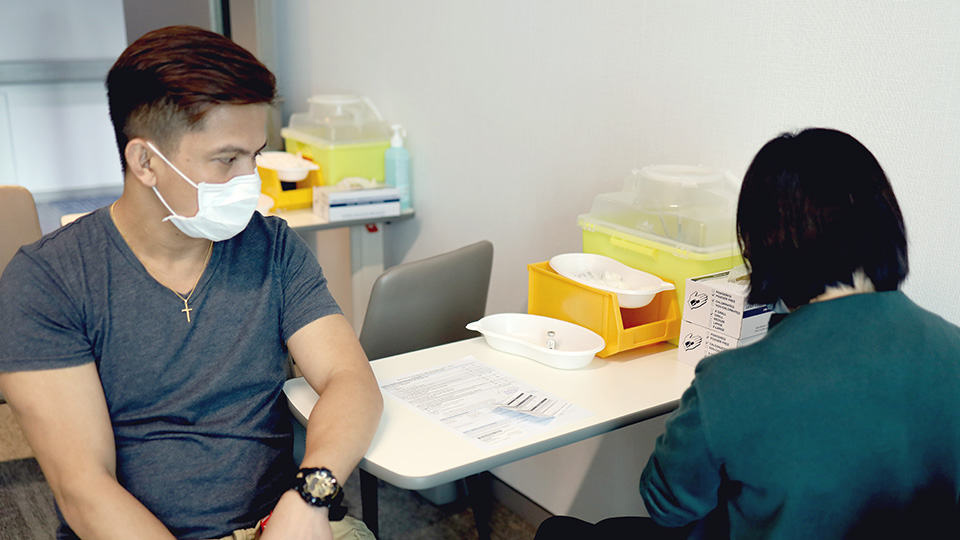 You might be feeling anxious and having second thoughts on taking the COVID-19 vaccine. Although vaccination is voluntary, it is strongly encouraged for all who are medically eligible. Getting vaccinated against COVID-19 is one way to protect ourselves as well as our loved ones. Our Raffles experts share all you need to know before you take your first dose.
How is the vaccine administered?
The vaccine will be administered on your arm. Ideally, if you are right-handed, you may wish to consider receiving the vaccine on your left arm, vice versa
The area on your arm is cleaned with alcohol before the injection
The injection is administered to the deltoid muscle of your shoulder.
Two doses are required 21 days apart and the medical team on-ground will inform you of the date for your second dose.
For those of you that are afraid of needles and pain…?
Try placing your hand on your hip when preparing to receive the injection. This relaxes the deltoid muscle and makes the injection less painful. Try it!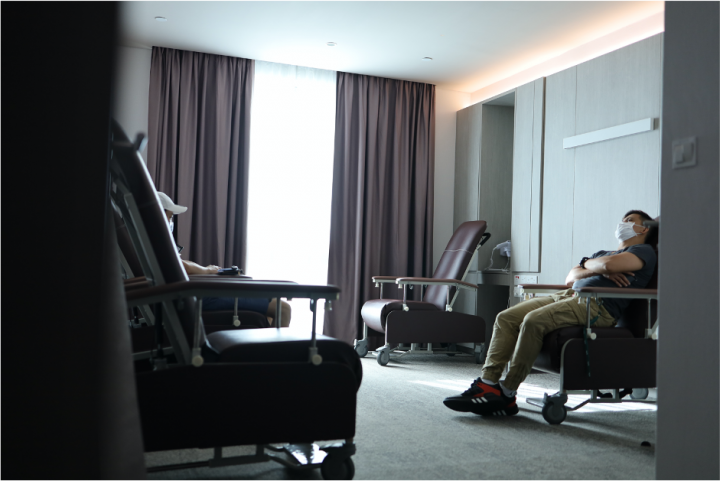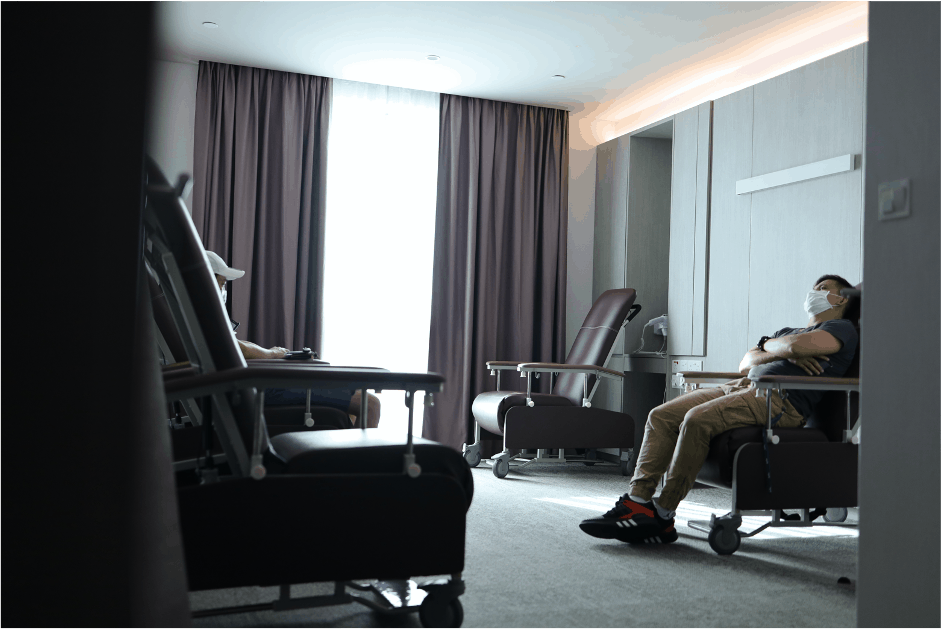 What happens after receiving the vaccine?
After a nurse administers the vaccine, you will be led to a waiting area to rest for 30 minutes. Our medical staff are present and ready to check on your health condition.
What side effects can I expect?
While not everyone will experience these side effects, they are common and expected as part of the body's natural response to build immunity against COVID-19. These side effects usually can be relieved with analgesia such as paracetamol and resolves within a day or two.
Most Common
Pain at the injection area
Fatigue and tiredness
Headache
Muscle aches
Chills
Less Common
Fever
Lymph node swelling in the neck or arms
Very Rare*
Allergic reaction / Anaphylaxis (11 cases per million doses)
Vasovagal reaction
*These side effects may happen within 30 minutes of receiving the vaccine. Our medical staff are present throughout the process to check on your health condition and assist anyone requiring attention. If you start to feel an adverse reaction, inform our staff immediately.
How will I know if I am having a severe reaction to the vaccine?
As with other established vaccines, in rare instances, a person who receives the vaccine may experience severe allergic reactions. A severe allergic reaction would usually occur within a few minutes to one hour after getting a dose of the Pfizer-BioNTech COVID-19 Vaccine.
Signs of a severe allergic reaction can include:
Difficulty breathing
Swelling of your face and throat
A fast heartbeat
A bad rash all over your body
Dizziness and weakness
If you experience any of the above symptoms, seek immediate medical attention from our medical staff.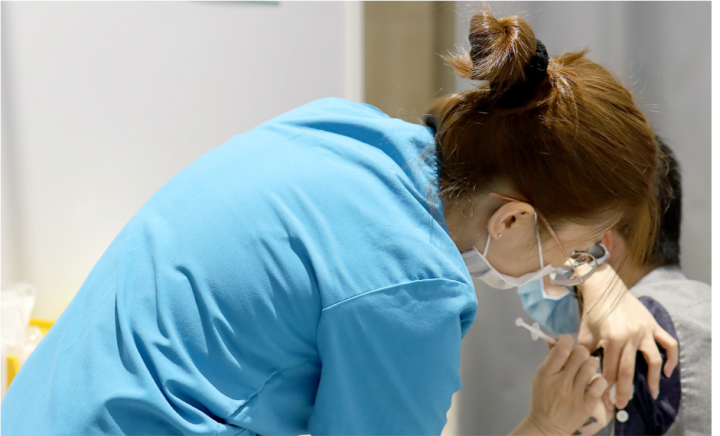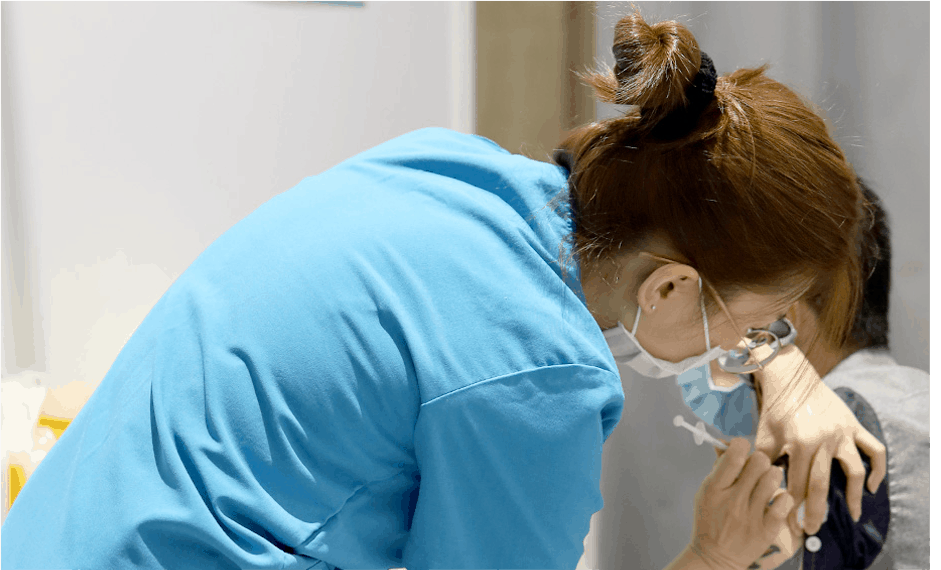 How soon does the vaccine start to take effect?
After receiving both doses, it will take two weeks for the body to build immunity against COVID-19. You will be able to observe complete and sustained protection five weeks from the date of your first dose.
Can I contract COVID-19 by taking the vaccine?
No. Pfizer-BioNTech COVID-19 vaccines do not use the live virus that causes COVID-19 infection. The vaccine is made using messenger RNA (mRNA) method to induce an immune response targeting a specific protein of the COVID-19 virus which offers protection should we encounter the virus.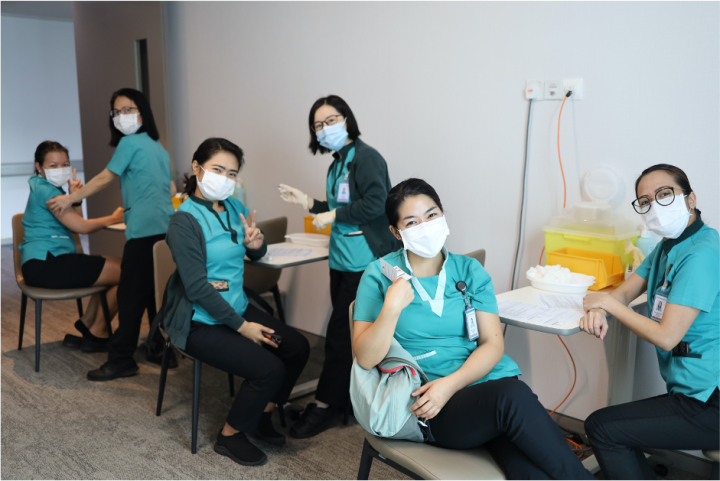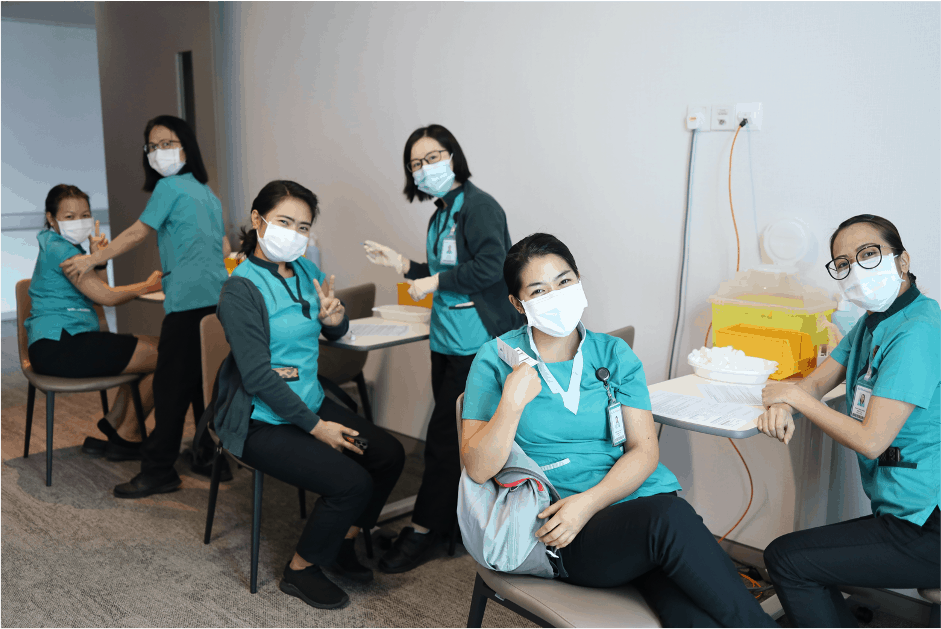 The COVID-19 vaccine is free for all Singaporeans, permanent residents and long-term residents. This includes long-term work permit holders and foreign domestic workers. The Singapore government is targeting to inoculate the entire population within this year should vaccine supplies come in as scheduled.
Protect yourself and your loved ones. Get vaccinated and encourage your parents and grandparents to do so too!
For further assistance, reach out to the Ministry of Health (MOH) at 1800 333 9999.
Be the First to Know!
Like what you see? Receive more health and wellness articles from Raffles Medical Group to aid you in leading a healthy lifestyle.