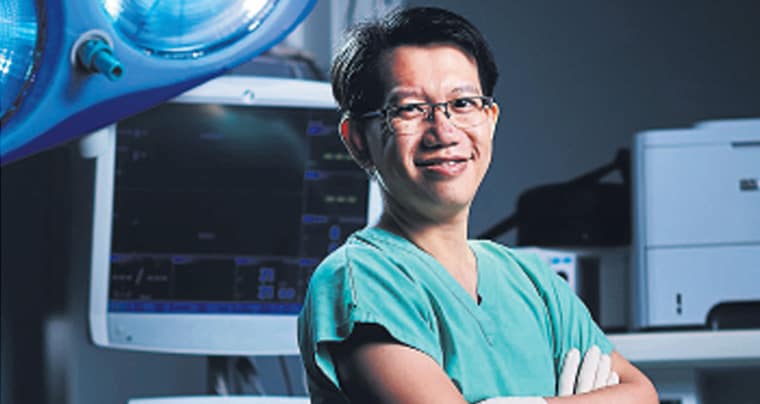 Q) Robotic surgery in Singapore was…
A) Up to a few years ago, primarily limited to prostatic cancers. Today we use it to perform surgery for a broader spectrum of advanced diseases. I believe iterations of the robot are at the forefront of what can be achieved in surgery, but due to the learning curve, only a limited number of surgeons in Singapore can be considered proficient in it.
Q A typical day at work for me…
A) Runs the gamut of providing care to my clinic patients, patients who are admitted to the hospital, providing endoscopy, and being in surgery. Surgical emergencies don't follow working hours, so at times I'm also treating my patients whenever they need me.
Q) Manage the risk of colorectal cancer by…
A) Making wise choices. Enter a screening programme, follow medical advice on treatment and surveillance, heed warning signs such as bleeding, and reduce your risk by living life as healthily as possible (exercise regularly, have a primarily plant-based diet, avoid processed meat, reduce the intake of red meat and don't smoke).
Q) Patients who get my goat are…
A) Those who promise you they will follow a particular treatment plan — and then change their mind! No doubt they are under a lot of pressure and fearful, but I'm frustrated because I know how the situation can deteriorate.

Q) Things that put a smile on my face are…
A) Figuring out simple yet effective treatments. Also, seeing patients get well and return to their active lifestyles.
Q) My best tip is…
A) Exercise and eat healthily! Your heart and your bowels will thank you.
Q) I wouldn't trade places for the world because…
A) To me, surgery is an art, healing is a joy and being my patient's choice in treating them is a privilege. Many other professions have the potential to influence society or the country, but my job creates personal relationships that are sacred to me.