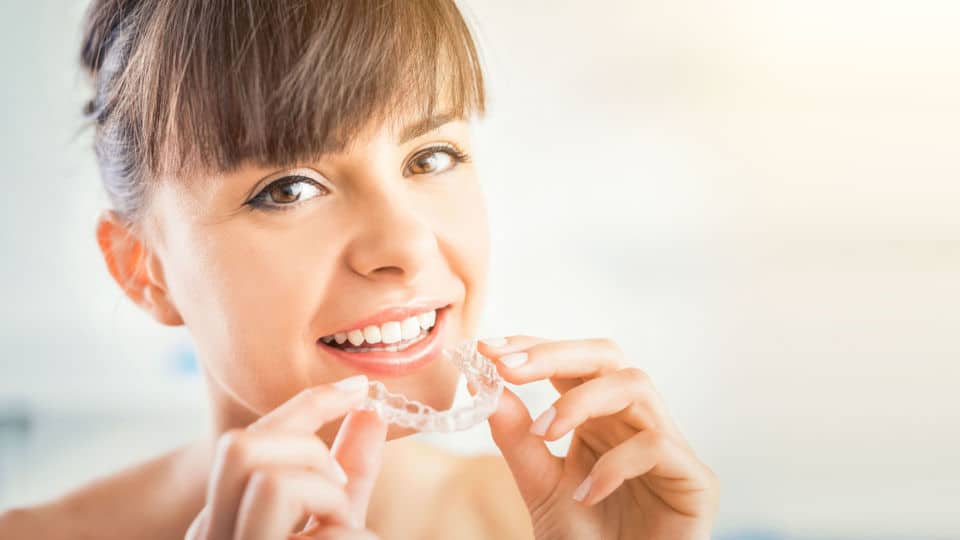 What is Invisalign?
Invisalign is the invisible way to straighten teeth without braces. Invisalign uses a series of clear, removable aligners to gradually straighten teeth, without metal or wires.
How does Invisalign work?
Invisalign uses 3-D computer imaging technology to depict the complete treatment plan from the initial position to the final desired position from which a series of custom-made, clear "aligners" are produced. Each "aligners" moves teeth incrementally and is worn for about two weeks, then replaced by the next in the series until the final position is achieved.
What are the primary benefits of Invisalign?
Invisalign is clear. You can straighten your teeth without anyone knowing.
Invisalign is removable. Unlike braces, you can eat and drink what you want during treatment. You can also brush and floss normally to maintain good oral hygiene.
Invisalign is comfortable. There are no metal brackets or wires as with braces to cause mouth irritation, and no metal or wires means you spend less time in the doctor's chair getting adjustments.
Invisalign allows you to view your own virtual treatment plan before you start—so you can see how your straight teeth will look when your treatment is complete.
Is Invisalign For Me?
Invisalign can be used to treat the vast majority of common problems for adults and teens.
Whether your smile needs minor improvements or more extensive adjustments, Invisalign can certainly help. It's successful in treating overly crowded or widely spaced teeth. It can also relieve more complex issues, including overbites, underbites and even crossbites.
Made to fit your lifestyle, not change it.
Because Invisalign uses clear plastic aligners to position and straighten teeth, you can keep your active lifestyle during treatment. Unlike braces, Invisalign aligners have no metal bands or wires to irritate your mouth. So go ahead and be as active as you like. Since Invisalign is removable, just take the clear aligners out for special events or if you're going to indulge in a sticky, gooey snack.
Look your best during and after treatment.
Of course you want to look great, at work, at school, with friends. Maybe you speak to groups or conduct meetings. You still can. Because Invisalign is clear and nearly invisible, most people will never know you're straightening your teeth – unless you tell them. And when your course of treatment has ended, you can feel more confident, whether in front of people or not. You're going to have a stunning smile.
What can Invisalign do for you?
Teeth that are crowded or too widely spaced can create unhealthy conditions, including swollen gums, redness and pocketing, all of which are signs of periodontal disease. As Invisalign invisibly straightens your teeth, it can also do great things for the health of your mouth.
Healthier Gums
Clinical studies have shown that gum health may improve with the use of Invisalign during orthodontic treatment. Properly aligned teeth can help gums "fit" tighter around each tooth, which may lead to better periodontal health. Unlike braces, with Invisalign, you can brush and floss normally, which can help prevent tooth decay and periodontal disease.
Easier Cleaning
Unlike traditional orthodontics or braces, Invisalign has no metal bands or wires to trap food and plaque. Maintaining a good oral hygiene program will also reduce chances of plaque build-up, tooth decay and periodontal disease.
Improved Chewing and Speech
For some people, incorrectly positioned teeth and jaws can exacerbate speech difficulties and chewing problems. Correcting your bite by straightening your teeth can help improve both.
Lower Risk of Trauma and Abnormal Wear
Properly aligned teeth can be less stressful on supporting bone and jaw joints.