American Mauled By Shark Flies In for Surgery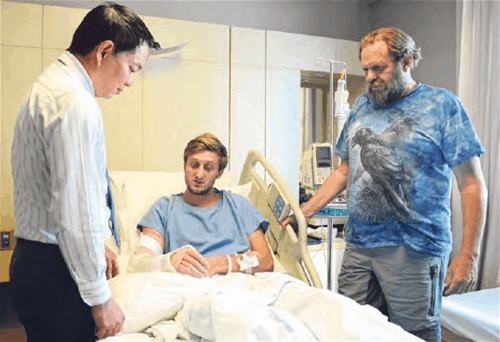 Mauled by a shark while surfing off the coast of Bali on April 25, 26-year-old Ryan Boarman caught a wave to shore and collapsed bleeding on the beach.
Four days and two hospitals later, the American was flown to Raffles Hospital in Singapore for surgery on his injured right arm.
Yesterday, his father told reporters that Mr Boarman will most likely be well enough to return home in two or three days.
"Ryan's doing a lot better than he was two days ago, although he's still in quite a bit of pain," said wildlife biologist William Boarman, 60, who flew in from California last Friday afternoon to be with his son.
"But his spirits are much better and he's definitely on the way to recovery." He recalled how his son's friend called him last week to tell him the surfer had been attacked by a shark.
Dr Boarman's heart sank, but at the same time he was relieved that his son – also a wildlife biologist –was not more seriously injured.
"It could so easily have been much worse," said Dr Boarman, 60. "His arm could have been torn off, or he could have lost his life if the shark had decided to bite him in the stomach."
While the younger Mr Boarman declined to speak with the media, his father recounted the incident based on what he had gleaned from his son. He had been surfing near Balian beach in West Bali when something struck him from behind. He felt an "intense pain" in his elbow, and saw a 2m-long shark swimming off.
With a flap of skin trailing from his wounded arm, the experienced surfer stood up on his surfboard and rode it back to the beach, where he momentarily blacked out.
His friends took him to a nearby hospital to clean up the gash, then to another larger hospital for surgery two hours later. He was later transferred to Singapore because they felt that he would get better medical care here.
Friends and family back home have set up a crowdfunding site to raise funds for his treatment and have raised around US$25,800 (S$35,000) so far.
Orthopaedic surgeon Lim Yeow Wai, who operated on Mr Boarman, said the shark bite had cut through muscle and injured a nerve and a ligament in his arm.
"There was some infection on the outer side of the elbow, and when I opened up the wound… some of the muscles were dead," he said. He had to clean up the wound before he could patch up Mr Boarman's arm.
Mr Boarman will need six weeks of intense physiotherapy to regain the range of motion in his elbow and wrist, and the strength in his arm, Dr Lim added.
"The doctor said that he should be able to start surfing again in six months," Dr Boarman said. "And I'm sure that he will."