Celebrating Eid in a Safe and Healthy Way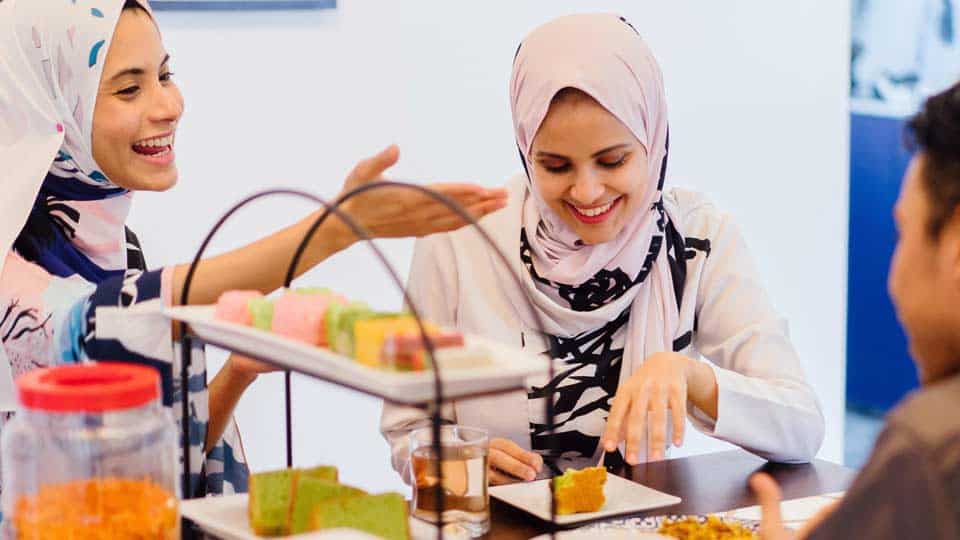 Article published on 11 May 2021
Eid is a big celebration at the end of Ramadan. It is eagerly anticipated by the Muslim community after a month of fasting. Eid is a time where families meet and have big celebratory feasts. It is a joyous time of family bonding. It is important to be mindful of our health while celebrating. The elderly are particular vulnerable in this period due to their weakened immune systems and prevalence of chronic illness. Here are some tips for an older person on how to stay safe and remain healthy during Eid.
Eid in times of the pandemic and "pandemic fatigue"
This is the third Eid in times of the pandemic. We are familiar with the regulations of safe distancing, limiting social gatherings, staying home when sick, wearing masks and maintaining hand hygiene. We have celebrated Eid twice in the past year with these regulations.
However, we may have reached a stage of "pandemic fatigue" with the prolonged course that the pandemic has taken. "Pandemic fatigue" is defined by the World Health Organization (WHO) as feeling demotivated to follow recommendations to protect ourselves and others from COVID-19. There are cases of COVID-19 in the community and we need to continue to remain vigilant. We are aware that there are higher death rates among older people who catch COVID-19. We need to celebrate Eid in a safe way to prevent the spread of COVID-19 among our community and death among our elderly.
Consider Vaccination if you have not already
The vaccination programme in Singapore is actively vaccinating our seniors. As of 4th May 2021, about 900 000 people in Singapore have been vaccinated. Vaccination is safe. Take the opportunity to consult your doctor or the medical staff on duty at vaccination centres to speak about your concerns before taking the vaccine. We have yet to achieve "herd immunity" or enough people having been vaccinated for the community to be safe. There are people in the population children and youths less than 16 years old, pregnant women and those with specific medical conditions that are unable to take the vaccine.
---
"What to expect for your first COVID-19 vaccine? Find out more"
---
Being vaccinated is a duty for all of us. Book your appointment when you have been invited to take the vaccine. Ensure that our elderly are assisted in making appointments and turning up for vaccination.
Limit social gatherings
Start planning among friends and family your Eid visiting schedule. Lay out expectations among the elderly that you will visit them, eventually. As an older person, tell your children and grandchildren that you wish to stick to small numbers according to the regulations. Visits can be planned perhaps not on the first or second day, but throughout the month.
Avoid overeating during Eid
Obesity is a big problem among the Malays. Obesity among Malay women is 40%. Ramadan is a month of fasting and calorie restriction. Studies have shown that Ramadan is a time where we are able to lose excess body weight and control chronic illnesses like diabetes. This can quickly be reversed in Eid where it is often celebrated the whole month of Syawal.
An elderly person may have chronic illnesses like diabetes, high blood pressure and issues with digestion. Overeating has detrimental issues to their health. It may push a diabetic person into an emergency where their blood sugars are very high. Drinking a lot of water or taking high salt meals may push up their blood pressure and increase the risk of stroke. Eating a large meal may cause indigestion and gastric reflux issues.
There are ways to avoid overeating. Often it comes with some planning. Plan your visit ahead by calling in advance and mentioning specifically that you have already had a meal. If your host is planning a meal, indicate to the host that you have a small appetite and are weight conscious to avoid health issues.
Choose healthier dishes and cooking methods. Limit the number of dishes as presenting a buffet increases the risk of overeating.
Avoid sugary drinks and sugar during Eid
Diabetes is rampant among the Malay population with 14.4% of Malays having diabetes compared with 8.2% in Chinese. Celebratory foods served include sweet drinks, sweets and dessert. They should be avoided totally or taken in small quantities if you must. It is ok to ask your host for water or even bring your own water bottle. I cannot emphasise further how unhealthy sugar is. It is labelled as "white poison" and is unhealthy for anyone to consume, both diabetics and non diabetics.
Quit Smoking
Ramadan is a time where we can stop bad habits like smoking and quit for life when Syawal comes. Quitting smoking has health benefits at all ages. I had an 80-year-old patient who was admitted to hospital and decided to stop his lifelong habit of smoking. It is possible to quit smoking at a late age. Studies have shown it is never too late to quit smoking and reap the benefits of a smoke free life.
Exercising and remaining active in Syawal
An older person may have decreased physical activity during Ramadan because of tiredness with fasting and changes in their schedules. Inactivity has bad effects on an elderly person. It decreased muscle strength and increases their risks of falls.
Celebrating Eid should include making time for exercise and resuming physical activity. It is never too late to exercise and studies have shown benefits of exercise in all age groups. This includes benefits to immunity, decreasing risk of dementia and depression and decreases risk of many illnesses including cancer, heart disease and stroke.
Avoiding loneliness and depression
In times of celebration, we must not forget there are elderly people among us who live alone. They may be single or widowed, may not have children or may have children who live overseas. An old person who is lonely has an increased risk of depression and poor physical health. We should reach out to these elderly family members, friends or neighbours to make sure that they feel supported in these times. It may be challenging to do so in times of the pandemic where we want to limit our social networks. There are creative ways to do so to ensure they are not forgotten for example with a phone call or video chat or sending a food gift or hamper. If you are alone this Eid, reach out and connect with others. It is important to remain engaged in society and maintain social networks.
Eid is a wonderful time to maintain ties with family and friends. It is possible to have a safe and enjoyable time.
We wish all of you a wonderful Eid Mubarak!
Be the First to Know!
Like what you see? Receive more health and wellness articles from Raffles Medical Group to aid you in leading a healthy lifestyle.