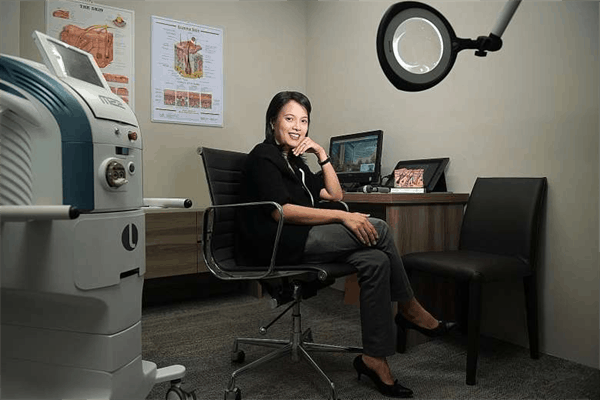 Dr Low had wanted to be a doctor ever since she received a toy medical kit for Christmas from her parents when she was three. She had never wavered from that ambition.
While training in London at St Bartholomew's Hospital, she recalled: "I told my mentor, a well-respected surgeon, that I was going to be a dermatologist. In jest, he asked me to pass him the sick bowl, as dermatology was considered a 'soft' speciality".
She added: "But the skin is the largest organ in the body and most people have at least one dermatological problem."
Indeed, she was glad that she was able to advise her mentor when he developed skin issues a few years ago.
Dr Low completed her advanced specialist training at the National Skin Centre. She joined Raffles Hospital recently. Before this, she had practised at the National Skin Centre and Khoo Teck Puat Hospital. She also ran the Women's Clinic and General Clinics at the Department of Sexually Transmitted Infections Control Clinic.
She is married to a 37-year-old general practitioner. They have a daughter, who is turning three, and a son, who is turning one.
Q I specialise in dermatology because…
A It was one of my interests in medical school. My interest in it deepened after I did a training stint in Melbourne, Australia.
I was trained in general medicine as I also loved hospital medicine. I enjoyed my training in the various medical units, including the acute medicine unit, trauma centre and bone marrow transplant units.
However, I realised that I preferred working in an outpatient setting.
The specialist training in Singapore was a real draw as I could do dermatology and sexual health as a speciality.
Q If I were to give an analogy for what I do, I'd be…
A A friendly confidante who you can turn to. I am that someone who won't judge and ask why you have a problem.
Instead, I will try to help you figure out what's wrong and fix it. To do so, I may ask some embarrassing personal questions, but I won't give you a scolding.
Q I come across all types of cases from…
A Adults to children, who are afflicted with eczema, warts, acne, hives and other skin conditions.
Although these problems aren't usually life-threatening, they can be bothersome and will affect the patient's quality of life and that of his family. Dermatologists are occasionally involved in severe cases of skin allergies or autoimmune conditions, where the patients require more attention.
As we are more aware of problems caused by the sun, we often perform mole checks and will also carry out aesthetic procedures with lasers and other non-invasive procedures to help people age better.
As I have a special interest in sexual health, I do see cases related to genital dermatology and sexually-transmitted infections. It is not everyone's cup of tea but a necessary area of expertise.
I believe that it's very important to have a non-judgmental attitude when it comes to managing patients with "personal" issues so that we can focus on their physical problems. Counselling and health promotion also play a big role in their care.
My general outlook in managing such patients is, "I know why you are here and you know why you are here, so let's be open and let me help you".
Q A typical day would be…
A One that sees me juggling work and motherhood. In the morning, I will breastfeed my son and then drop my daughter off at school before going to work.
I see patients at three clinics – Raffles Skin & Aesthetics at Raffles Hospital, Raffles Specialists at Shaw Centre and our latest clinic, Raffles Specialists at Raffles Holland V mall – on different days of the week.
During lunchtime, I will find time to express milk for my son, before continuing with the afternoon clinic. After work, I look forward to spending the evening with my family.
Once a week, I will take my two children to visit Singapore's attractions or beaches, but only after applying sunblock on them.
Q One little-known fact about the profession is…
A We may see patients who have parasites living on them. For example, they may have scabies, a skin infestation that can be contagious and is extremely itchy.
Q Patients who get my goat are…
A The secretive ones who try to limit the amount of information that is shared with the doctor.
Withholding information can affect our diagnoses and management plans, and this can have potentially serious consequences.
Another group of people would be those who have a fixed mindset and are not keen to discuss their treatment or management plan. It is difficult to help patients who don't adhere to the treatment plan or who refuse the recommended medications.
Thankfully, most patients we see have an open mind as they have already taken that first step by consulting us.
Q Things that put a smile on my face are…
A The ability to help patients manage their condition. Seeing them get better always gives me a warm feeling, especially if they have been struggling with their condition for a while.
Skin problems are particularly challenging as they are usually a visible medical condition and can cause distress.