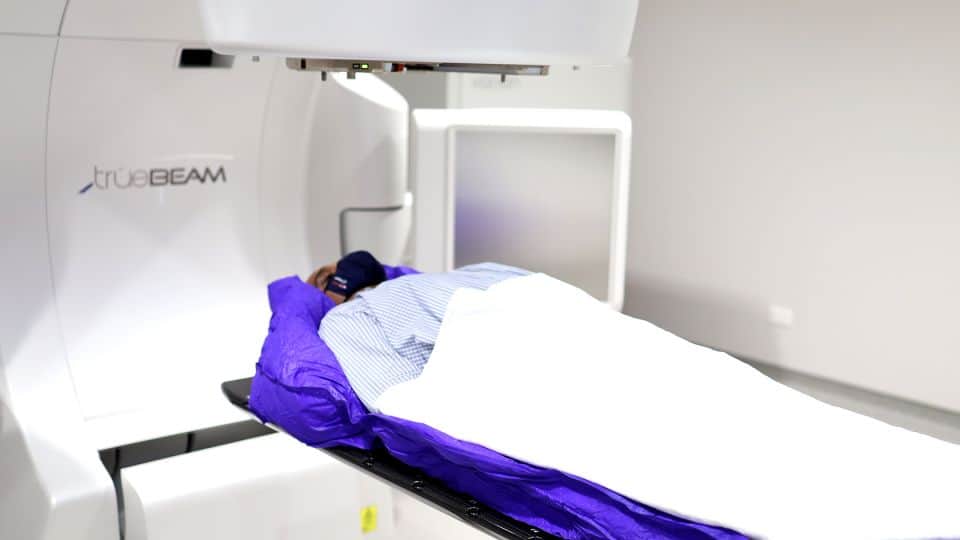 Radiotherapy may be the only treatment some patients need, while others may require radiation therapy in conjunction with other cancer treatments such as surgery, chemotherapy and immunotherapy. Every cancer treatment plan is different and personalised to each patient, depending on the condition. Learning and understanding about radiotherapy treatments may help you or your loved ones feel more prepared and at ease in your cancer-management journey.
What is Radiation Therapy?
Radiation therapy (RT) is the medical use of ionising radiation to treat patients with cancer.  It can be used to cure or control cancer, as well as to reduce symptoms caused by cancer such as pain and bleeding.
Radiation therapy treatment is delivered using a linear accelerator (LINAC) which generates radiation beams that are shaped according to the size and shape of the tumor. This helps reduce radiation dose to the healthy tissues surrounding the organ while delivering maximum dose to the target.
A customised treatment plan is developed for each patient, with care taken during planning to avoid overdosing nearby organs. Radiation therapy is delivered over a number of treatment sessions known as fractions. The total number of fractions required can range from one to more than 30, depending on the type of cancer and reason for treatment. Commonly, the radiation treatment will be given once a day for five days from Monday to Friday.
---
Raffles Radiotherapy Centre provides quality service and care to your cancer-management journey through modern technology all in one location.
---
Radiation Therapy Process
Initial consultation
You will meet with the radiation oncologist who will review your clinical condition and discuss whether radiation therapy treatment may be beneficial for you. The type of technique, procedures and expected side effects will also be discussed during the consultation. Once treatment has been determined, a series of appointments will be scheduled. 
Immobilisation
In certain cases, an immobilisation device may be required to help position you accurately for simulation and treatment. This may be in the form of a face shell for the head and neck region or a body Vac-Lok for the chest region. This will be fabricated and customised for the patient before simulation.
Computed tomography (CT) Simulation
CT Simulation is a procedure where a CT scan is done in the treatment position. This allows us to outline and map the area to be treated. Intravenous contrast (IVC) may also be required for the scan to provide better visualization of certain structures.
Skin markings will be done on your skin using permanent markers to assist the radiation therapist in positioning you for daily treatment. Tiny tattoo dots will also be made on your skin. The permanent markers can be washed off easily with water and soap whereas the permanent ink tattoos are not washable. These markings and tattoos are essential due to the high level of accuracy and precision required for radiation therapy treatment.
Treatment planning
Once simulation is complete, the images from your CT scan will be used by the radiation oncologist to outline the treatment areas and surrounding organs. A unique treatment plan is then developed by a medical physicist using sophisticated computer software. The planning process and quality assurance checks for each treatment plan usually takes a few working days depending on the complexity of the treatment.
Treatment delivery
Radiation therapy treatment is usually delivered daily from Mondays to Fridays and the treatment course may range from one day to several weeks. Each treatment session usually takes between 10 to 30 minutes depending on the complexity of the treatment plan.
Each treatment typically begins with an imaging procedure to verify the treatment position before the radiation is delivered. You will have a weekly review with the radiation oncologist to monitor your progress and manage any side effects that may arise along the way.
Follow-up appointments
Upon completing your course of radiation therapy, you will meet with the radiation oncologist for follow-up visits.
Side Effects of Radiation Therapy
Side effects of radiation therapy differs from one patient to another. The type and severity of side effects that a patient experiences depends on the region treated, the radiation dosage delivered, as well as the size of the treatment area. Some patients may experience mild or no symptoms, while others may experience severe side effects.
Common side effects include fatigue and skin changes. Other side effects specific to region treated will be discussed by your radiation oncologist. It is important to inform the radiation therapists or radiation oncologist about the side effects that you experience so that they can advise you accordingly.
Always speak with your healthcare provider if you have any health concerns and seek medical attention from a doctor if you are experiencing any unusual symptoms or discomfort.